The crypto space is a dynamic playground that has attracted several kinds of investors. While many are in to make quick gains, others may be futuristic in their approach.
If you are looking for cryptocurrencies to buy for long-term returns, this lineup should make it into your portfolio.
1. Bitcoin (BTC)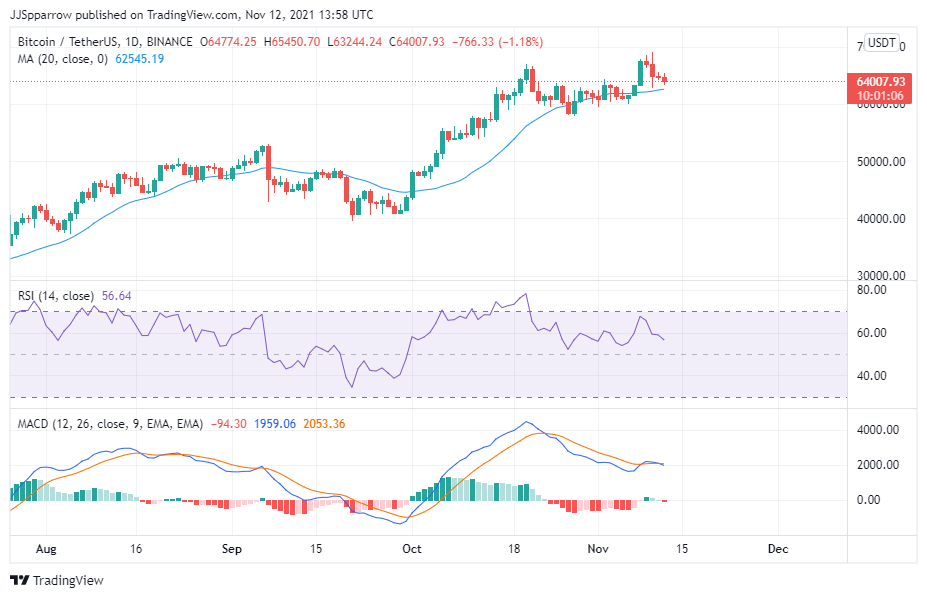 The crux of the whole crypto ecosystem, Bitcoin is our number one pick for one of the best cryptocurrencies to buy for long term returns. Bitcoin's ascent to the crypto throne has not been by accident.
The benchmark asset is the most controversial of the lot, given its high-energy intensity in validating transactions, slow block finality window, and sometimes high network fees, although not as prominent as Ethereum's.
However, the world's oldest protocol has remained the apex crypto due to its deflationary tendencies. When it launched, pseudonymous creator Satoshi Nakamoto hard-wired only 21 million Bitcoins in the source code, making it improbable to create new ones outside this window. This artificial scarcity has led to investors terming it 'digital gold' and a better store of value than the prime commodity.
This has prompted nations and institutions to adopt it as a legal tender to hedge against recurrent inflation. One of such organisations is digital assets manager Grayscale which has seen its Grayscale Bitcoin Trust (GBTC) account rise for more than 70% of its entire crypto fund.
With over 646,000 BTC worth $41.7 billion, Grayscale has surpassed the world's largest gold fund SPDR Gold Shares (GLD) in assets under management (AUM) with over $1.7 billion. It is now pegged at $60.8 billion compared to GLD's $58.6 billion.
Bitcoin controls the majority of the fund pool, and Grayscale is ramping up efforts to convert the trust to a Bitcoin ETF in future.
With such a strong institutional backing, Bitcoin will likely see more adoption and value increase soon. Meanwhile, the premier digital asset is currently on a tame run, down 1.96% and trades at $64,007.93 after hitting an all-time high (ATH) of $68,400 earlier in the week. It is trading above the 20-day moving average (MA) price of $62,767.18 indicating it is still on a bullish run.
2. Ethereum (ETH)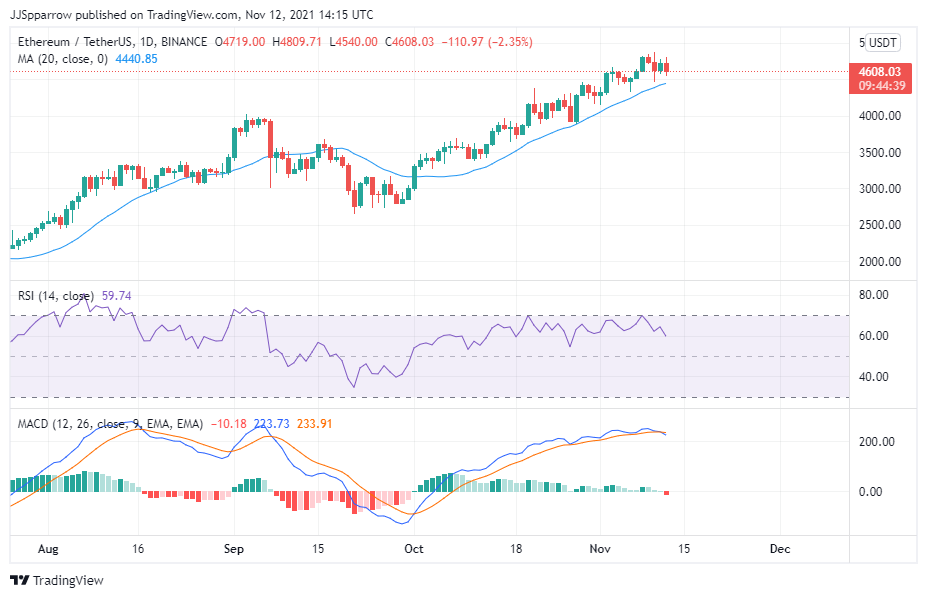 Ethereum has held on to the number two spot of the most valuable crypto ranking for upwards of six years, and it doesn't seem like it will let it up anytime soon. Pegged as the foremost alternative coin (altcoin) in the crypto market, Ethereum controls about 97% of the decentralised finance (DeFi) and non-fungible token (NFT) ecosystems.
With both sub-sectors becoming runaway successes this year, this makes Ethereum one of the best cryptocurrencies to buy for long term returns.
Despite criticisms for using the energy-consuming proof-of-work (PoW) consensus algorithm, the Ethereum network has remained a top spot for decentralised applications (dApps), with over 3,000 top-performing dApps calling it home.
Just like Bitcoin, Ethereum is courted by major businesses and has seen growing adoption. In a recent tweet, AMC CEO Adam Aron announced that the global movie exhibition giant would now accept Ethereand and Bitcoin and several others as payment for tickets and other purchases in its cinemas.
Ethereum has not reacted favourably to the news, and many crypto investors believe it is priming for a major breakout in the coming days.
At press time, ETH trades at $4,608.03, down 1.79% in the past day. Its moving average convergence and divergence (MACD) stand neutral, showing a 50-50 chance of the top altcoin surging in the coming weeks.

3. Solana (SOL)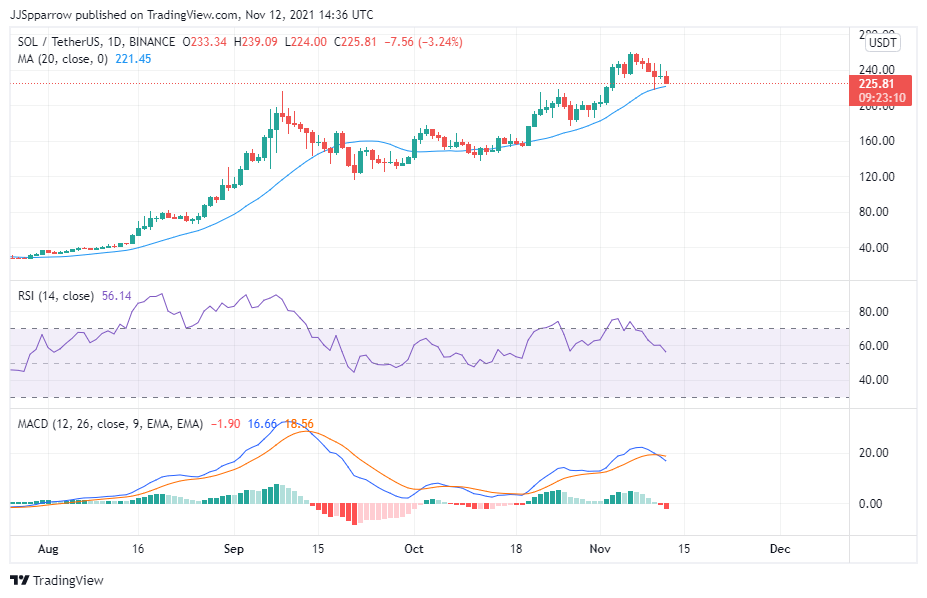 Solana has had a phenomenal run. The Solana blockchain is a direct competitor to Ethereum and offers a more provably scalable network. Given its preference for combining proof-of-stake (PoS) and proof-of-history (PoH) timing mechanisms, Solana has been able to average a base throughput of 50,000 transactions per second (TPS), and it is a highly energy-efficient network.
It is also cost-effective, making it a top destination for dApps who are looking for scalability, eco-friendly, and cost-efficient development testbeds to build on. In the past year, Solana has kept breaking records, coming from the mid 20 most valuable crypto assets and breaking into the top 5 at the moment of writing.
The asset has already ramped up its developer community efforts with its IGNITION hackathon, attracting over 500 dApps projects.
Reddit co-founder Alexis Ohanian announced a joint $100 million fund with Solana in a recent investment round.
SOL trades at $225.81, down 5.50% in the last 24 hours. Despite this, SOL is still seeing remarkable interest making it one of the best cryptocurrencies to buy for long term returns.
4. Cardano (ADA)
Cardano is one of the best cryptocurrencies to buy for long term returns and another popular Ethereum rival. Still, under development, Cardano is a PoS protocol backed by one of the former Ethereum co-founders, Charles Hoskinson.
It currently sits on the sixth spot and is working towards launching its Hydra upgrade, which could see it potentially boast over a million TPS.
The protocol has been making key partnerships in the traditional financial and identity services industry, and it recently partnered with Dish Network to provide digital identities for 8 million customers.
However, the Cardano network has been boosting its ecosystem. Non-fungible token (NFT) project PlanetYX joins over 500 protocols building on the Cardano network.
Cardano is currently trailing the market and is down 2.52%; the asset is trading at $2.026. It is also trading below the 20-day MA price of $2.052, which shows that it is on a bearish run.
The project's value proposition makes it a top crypto to buy for long term gains.
5. Polkadot (DOT)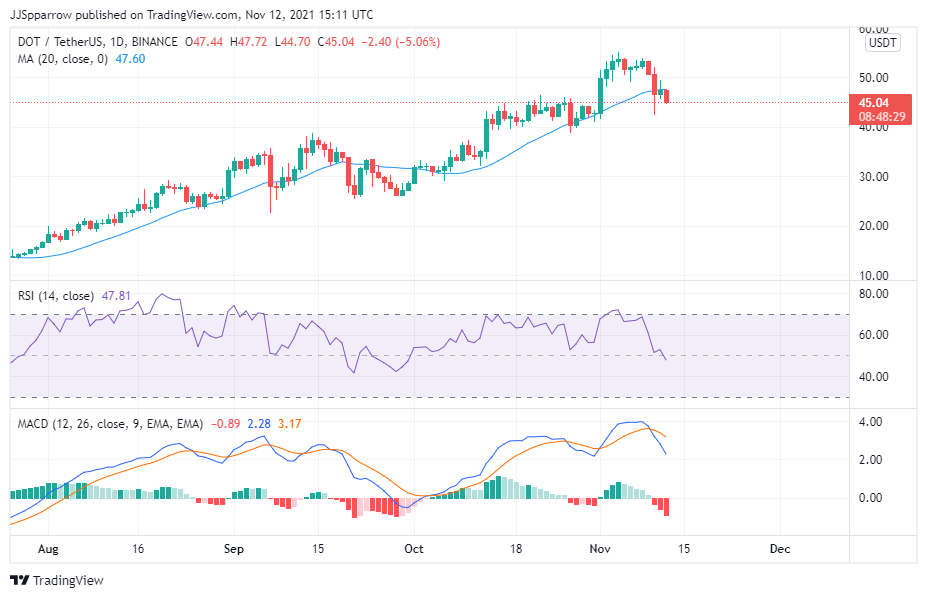 Polkadot is a heterogeneous blockchain protocol that aims to build an interoperable and scalable blockchain protocol to enable the seamless transfer of all asset types.
Similar to Cardano, Polkadot has a long history with Ethereum and was founded by Dr. Gavin Wood, one of the early founders of Ethereum. Polkadot is currently launching its parachain auctions which will enable successful protocols to build on its ecosystem.
Polkadot recently integrated with SubQuery's Web3Go, an analytics platform. After hitting an all-time high (ATH) of $55 earlier in the week, DOT has seen some of its gains retraced in the past week.
It currently trades at $45.04, down 4.86% in the past 24 hours. Polkadot is seen as a major player in the rapidly growing DeFi ecosystem and will likely be a top protocol in the near future. With strong adoption, Polkadot is one of the best cryptocurrencies to buy for long term returns.
Read more: