Crypto investors understand that getting lower risk returns is the gold standard when it comes to any asset. You want higher returns without taking on too much risk especially now that crypto adoption is on the rise. The global crypto population jumped by 100 percent in 2020, per a Crypto.com study. With the market seeing more participants, there is a significant amount of people looking for low-risk crypto investments. In this article, we examine the best cryptocurrencies to buy now for lower risk returns.
1. XRP (XRP)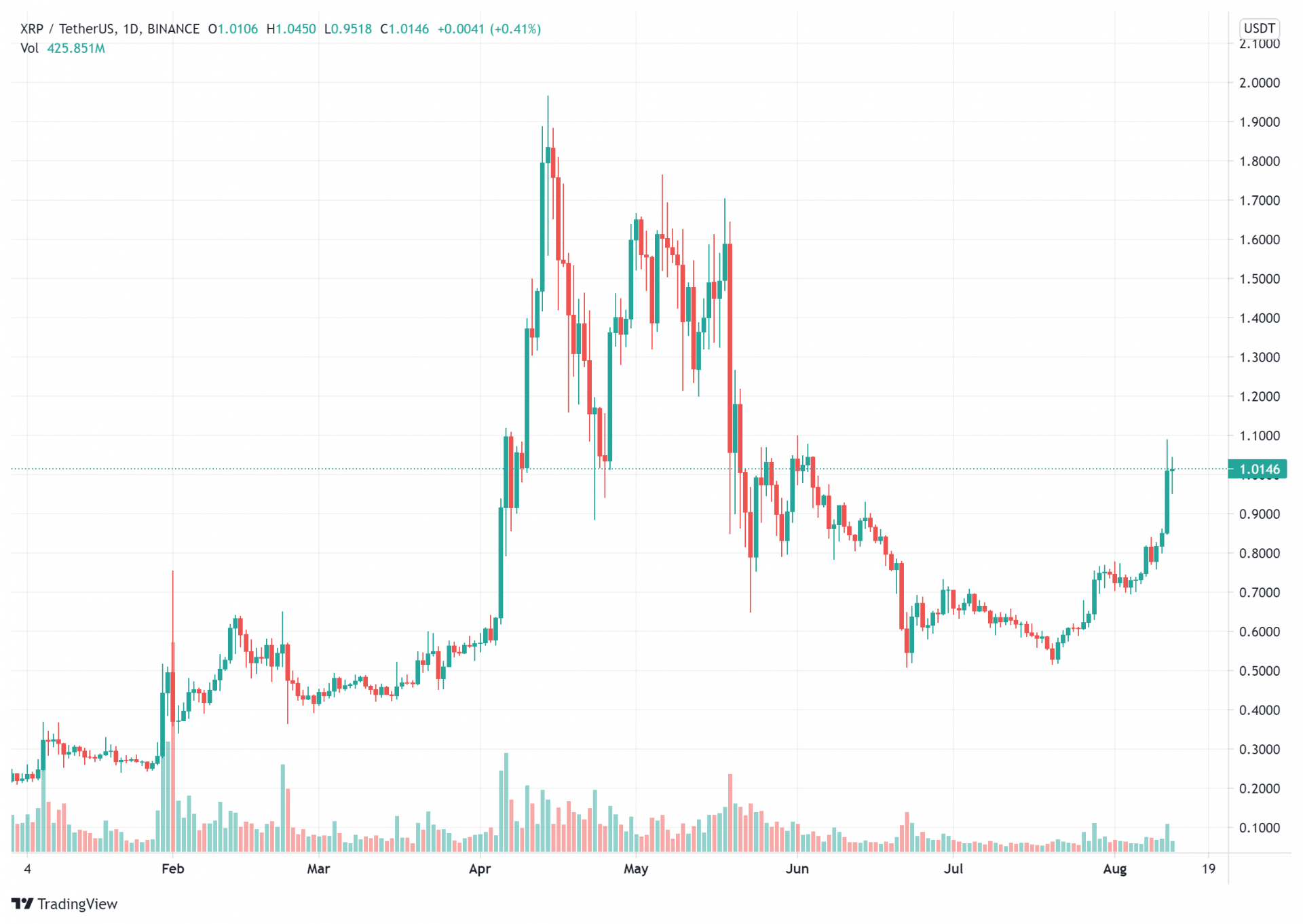 XRP is a payment-focused cryptocurrency developed by California-based blockchain company Ripple Labs. The asset used to be the third most valuable cryptocurrency years back, but it has since dropped.
XRP's primary value is in the fact that it is cheap. The coin is currently valued at $1.01 – a jump of 13 percent in the last 24 hours and a staggering 40 percent in the past week.
Investors have been especially impressed with XRP this year. The coin started 2021 trading at $0.23, and it jumped to a high of $1.96 on April 14. But, with the May downturn and a string of several other hits, XRP went back below the $1 line.
So far, investors will be looking to see how XRP performs concerning the case between Ripple and the Securities and Exchange Commission (SEC). Both are in a dispute over securities fraud claims, and Ripple was recently granted access to files from Binance related to the issue.
2. Ethereum (ETH)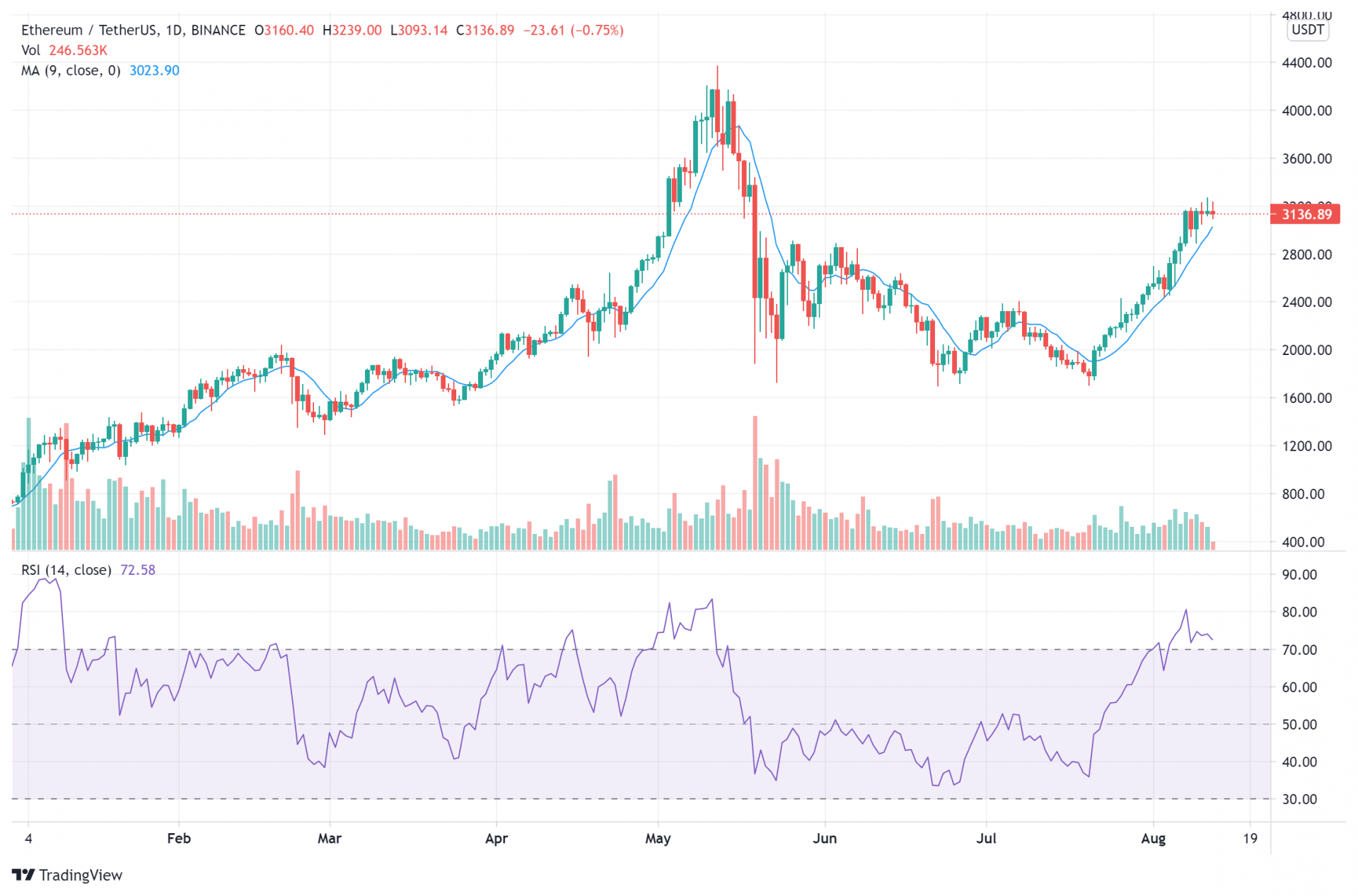 Ethereum is currently the second-largest cryptocurrency following Bitcoin. Known for its blockchain, the coin has been performing rather well this month.
Currently, Ether's value stands at $3,140. The coin is down by 1 percent in the past day, but still up by an impressive 13 percent in the past week. Most of the gains came from the London hard fork, which went live last week.
The London hard fork is one of the most important in the Ethereum blockchain's move to proof of stake (PoS). It has made Ether a deflationary asset, and it brings upgrades to improve the network's scalability too. With the Ethereum blockchain being important to decentralized finance (DeF) and non-fungible tokens (NFTs), this is a pretty big deal.
Ether is also doing pretty well on the technical front. The coin is well above its 20-day moving average (MA) of $2,676, and its relative strength index (RSI) stands at a manageable 72.78. This should set it up for proper gains over the next few days.
3. Cardano (ADA)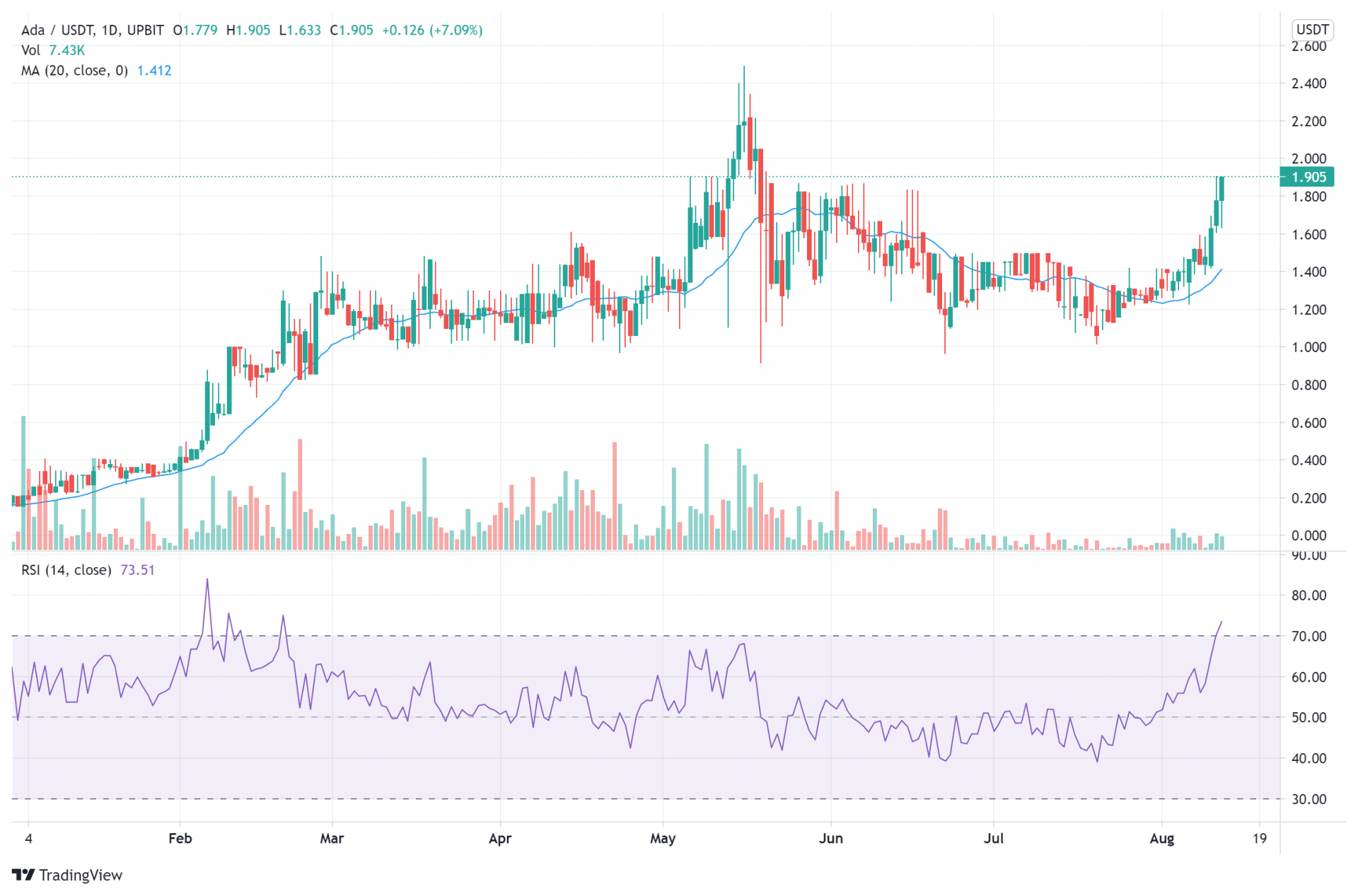 Another blockchain-based asset, ADA is one of the most promising cryptos this week for lower risk returns. It's easy to gloss over ADA as it doesn't have the type of public profile that other coins have. But, it remains a great buy for investors.
ADA entered August strong, posting a 2-month high of $1.59 on August 9. But, it faced some stiff competition at the $1.60 line, with bears trying to stall its progress. Now that it has broken past that line, all indicators trend upwards for ADA.
ADA is currently valued at $1.90 – up 7.09 percent in the past day and 32 percent in the past week.
The Cardano blockchain has been doing significant work to grow. Developers are working on bringing smart contracts to the blockchain, and they successfully implemented the first phase of the project earlier this month. Barring any delays, final deployment is expected to happen sometime this month.
4. Uniswap (UNI)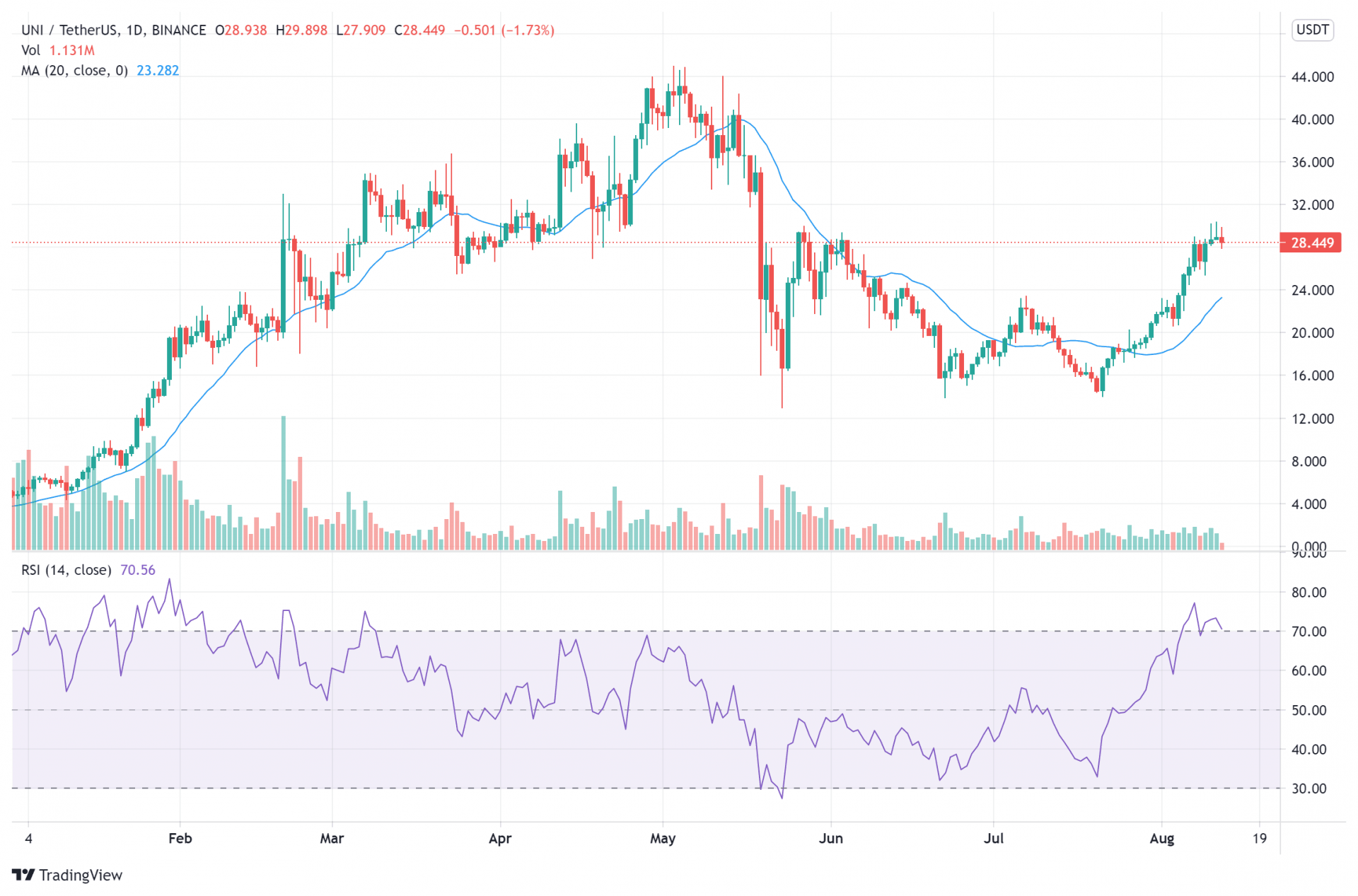 Uniswap is the second-largest decentralized exchange in the world. The platform has enjoyed significant growth, thanks in no small part to the growth in the DeFi space. Its native token, UNI, has also enjoyed significant gains.
After starting the year at $5.13, UNI jumped as high as$45.02 in May. its downturn bottom is so far $12.83, and UNI has so far rebounded rather well. If you're looking for lower risk returns, this is a good coin to keep an eye on. It has utility, and it is backed by one of the largest exchanges in the industry.
With a current price peg of $28.06, UNI is down 4 percent in the past 24 hours and up 25 percent in the past week. But, sentiment is about to turn positive as Lucas Outumuro, a researcher at crypto data aggregator IntoTheBlock, confirmed earlier today that Uniswap has become the first DeFi protocol to surpass $1 billion in earnings for liquidity providers.
@Uniswap just became the first protocol to surpass $1B+ in fees 🤯

Congrats to @haydenzadams and team 🦄 pic.twitter.com/pnA10t41Yo

— Lucas Outumuro (@LucasOutumuro) August 10, 2021
Uniswap's milestone comes following significant growth in the DeFi market. Over the next few days, a lot of eyes will be on the token. The coin's RSI is 70.06, and it is well above its 20-day MA of $23.18. The losses for the day could very well be a setup for bigger moves.
5. Chainlink (LINK)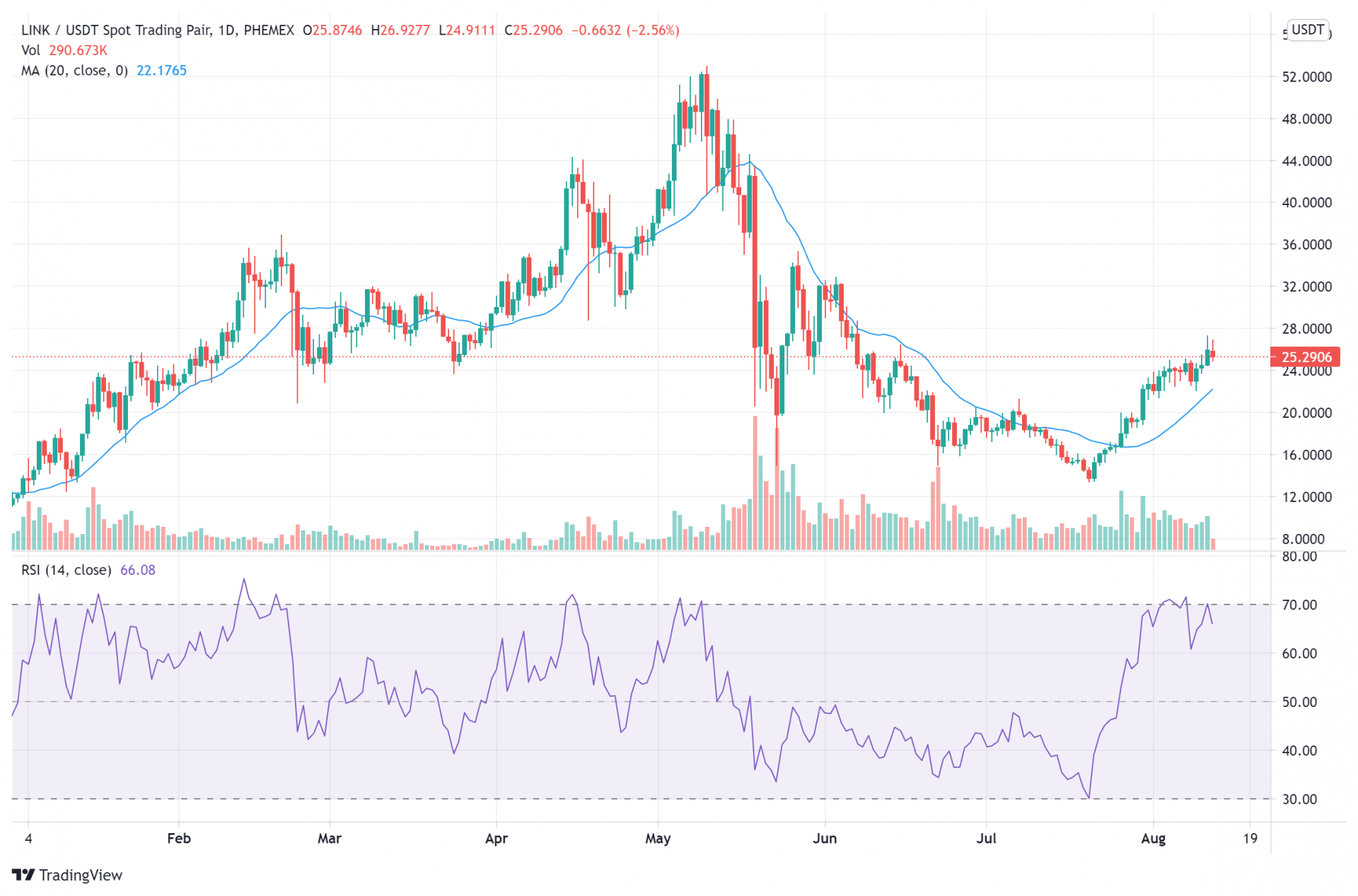 Chainlink is a high-performance blockchain that has gained significant popularity in 2021. Growth in the DeFi sector has led to increased prominence for several "Ethereum killers," and Chainlink has grown to be one of the most prominent.
Whether for short-term or long-term gains, LINK seems to be a great buy for investors looking for lower risk returns. The coin is cheap, trading at a bargain price of $25.38. That's down 1.7 percent in the last 24 hours, but still up 8.1 percent in the past week.
The coin's growth is tied to the adoption of Chainlink, and that has been moving rather well so far. Recent data from Chainlink's ecosystem archives showed that over 281 projects have integrated into Chainlink in 2021 alone, making an average of 1 project a day.
The blockchain also recently got a big endorsement, with Swisscom – one of Switzerland's biggest telecommunications companies – signing up to become a node operator last week.