Looking for the best cryptocurrency to buy? Now that the crypto market is estimated to be on a path to recovery, it should be easier to buy digital assets. In this roundup, we list the best cryptocurrency to buy for massive gains this week.
1. Theta (THETA)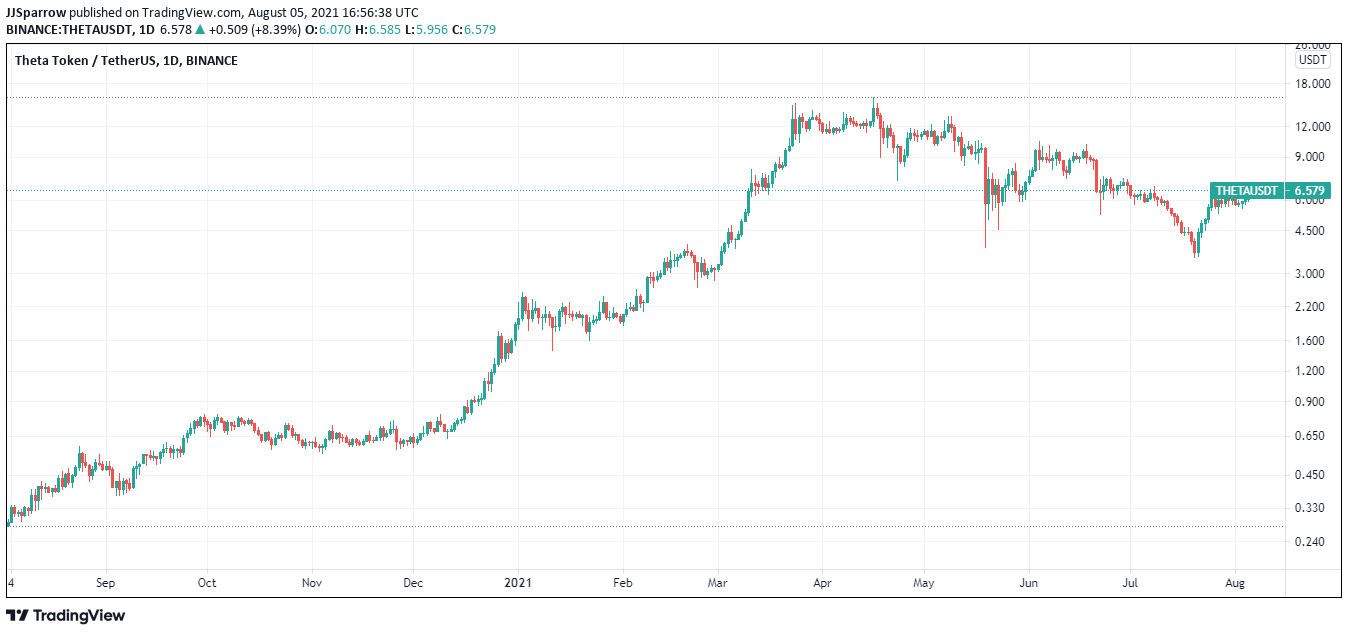 Starting off our list is the THETA coin. This is a major cryptocurrency to buy for recovery. The token is one of the native tokens on the video streaming blockchain platform, the Theta network.
Like several assets, the THETA token has grown tremendously this year. The crypto was trading at $1.97 in January before hitting the $2.45 mark in February.
THETA reached its all-time high price of $15.90 in April but it subsequently plummeted that same month.
THETA has been through several bullish and bearish cycles since then. On July 20th, Theta hit its lowest point since March when it tumbled to $3.49. However, it made a remarkable recovery and rose $5.60 four days later, a 114% increase.
The THETA price has been hovering around the $6 mark since then. Currently, THETA trades at $6.36 and is up 5.50% in the last 24 hours. The coin ranks among the top 20 assets on the crypto chart making it a top cryptocurrency to buy. THETA is building bullish momentum as seen in its 20-day moving average (MA) support price of $6.492.
The Theta network recently announced an upgrade that will bring a range of improvements to the network. One of which is the current six-second wait time for block proposals. Another improvement is the reduction of the snapshot validation and import time from 45 minutes to 15 minutes.
These improvements will help Theta Network be able to support at least 1 million users at the same time.
2. Ripple (XRP)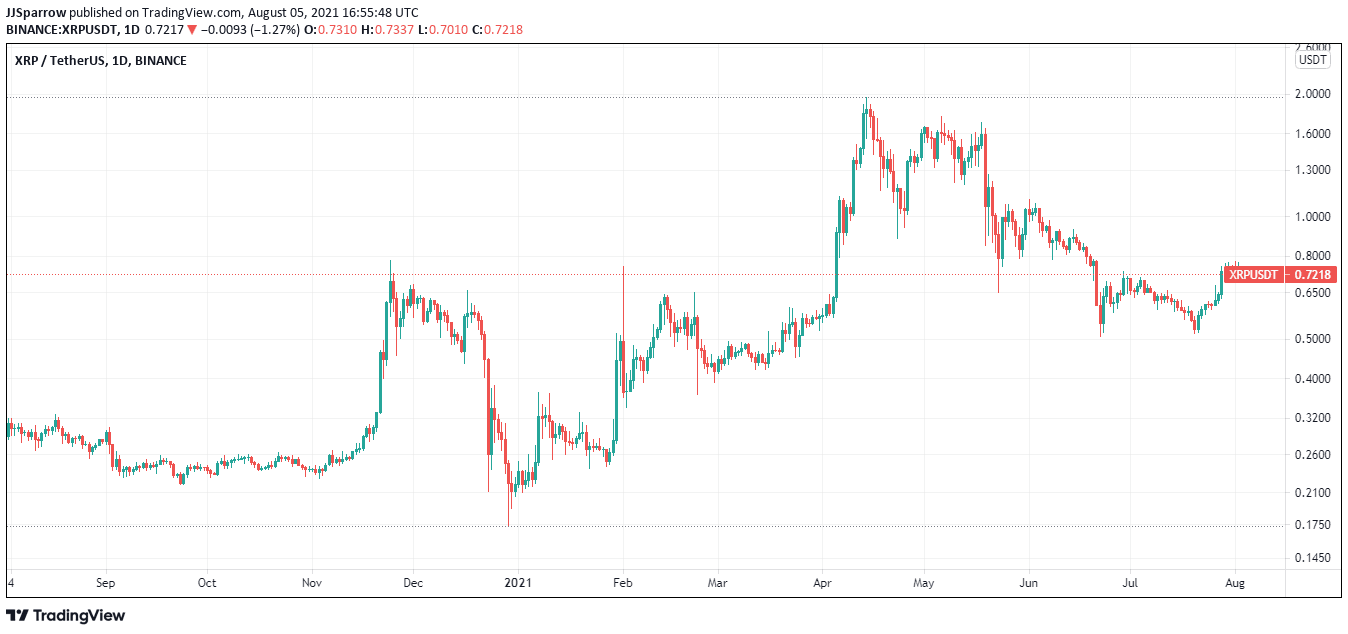 For several reasons, XRP is one of the best cryptocurrency to buy this week. This is because the coin is poised to see growth as the market rises.
Looking back at XRP's price action this year, the token has had several wild swings. Although this is common among crypto assets, the ongoing lawsuit between XRP's native protocol Ripple and the Securities and Exchange Commission might have fueled it.
XRP began the year at $0.237. Surging with other crypto assets, the token reached a record high price of $1.794 in April. XRP declined but maintained its $1 mark until May 27th when it dipped to $0.970.
The token continued to decline and was trading at $0.610 on June 21st and $0.557 on July 19th. XRP is currently trying to maintain and surpass the $0.709 mark on the chart.
Although it is down by 1.48% in the last 24 hours, that should not discourage investors as there's a lot of upsides for the asset. Its 200-day MA shows an upward bullish momentum as well. XRP is one of the top 10 valuable assets on the market and is bound to make a big jump when the market bounces back.
3. Binance Coin (BNB)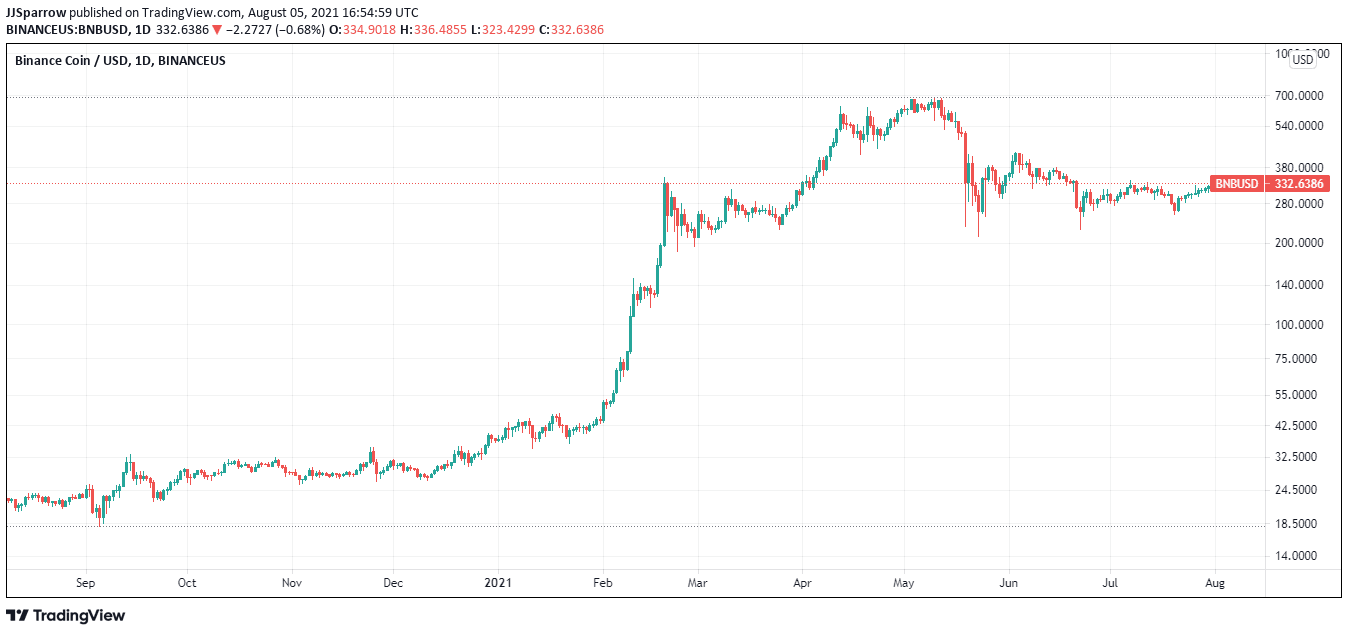 Binance Coin or BNB is a top cryptocurrency to buy, given its value proposition and past price movements. The token is the native asset for the world's largest cryptocurrency exchange Binance.
Like all large-cap cryptos, BNB rose to its all-time high during the market bull run in May this year. The token hit a high of $691.89 but thereafter fell to $211 due to the market downturn.
BNB has a current price peg of $325.71 and is down by 0.70% in the last 24 hours. The coin is maintaining its spot in the top 5 most valuable asset chart with a
market cap of $54 billion.
BNB's 20-day MA of $326.73 shows a bullish trend as it is above its current trading price.
BNB's position as the fuel for the ever-growing Binance ecosystem is a good signal making it one of the best cryptocurrency to buy for right now.
The BNB token has seen rising adoption lately. Crypto exchange FTX just launched support for BNB and Binance USD (BUSD) tokens.
Binance also partnered with Alchemy Pay to allow its users to make crypto payments on the e-commerce platform Shopify.
4. Cardano (ADA)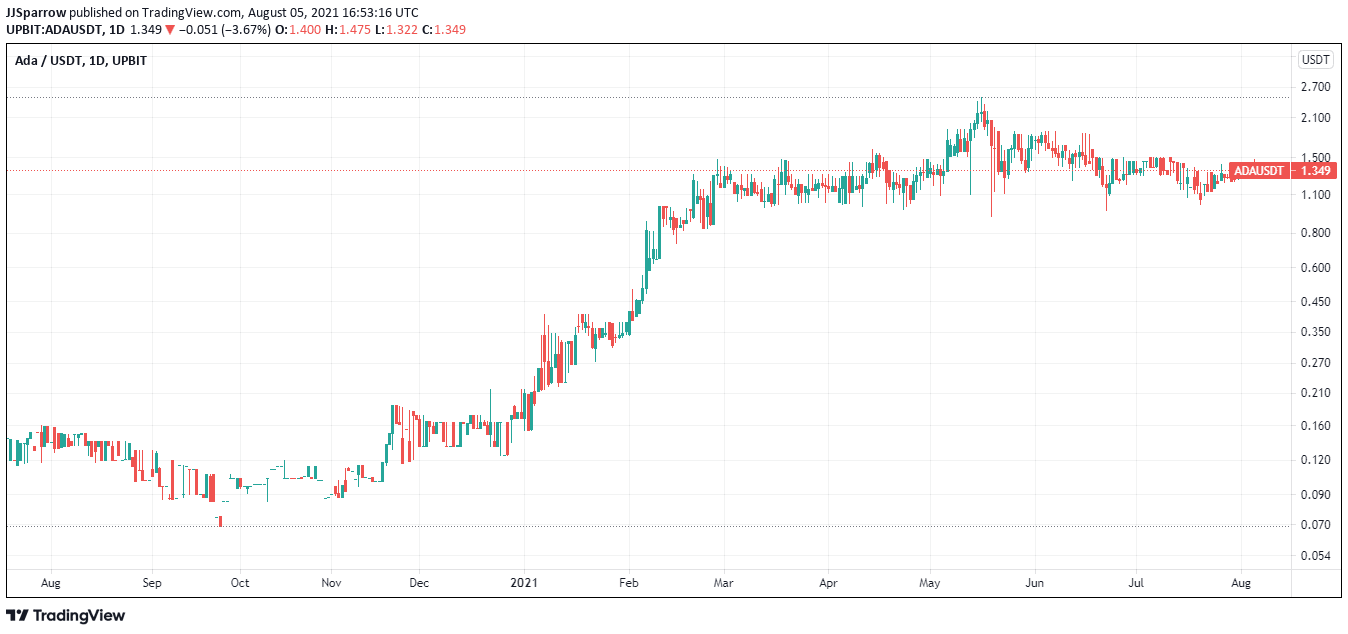 Cardano, popularly called an 'Ethereum killer,' is next on our list of cryptocurrency to buy. The Cardano network is a peer-reviewed blockchain that aims to build a secure, sustainable, and interoperable blockchain platform.
The price of ADA has seen growth this year. ADA hit its all-time high price of $2.3091 in May this year after starting the year with only $0.1753. However, like many assets, the token plummeted subsequently.
Currently, ADA trades at $1.35 but is on a bull run as its 20 -day MA shows an increase in price at $1.373.
The coin is a top 5 asset with a market cap of $43 billion.
Cardano (ADA) recently received regulatory approval that will allow it to get listed on Japanese exchanges for the first time.
In the same vein, the largest crypto investment fund, Grayscale, has just set up an ADA-based trust, making the coin its third-largest holding.
Meanwhile, the Cardano network is still working on upgrades in its network in accordance with its roadmap.
Cardano developers are currently working on its Alonzo platform. So far, the Alonzo Blue and the Alonzo white hard forks have been introduced. While the Alonzo Blue upgrade brought smart contracts to the network, the Alonzo White allows the minting of NFTs on the Cardano platform.
5. Dogecoin (DOGE)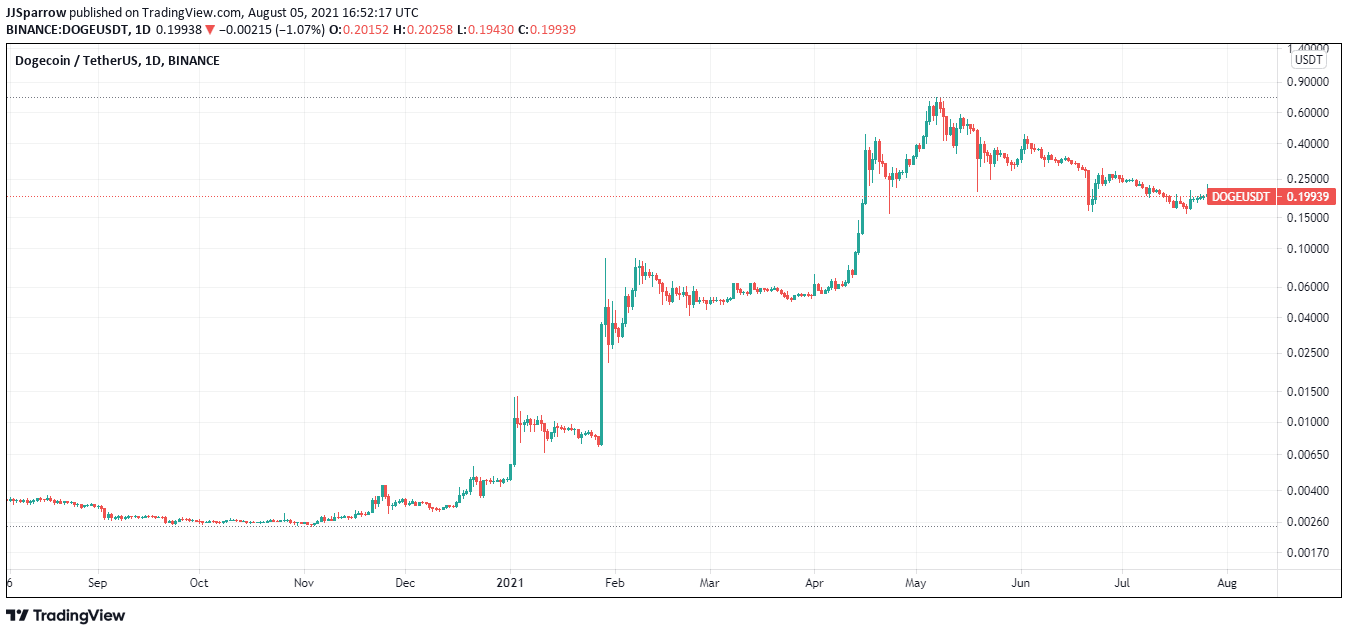 The final cryptocurrency on our list is Dogecoin or DOGE. This asset is a top currency to buy this week for recovery.
Dogecoin reached its all-time high price of $0.7376 on May 8 2021 before declining to $0.385 days after. The coin continued to plummet until it reached $0.178 on June 21. However, DOGE started recovering and surged to $0.264 on June 27. Still, DOGE continued its downtrend and hit $0.182 on July 18th.
Currently, DOGE is trading at $0.1978 and is down by 0.67% in the last 24 hours. The DOGE token is currently trading alongside its 20-day MA at $0.1978.
While investors might be unsure about DOGE, the asset remains the number one meme coin in the market. It also ranks in the 8th spot of the top 10 cryptocurrencies with a market cap of $25 billion.
Dogecoin has a valid community of supporters pushing the coin alongside celebrity influencers like Tesla CEO Elon Musk and billionaire Mark Cuban.
67% of retail investor accounts lose money when trading CFDs with this provider