Cryptocurrencies are all the rave at the moment, given their phenomenal returns. Even though the industry is still infantile, it has received wide acclaim and growing adoption. However, new crypto investors may feel left out in joining the crypto bandwagon. Not to worry. There are still digital assets just making their entrance into the crypto scene. Many of them are trading at bargain prices. This article explores the best new cryptocurrency to buy even as the bulls are in full swing.
5 Best New Cryptocurrency To Buy Now August 2021 Week 2
1. Axie Infinity (AXS)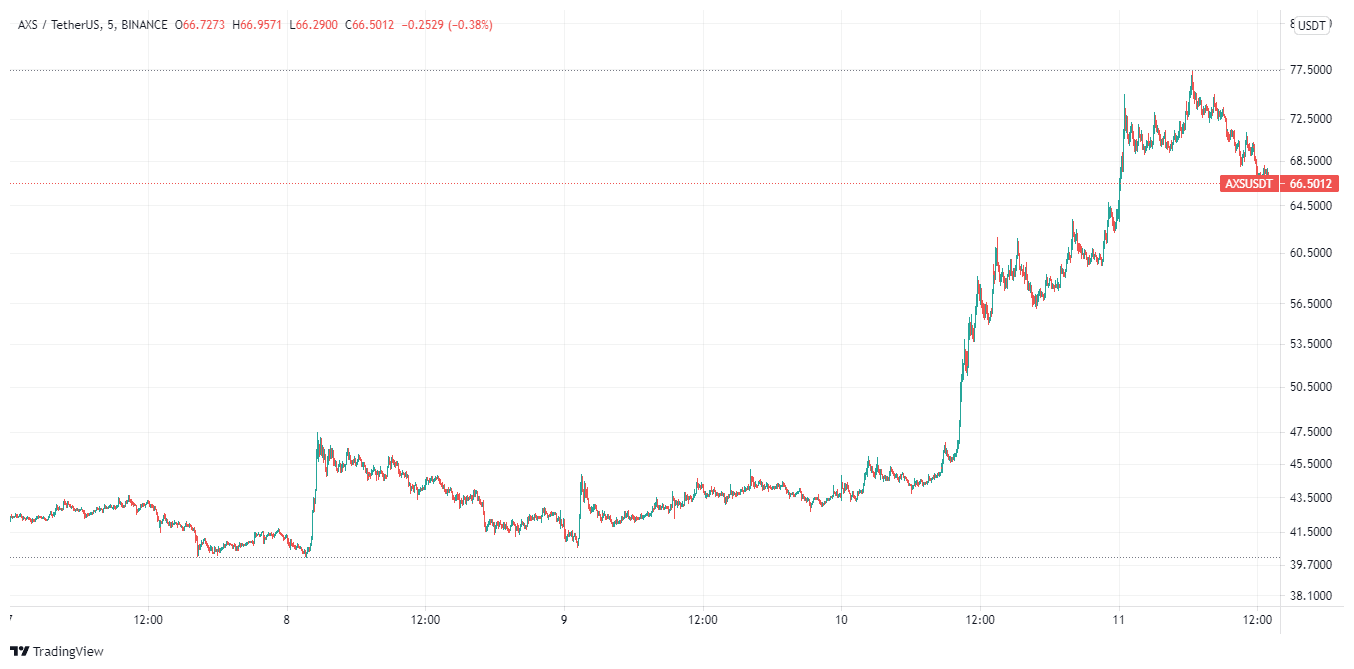 AXS leads our best new cryptocurrency to buy list, given its phenomenal growth in the last few months.
A brainchild of the technology-focused game developer Sky Mavis, AXS is the governance token for the play-to-earn gaming platform Axie Infinity. It is a blockchain-based trading and battling game partly owned and managed by its players.
Here, players can collect, breed, raise, battle, and trade token-based creatures called Axies. In the last few months, non-fungible token (NFT)-based characters have become highly sought-after, with the platform becoming a top destination for players worldwide.
This has propelled the platform to a new blockchain prominence. Axie recently hit $1 billion in sales after growing 130% in just three days.
What a day. @AxieInfinity is the first NFT project to hit $1Bn in
all-time NFT trading volume.

History in the making. $AXS pic.twitter.com/oAc0rOYD9n

— Psycheout – Aleksander | Axie Infinity (@Psycheout86) August 6, 2021
Price-wise, AXS has been a top performer increasing more than 5,000% since opening the year at $0.53. But it entered into its strides in late March when it hit $6.17. It has continued upward with little volatility hitting a May 1 high of $9.77 before the market correction.
However, AXS has shown great resilience as the bulls continued to seize control of its share price despite the broader crypto market seeing its value spiraling downward in the last three months.
It made a record high of $45.6 in the heat of the bearish market and retested this price action hitting a new record at $49.82 on July 27.
August has seen AXS become much more valuable as it has climbed 61.41% in the last 24 hours. It is currently trading at $72.86 as the frenzy around its Axies gathers momentum.
2. Swipe Protocol (SXP)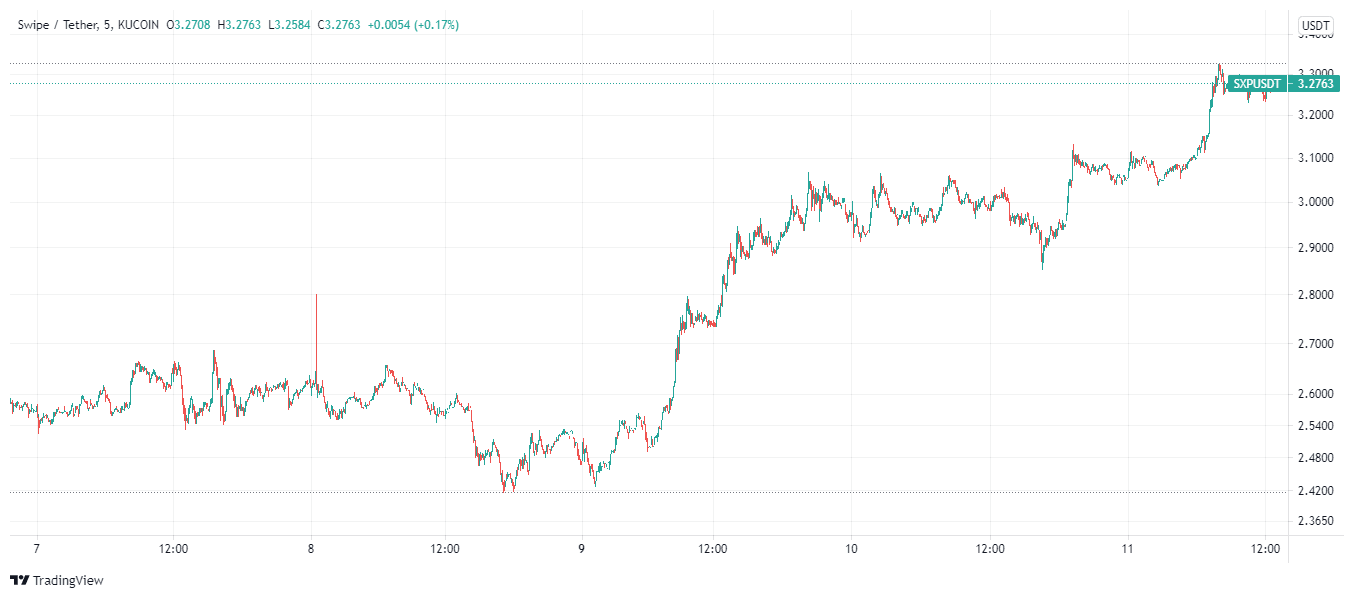 Swipe Protocol aims to build a bridge between the financial world as we have known it and the developing one we are currently witnessing.
In essence, Swipe enables interaction between fiat and cryptocurrencies through its application programming interface (API). It allows the development of international payment cards powered by its SXP token.
Swipe API is used for real-time cryptocurrency to fiat conversions with the Swipe of a debit card. It aims to allow a seamless user experience with cryptocurrencies. Launched in April 2020, Swipe has three main product offerings, including its Swipe wallet, debit card, and SXP governance token.
Its debit cards are accepted at Visa payment terminals. The world's largest crypto exchange acquired the Swipe platform, Binance, four months after its launch. SXP price action has experienced high volatility like several crypto protocols and is only recently making some tailwinds.
Opening the year at less than $1, it grew more than 200%, hitting a record value of $5.4793 on May 3.
However, this growth occurred at the cusp of the crypto market crash, and SXP plummeted to a mid-year low of $1.4 in July.
The bears have since lost their hold as SXP has returned to winning ways since the beginning of August. It surged to $2.164 on August 3 and has continued its upward march. At press time, SXP is trading at $3.30, up 8.35%, with more growth expected.
3. PancakeSwap (CAKE)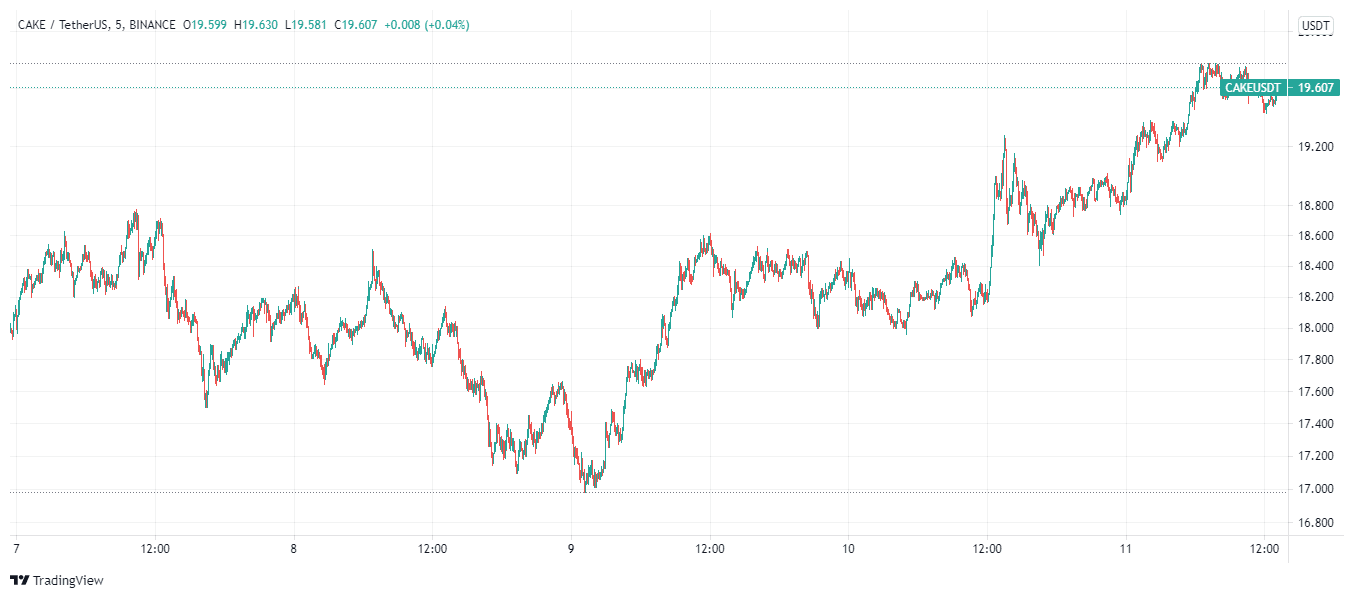 CAKE is the native token of the Binance-owned decentralized exchange (DEX) platform PancakeSwap.
A decentralized finance (DeFi) facilitator, PancakeSwap enables the seamless conversion of digital tokens on its platform via atomic swaps.
In addition, it enables DeFi investors to provide liquidity through Binance Coin and earn fees in return. PancakeSwap is a top destination for users, given its large repository of DeFi products and the massive returns they yield.
Its automated market maker (AMM) model sees it use liquidity pools against the popular order books favored by several centralized crypto exchanges. It also runs a DeFi lottery service where users can predict a set of numbers to win prizes.
Since launching in September 2020, CAKE has become the main source of generating massive returns. It surged to $19.08 on Feb. 19 from under $2 in Jan. It has continued to rally despite negative market growth touching a record number of $43.92 on April 30.
Even though it tried to retain its value in early May, the crypto market crash eroded its gains, and it dipped to $11.01 on July 20.
It has since caught some tailwinds and is trading at $19.59, up 6.69% in the last 24 hours.
4. Amp (AMP)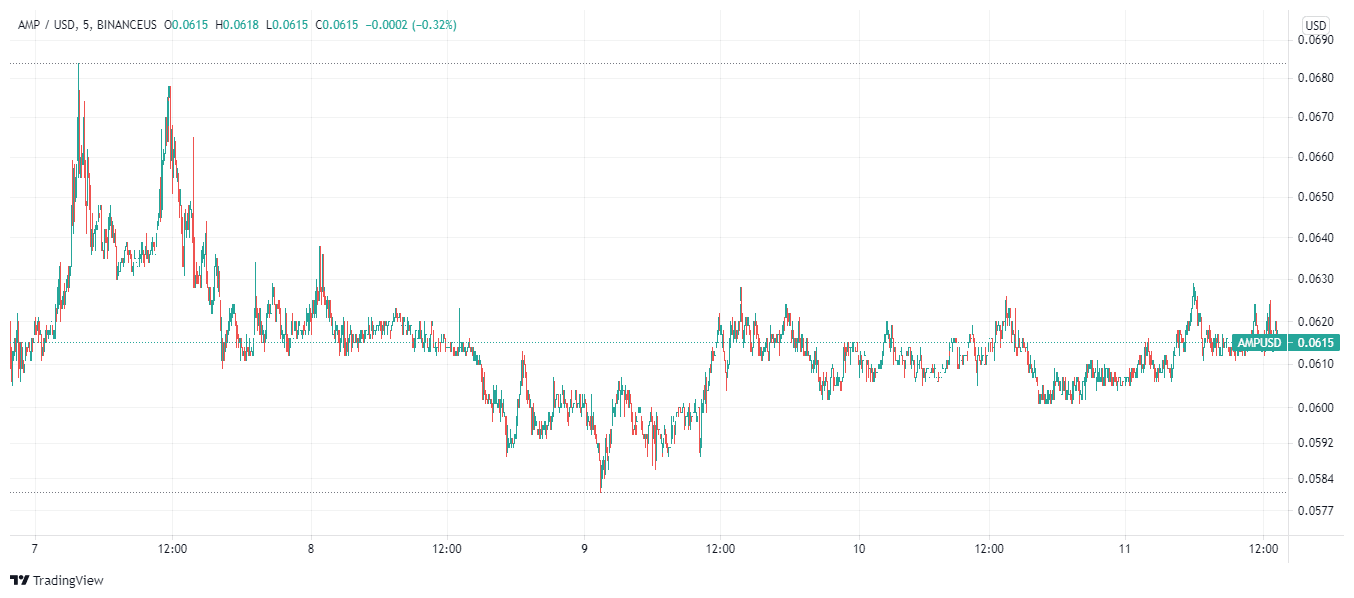 Carving a niche for itself, the AMP crypto is in the collateral business. According to the development team, AMP aims to enable collateralization for digital token swaps as it offers quick and verifiable assurances for the transfer of value among transacting parties.
This unique value proposition makes it one of the best new cryptocurrency to buy this month. AMP insures the value of a given transfer before confirmation.
It plans to reduce the cost inherent in the interchange of payment and reduce the risk of fraud. AMP supports many use cases in collateralization and introduces the idea of predefined partition strategies.
This allows collateral models through which tokens can be staked without them leaving their original address.
Users can easily stake their AMP tokens to guarantee any form of financial exchange, including digital payments, currency exchange, and loan repayments.
The AMP token has been one of the best-performing tokens in the crypto space.
It has mostly been on a bullish momentum with some spice of a bear undertone, especially apparent in the last market crash. Although it has not hit the $1 mark, AMP surged to $0.1138 on July 17 before retracing.
It is gradually picking up steam again and is up 0.37% and trading at $0.06131 on the daily chart.
5. HARD Protocol (HARD)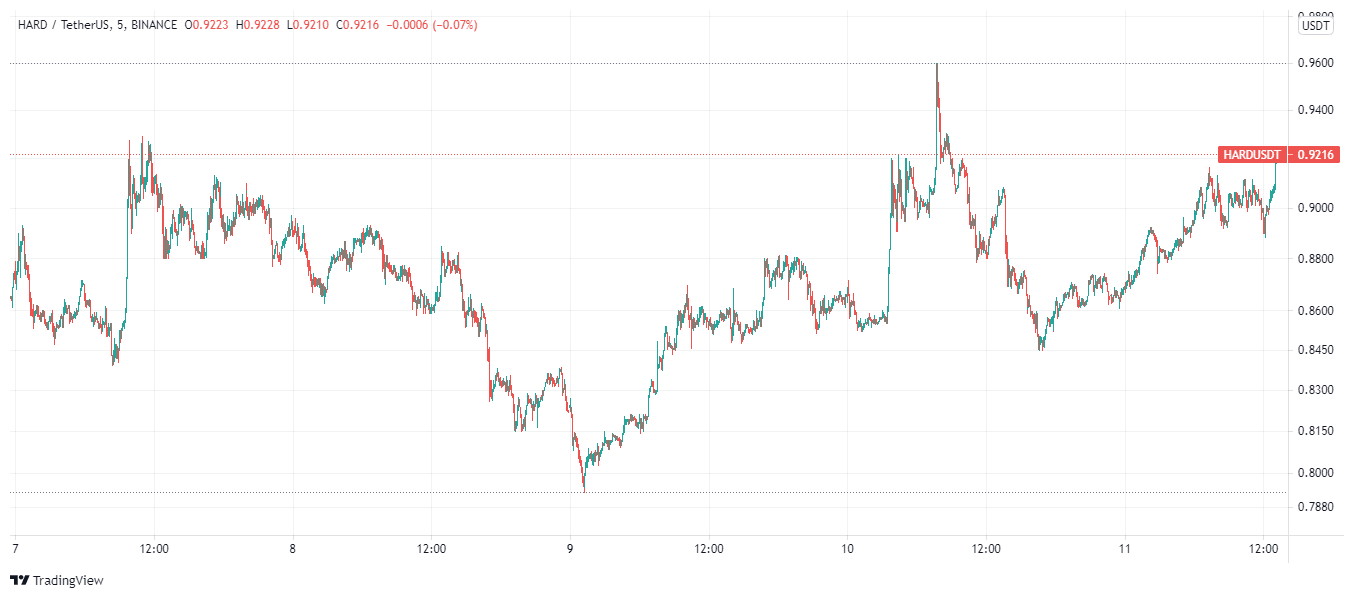 The HARD protocol is a cross-chain money market platform. Users of the HARD protocol can lend, borrow, and earn on several assets like BTC, XRP, BNB, KAVA, and USDX.
Targeting users who want to increase their crypto earnings, HARD is one of the best new cryptocurrency to buy, given its growing adoption.
Users can provide liquidity on the platform and earn interests, use their crypto as collateral to borrow, and earn HARD for providing liquidity.
Built on the KAVA blockchain, it uses the parent protocol's validators for security, cross-chain asset transfer, and Chainlink for price-reference data.
Its HARD asset is used as a governance token, and holders can participate in governance voting and earn HARD rewards.
HARD has mainly been on an uptrend since coming into the crypto scene in late 2020. It ended 2020 with a value of $0.4458 and has been on an upward trajectory ever since, hitting its all-time high (ATH) of $2.88 on March 31. It came close to retesting this price action but could not break above the $2.49 resistance line.
It experienced a freefall after in May, crashing below $1 again on May 22. It rallied once more, hitting $1.34 on June 15 before finally bowing out.
However, HARD is slowly regaining some of its charms and has been making a push back to the $1 mark. At press time, it is trading at $0.904.
67% of retail investor accounts lose money when trading CFDs with this provider