Decentralized exchanges (DEX) have boomed since the mainstreaming of decentralized finance (DeFi). This has led to several investors searching for the best DEX coins to buy.
According to the popular DeFi data analytics platform, DeFi Pulse, over $102.64 billion in total value locked (TVL) is currently circulating in the nascent sub-sector.
This huge figure is an indication that DEX platforms have become popular destinations for the best high-yield investments.
Discussed below are some of the best DEX coins to buy for high profits.
1. UniSwap (UNI)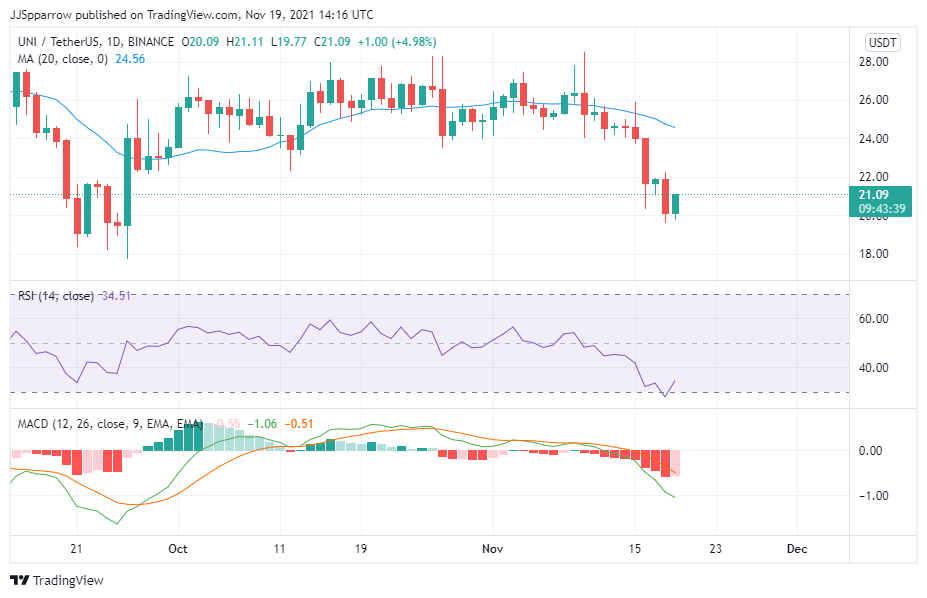 Since launching in November 2018, UniSwap has remained the premier DEX platform. Launching simultaneous versions of its DEX platform this year, UniSwap remains one of the best DEX coins to buy for long term gains.
Created to address a flurry of challenges negatively impacting the DEX sub-sector, UniSwap enables the automated trading of DeFi tokens.
The Ethereum-based protocol runs as an automated market maker (AMM), enabling a more efficient trading experience alongside providing sufficient liquidity in the DeFi ecosystem.
Price-wise, UniSwap's governance token UNI is trading at $21.09, up a modest 4.98% in the last 24 hours. This is despite the ongoing bearish momentum in the crypto market. Year-to-date, UNI has surged 309.31% while keeping a strong twelve-month trailing surge of 446.79%.
Given its strong presence in the DeFi ecosystem, UniSwap has seen several integrations with other protocols. In a recently released list, over 80 new protocols merged with the UniSwap ecosystem.
2. dYdX (DYDX)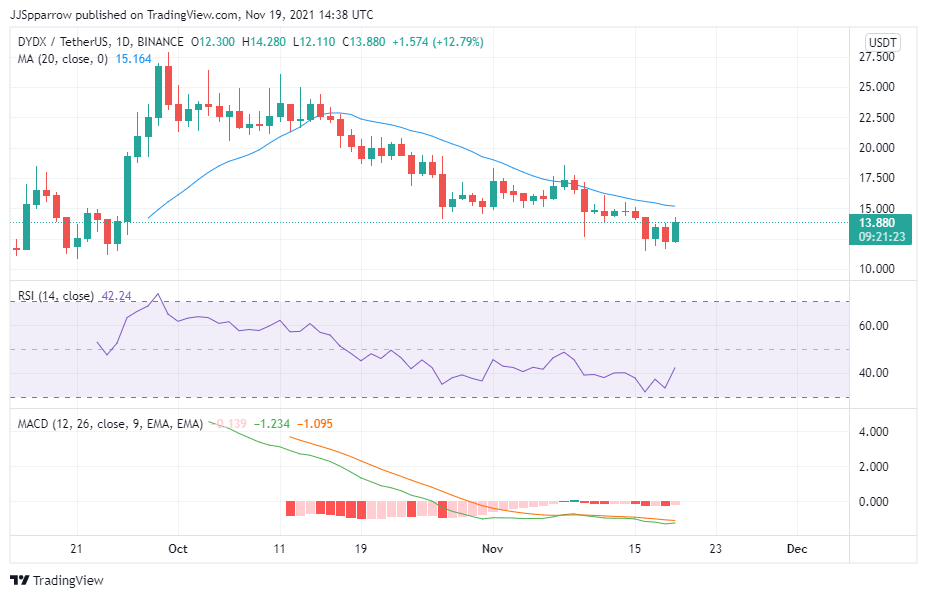 Operating as a non-custodial decentralized exchange platform, dYdX makes our list of the best DEX coins to buy for huge profits.
The platform offers the same features of a centralised exchange allowing users to trade digital assets on the spot, margin, and perpetual contracts. This is done without resorting to the know your customer processes or any form of identification.
This is due to the fact that dYdX uses smart contracts on the Ethereum network while enabling zero gas fee costs, lower trading fees, and reduced minimum trade sizes.
While still new in the DEX sphere, dYdX currently averages above $3.4 billion in trading volume showing huge potential for its token holders.

At press time, DYDX is trading at $13.880, up 13.04% in the last 24 hours. Strong bullish rising towards the 20-day moving average (MA) support price of $15.34.
The DEX platform recently submitted a protocol upgrade called DIP 5 that will enable the deposit cancellation and recovery for smart contracts from liquidity staking pools.
3. PancakeSwap (CAKE)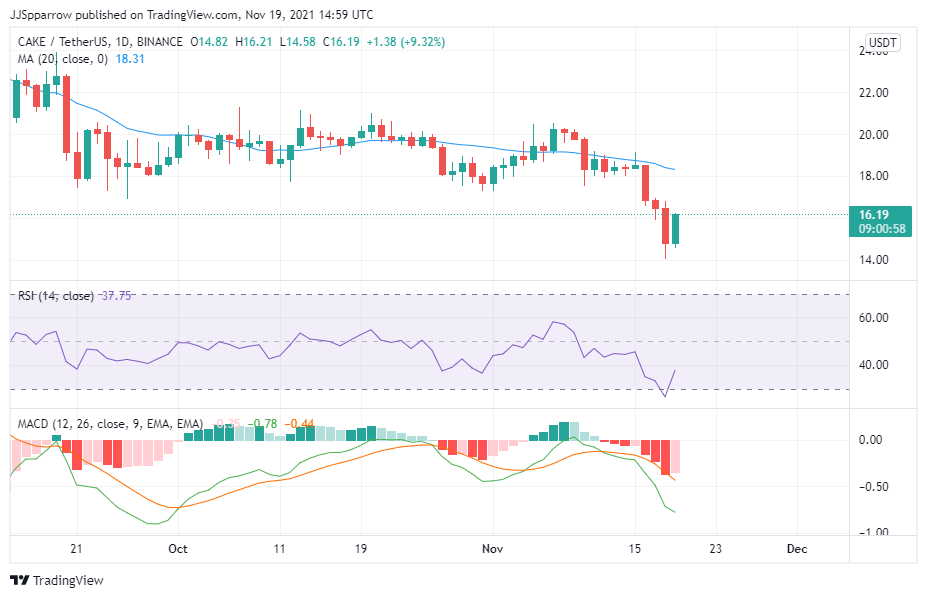 PancakeSwap is another popular DEX platform and one of the DEX coins to buy. Hosted on the Binance Smart Chain (BSC), PancakeSwap enables the swapping of BEP-20 tokens alongside allowing deposits into liquidity pools. In return, liquidity providers (LPs) earn tokens.
Since launching in September 2020, PancakeSwap has become a hotbed for newly-listed tokens. It currently averages over $3.08 billion while snapping up 13.1141% of the DEX market share.
Aside from enabling token swaps, PancakeSwap runs a lottery system and yields farming. The BSC-based DEX also launched its line of non-fungible tokens (NFTs).
At press time, PancakeSwap's governance token CAKE is trading at $16.19, up 12.51% in the last 24 hours.
However, it is trading below its 20-day MA price of $18.28, showing a trailing dip in its price in the past weeks. The 200-day MA price of $19.33 indicates that PancakeSwap may likely break out of the bearish trend soon enough.
The 14-day relative strength index (RSI) figure of 36.60 shows that CAKE is trading at the underbought region while the moving average convergence and divergence (MACD) indicator points to a sell signal.
4. SushiSwap (SUSHI)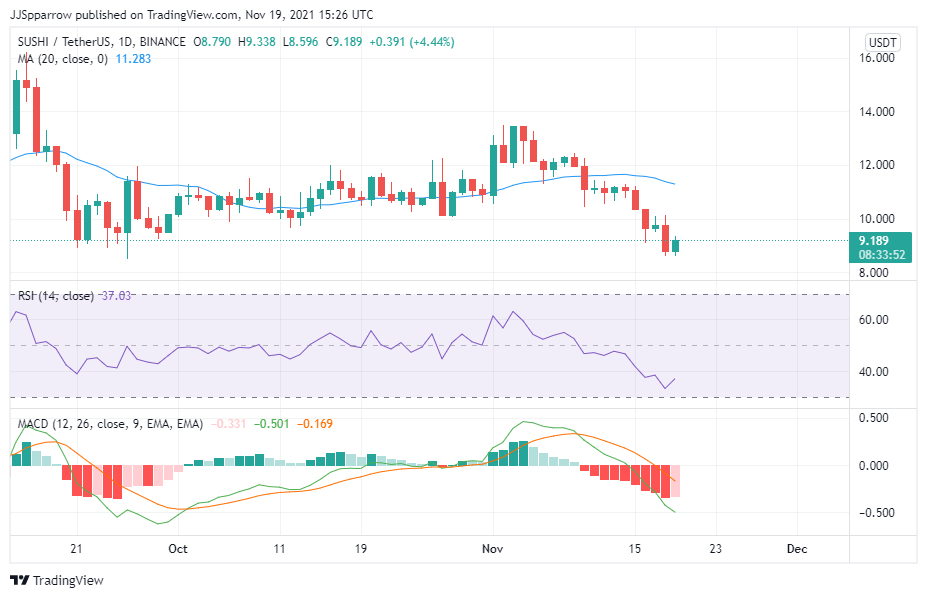 SushiSwap is a DEX copycat of the UniSwap protocol. Like its older cousin, SushiSwap has quickly established itself as one of the best DEX coins to buy for long term profits. The DEX platform enables the seamless swap of DeFi tokens while enabling DeFi users to provide liquidity in return for fees.
SushiSwap has maintained a bullish disposition throughout much of the year after hitting an all-time high (ATH) of $23.38 during the March crypto boom.
5. Curve DAO (CRV)
Curve DAO is a stablecoin-centred DEX platform that broke into the spotlight in mid-2020. The asset is on a mission to enable more accessibility to the DeFi space. Curve is one of the best DEX coins to buy, as it previously surged to $54 before the crypto market downtrend in 2020.
At press time, Curve's governance token CRV is seeing a lot of liquidity activities in its DEX, with over $247 million worth of tokens being traded, reflecting an increase of 101.29% in the past day.
The asset is showing a bullish trend as the ERC-20 token is 8.38% and is trading at $4.07. CRV is trading the 20-day MA price of $4.20, which indicates a slight bearish disposition.
The 200-day MA price of $2.50 reflects that CRV is still in the green zone and shows a long term bullish momentum.