Meme coins have been taking the limelight in the crypto sector because of the massive gains they have attained. Meme coins first entered the sector through memes that were aimed at mocking bitcoin. However, their popularity rose, and developers chipped in to build a strong technology that could support these coins.
With these gains, meme coins make one of the best investments in the market. With many exchanges opening up their doors to these coins, they have become even more acceptable to users. The top meme cryptocurrencies in the market for those who want to rake in high profits in July include:
Dogecoin (DOGE)
The top meme in the crypto market right now is dogecoin. Dogecoin first entered the market as a meme to mock bitcoin as a cryptocurrency. Afterwards, it became a real cryptocurrency, and it now ranks as the top meme coin. This year, dogecoin made headlines after its value spiked by almost 12,000% before it was interrupted in the May market crash.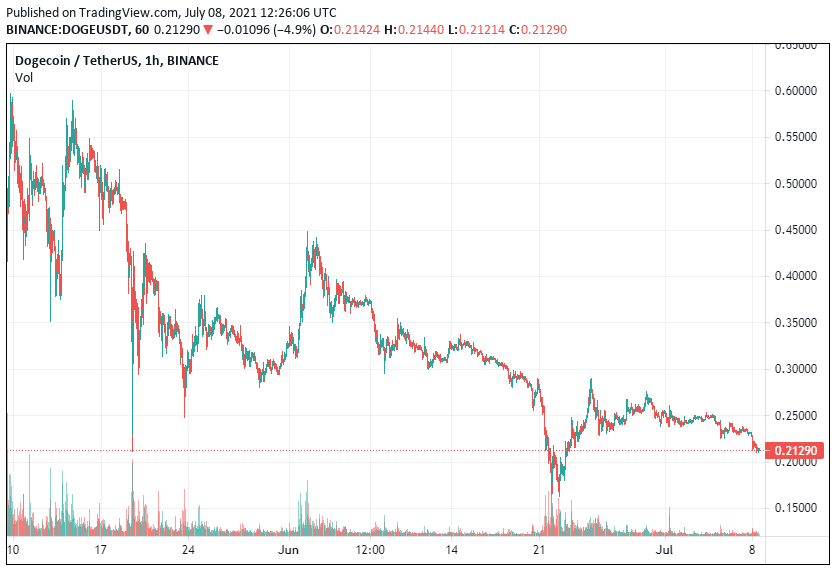 One of the reasons that make dogecoin a good investment for July is the news that its developers are working on upgrading its technology; Elon Musk, Tesla's CEO, is expected to be part of this development team. Once the upgrade goes through, the value of DOGE might go up.
Doge has also made headlines this month after gaining overwhelming market support with diehard investors unwilling to sell despite fluctuating price action. Moreover, dogecoin has also found its way into the pockets of unusual investors such as US congressman Barry Moore.
Shiba Inu (SHIB)
The other coin that also makes a good buy this July is Shiba Inu. Shiba Inu, popularly known as the Doge killer, is fast rising in value among dog coins, and its price has taken a steady uptrend. Just like dogecoin, SHIB's value and popularity have also grown tremendously this year.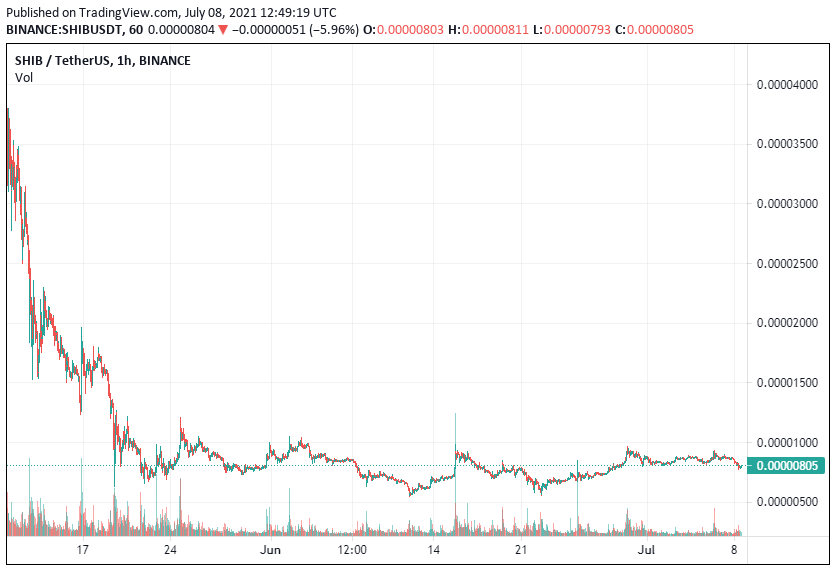 One of the reasons why SHIB makes a good investment choice this July is because it recently gained support from Musk. If Musk continues tweeting about DOGE, we expect the 'Musk effect' to be in play, and dogecoin's price will rise.
SHIB is also gaining attention from the broader market because of the recent attention it has received from Coin Bureau, a crypto YouTube influencer. In his channel, the influencer states that SHIB will rise soon, and if buyers rally support for the coin, we might see this uptrend happening.
Safemoon (SAFEMOON)
The third top cryptocurrency on the list is Safemoon. Safemoon, just like the other meme coins, has also been gaining in value. One of the reasons why Safemoon is a good investment is that it is suitable for those on a low budget because its value is remarkably low.
Safemoon prides itself as a DeFi token and as a meme coin. The major competitors of Safemoon are other meme cryptocurrencies such as dogecoin and Shiba Inu. One of the reasons why SafeMoon is popular right now is that it is readily available on crypto exchanges such as Binance and Coinbase.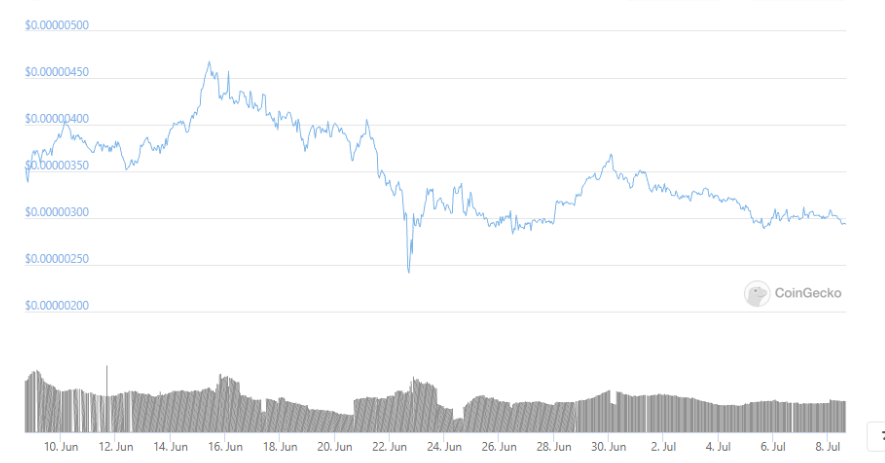 However, you need to note that Safemoon is not like the other cryptocurrencies. Unlike the others where a day trader can buy and sell as they please, investors who buy Safemoon are advised to hold the token because it is the only way they can avoid paying the high fees deducted upon transactions.
Because of this limitation, the founders of Safemoon wanted to avoid market volatility, which is mainly caused by day traders buying and selling to gain profits.
MonaCoin (MONA)
The other meme coin that you can invest in this July is MonaCoin. MonaCoin is a token whose popularity has also grown. MonaCoin is a blockchain-based crypto that is mainly dominant in Japan. For those looking for cryptocurrencies with some form of stability and has a real use case, MonaCoin makes the ideal choice.
One of the reasons this technology is trendy is that it is accepted in Japan as a means of payment. The blockchain enables transactions to be processed faster than blockchain, hence giving it an edge in the market.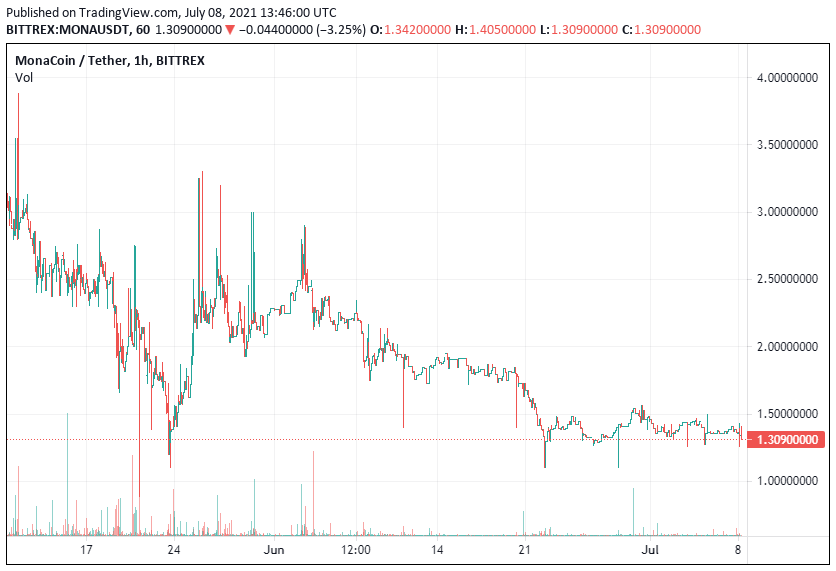 MONA is supported on major cryptocurrency exchanges such as Bittrex, making it easily accessible to those who want to buy the token. Like most meme coins in this list, MONA is also highly affordable because of its low price, making it ideal for those who are trading on a budget.
Baby Doge Coin (BABYDOGE)
The other hot meme coin in the market right now is baby doge. The token was launched in early June; hence it is one of the newest and riskiest investments in the market right now. However, in this short period, baby doge has managed to drum up support from the broader crypto market, and its trading volumes have spiked to high levels.
Baby doge coin was founded to improve the limitations of dogecoin, but there is no technology behind the token that shows it is a viable investment. This makes it a precarious venture, especially for those who invest in the market because of the technology.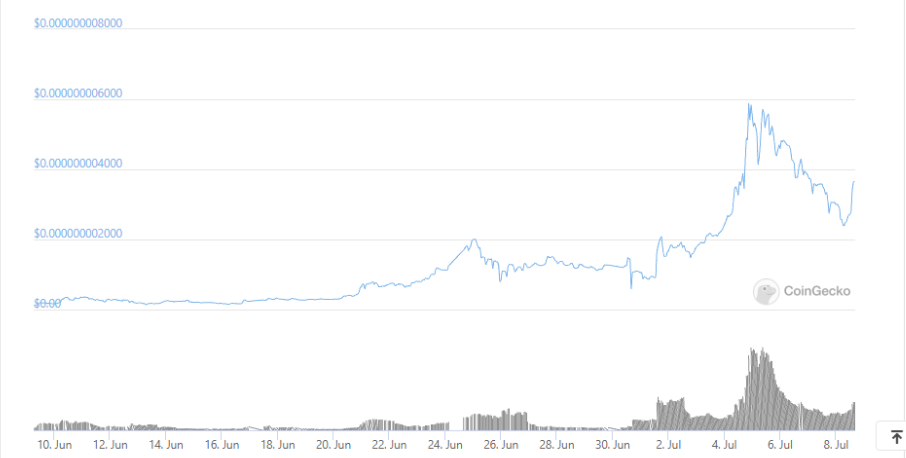 Baby doge has grown by over 500% since its invention last month, and its market cap has tremendously grown in this short period. If you want to make some quick profits this July, baby doge is a perfect choice. However, you should only invest what you are willing to lose.
In Summary
Meme coins are some of the most popular crypto investments in the market right now. Meme coins rose to popularity because of dogecoin, but others joined the market shortly after, with many mimicking what dogecoin could do.
One of the reasons why meme coins have grown in popularity recently is the support they have garnered from the crypto community, with investors such as Elon Musk showing that meme coins are viable investments. However, you need to note that all cryptocurrencies are risky ventures, and while gains can be made, investors can also suffer massive losses.