We have the scoop on the top cryptocurrency to buy this week for a bargain. Despite the slump in the market, which saw large capped assets like Solana and Cardano shed 12%, there are still opportunities to make sizeable gains in crypto. Let's take a look at the popular cryptos driving  Let's dive right in.
1. Shiba (SHIB)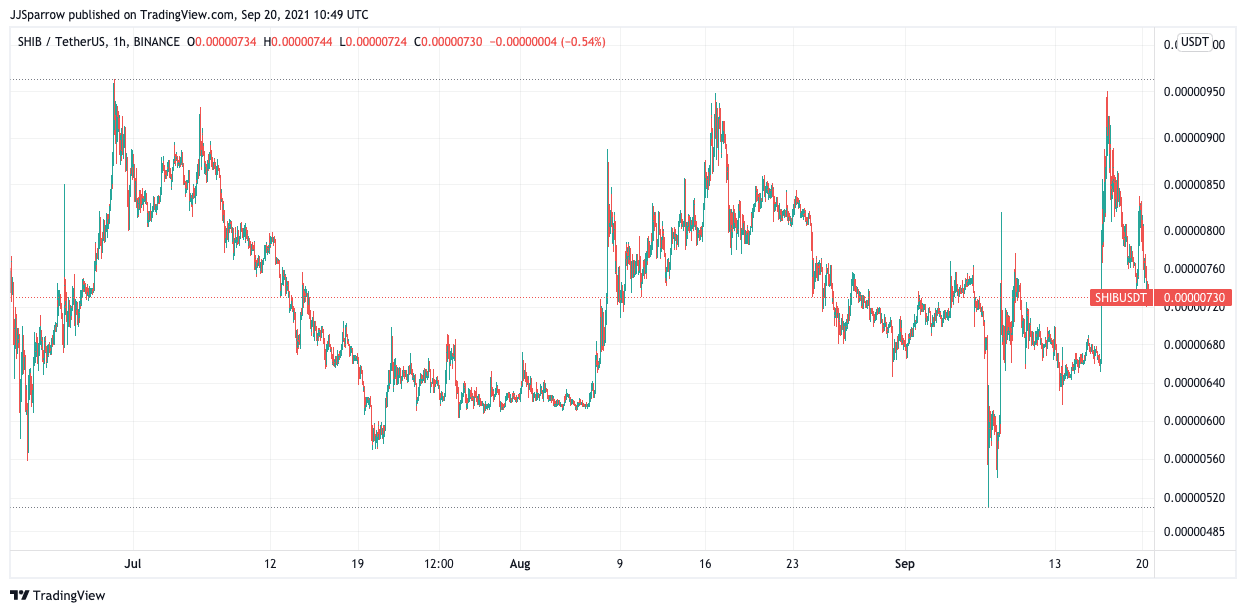 Known popularly as the 'Dogecoin killer,' Shiba Inu is a meme coin that came into crypto prominence when it surged 21,000% in a week making it a top cryptocurrency to buy. Meme coins have been largely disregarded and written off as a joke but Dogecoin's rise into the top ten crypto bracket saw a whole new crypto sub-sector opening up. The blockchain platform is hosted on the Ethereum network and runs a decentralized ecosystem that allows users to provide liquidity, stake, and swap tokens. Also, users can access popular crypto-collectibles called non-fungible tokens (NFTs) on the decentralized exchange (DEX) platform.
Although SHIB has not hit the dollar mark since launching in August 2020, the token has generated buzz. The Dogecoin rival recently listed on top US crypto exchange Coinbase with the company's clients now able to trade the meme coin on the retail-centred Coinbase.com. This announcement saw the value of SHIB surge 31.9% to $0.000008815 in 24 hours pushing its market cap momentarily to $3.4 billion. SHIB has since consolidated, dipping 4.07% and currently trading at $0.000007332.
2. Celo (CELO)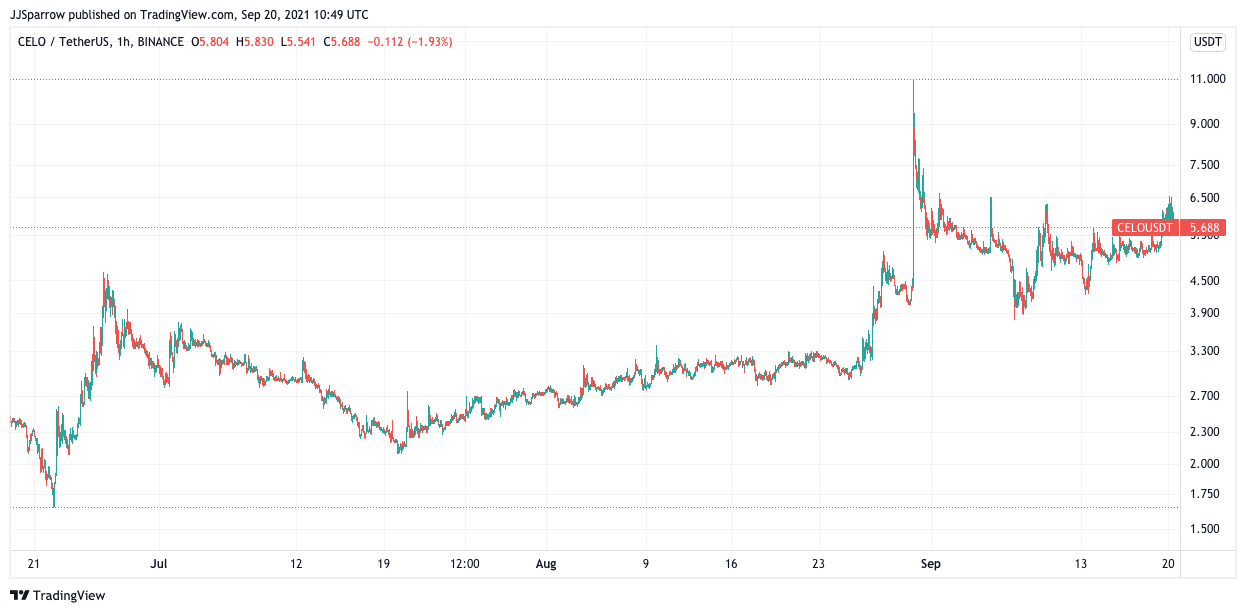 The Celo blockchain has a mission to enable crypto adoption globally. To meet this goal, Celo focuses on smartphone users. Celo is a mobile-first platform that enables the fast and secure transfer of virtual assets. The network is a proof-of-stake (PoS) platform that enables developers to create smart contracts and dApps for decentralised finance (DeFi).
CELO powers the blockchain protocol and is used for network fee settlement and governance participation. The Celo coin jumped in value after introducing a new incentive program for its chain. This saw the protocol surge in total value locked (TVL) to more than a quarter of a billion dollars.
2/ Since launching "Avalanche Rush", its DeFi incentive program, @Avalancheavax has enjoyed a gush of liquidity to its EVM chain. @FantomFDN and @Celoorg saw an uptick in TVL for their DeFi projects after announcing incentive programs for their respective chains. pic.twitter.com/wYRfSt5xto

— Delphi Digital (@Delphi_Digital) August 31, 2021
Knit Finance, a decentralised protocol that enables cross-chain wrap for top 200 assets, recently built its protocol on the Celo blockchain. Users can now deposit and mint K-CELO tokens for cross-chain transactions. CELO token price has been on a tear lately despite large-cap assets like Bitcoin facing a market downturn. The digital asset is up 13.06% in the last 24 hours and trades at $6. CELO's seven-day price change stands at 33.71%, with more uptrend expected.

3. Cosmos (ATOM)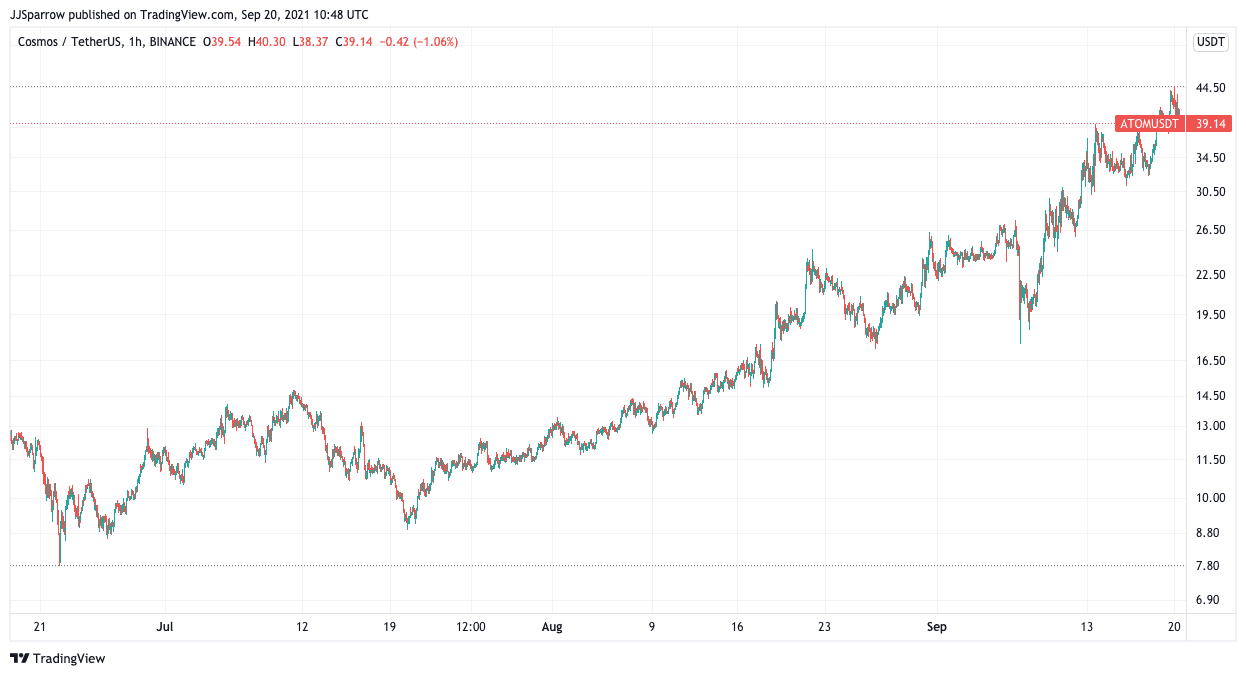 Dubbed the 'internet of blockchains,' the Cosmos network is a top cryptocurrency to buy given its remarkable rise this year. The Cosmos protocol aims to bring about the adoption of 'Blockchain 3.0' and the protocol is built in a developer-friendly manner. This makes Cosmos easy to use for development teams looking to leverage the network's technological infrastructure. Sporting a hybrid PoS consensus algorithm called Tendermint BFT Consensus Engine, the Cosmos blockchain has a block finality time of 1 second and reputedly handles over 40,000 transactions per second (TPS). The Cosmos blockchain has seen remarkable adoption with Interchain Security protocol Informal launching on Cosmos Hub for shared security.
Also, Cosmos launched an interface for DeFi users called Emeris. The new update is meant to enable access to a wide range of dApps siloed in different blockchain ecosystems in a single, easy-to-use interface. Popular DEX platform Sifchain also upgraded its cross-chain DeFi trading platform between the Cosmos ecosystem and the Ethereum network. The update, which works with Comos' Inter-Blockchain Communication (IBC), will enable both networks to communicate with one another seamlessly.
Utility token ATOM has been on a tear recently and currently trades at $41.06, up 5.01% on the daily chart.
4. Avalanche (AVAX)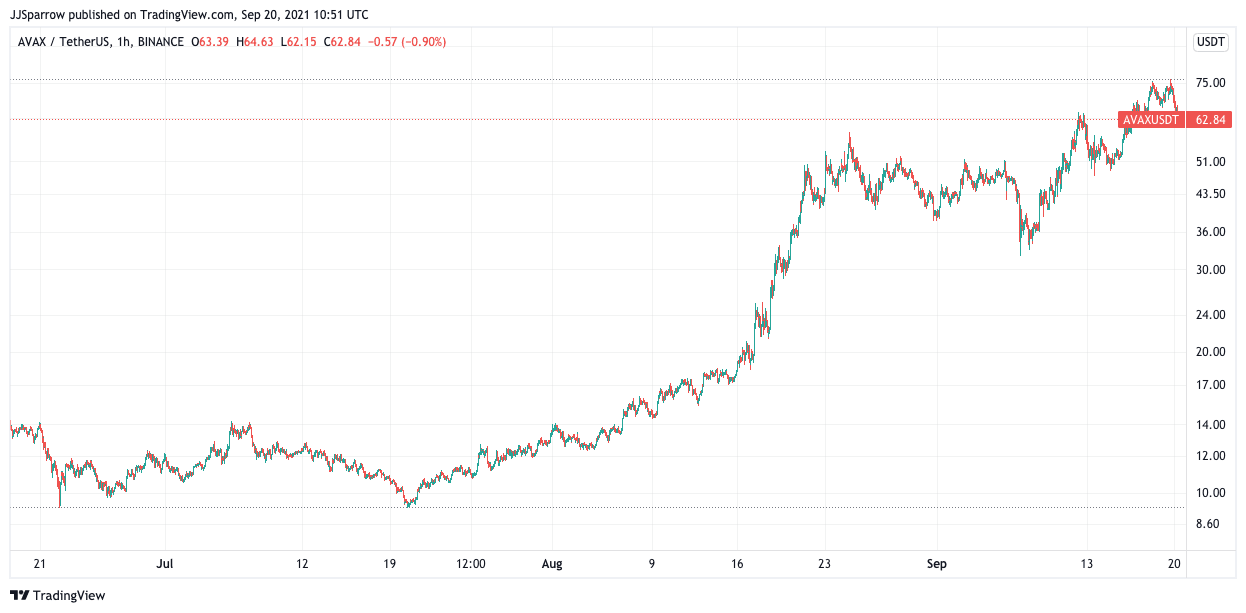 The Avalanche blockchain is a popular DeFi-enabling services blockchain and is a top cryptocurrency to buy this month. Dubbed an 'Ethereum killer,' the Avalanche protocol is the fastest smart contracts platform by time-to-finality and has the most validator nodes securing activities on the platform.
It aims to offer a super-fast, low-cost, and environmentally-friendly blockchain protocol for crypto users to complete transactions on the network. The protocol's appeal has seen venture capital firms like Polychain and Three Arrow Capital invest in Avalanche to the tune of $230 million. Also, blockchain company BTCS recently integrated with the Avalanche blockchain citing its high throughput as a factor. However, utility token AVAX is feeling the bearish momentum of the wider market and is down 12.75% from its previous high of $72.49. It currently trades at $64 and has surged 26.37% in the last week.
5. PancakeSwap (CAKE)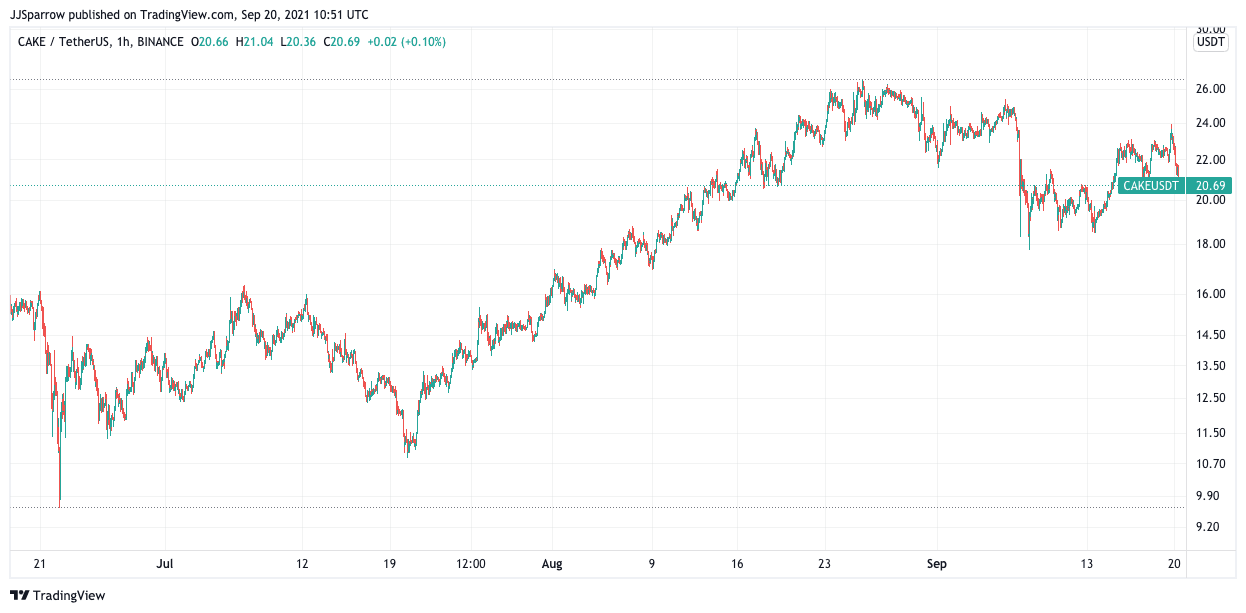 Like popular automated market maker (AMM) UniSwap, the PancakeSwap protocol is popular for DEX services. It enables DeFi users to exchange tokens, provide liquidity through yield farming and earn fees in return. Operating on the Binance Smart Chain (BSC) network, PancakeSwap enables token swaps of BEP-20 digital assets and uses the AMM model to allow users to get the best prices for their token swaps. In the same way, it sports some of the best yield returns for users and operates a lottery service where users can win rewards by guessing a set of numbers correctly.
Aside from this, the DEX platform is a popular destination for listing and trading new and upcoming altcoins. In a recent release, Canadian crypto exchange Biconomy announced its listing on PancakeSwap under the BIT symbol. In a bid to incentivise users, the centralised exchange is launching with a massive prize airdrop of BIT tokens worth $50,000 on the crypto aggregator website Coinmarketcap. However,  the CAKE token has been hard-hit by the market downturn and is down 6.67% in the last 24 hours. The virtual token currently trades at $21 and has surged 10.79% in the previous week.