The crypto goes insane as BTC is up $4000 during the last couple of hours.
In previous analysis we had learned that while September has always been a low month for crypto, October has rather been, as analyst Lark Davis tweeted, Uptober, traditionally.
BTC, Going Crazy
Currently trading at $47,400, BTC is up 10% during the last 24 hours, sending the whole market to a green territory.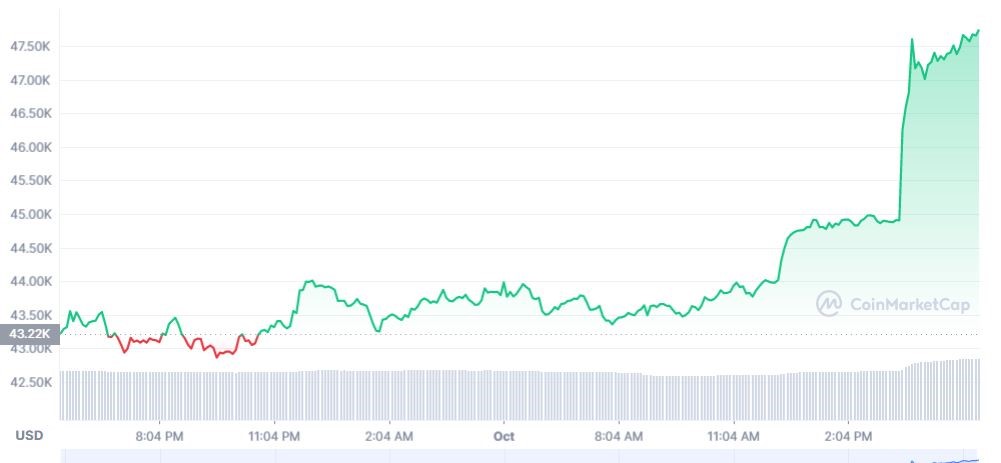 We have just entered the month of Oct and BTC is showing some real encouraging signs, making coin evangelists crazy. Lark Davis wrote:
"Holy cow! #bitcoin going insane!"
"Uptober is real, let the light of the bull mood shine into your life! #bitcoin"
Uptober is real, let the light of the bull mood shine into your life! #bitcoin

— Lark Davis (@TheCryptoLark) October 1, 2021
Now as far as the technicals suggest, the pump is real and could send BTC to the moon pretty soon. Analyst and crypto influencer named "PlanB" targeted $63k for BTC as we enter November. He further noted BTC could close at $135k price level as the year 2021 concludes.
Aug>47k✅
Sep>43k✅
Next targets: Oct>63k, Nov>98k, Dec>135k🚀 pic.twitter.com/C45nfQkQSC

— PlanB (@100trillionUSD) October 1, 2021
Moreover it is also of paramount importance that BTC went up by 25% during the quarter 3. While the coin closed at $43,000 on 30th September, it traded at a price level of $33k on 1st July.
An all time high for XRP
For Altcoins the pump we are seeing proved enough to make some significant gains. XRP is up by 8% during the week as it trades at $1.02. Since 20th Sep it is only the second time the Token has crossed $1. In the meantime XRP traded between $0.8879 and $1.03.
In our estimation if BTC goes on to cross $55k before the end of October, XRP could skyrocket to it's all time high. During the previous market boom, the XRP was only able to hit $1.96. Thanks to the SEC lawsuits, XRP is one of the very few mainstream cryptos that didn't record all time highs in the meantime. Now as we can clearly see that Ripple is in a much better position in the lawsuit than it was ever before, the environment is rather encouraging for XRP to hit an all time high this time around.