Binance Coin, which currently ranks fourth in terms of market capitalization, is one of the most utilized tokens in the crypto space, given that it powers the Binance ecosystem, including Binance Smart Chain and Binance Exchange. The token has found a solid space in the crypto sector because of its adoption, and its popularity has also grown.
BNB is trading at $306.71 on major exchanges at the time of writing after a 4% Decline.
Binance Coin Price Analysis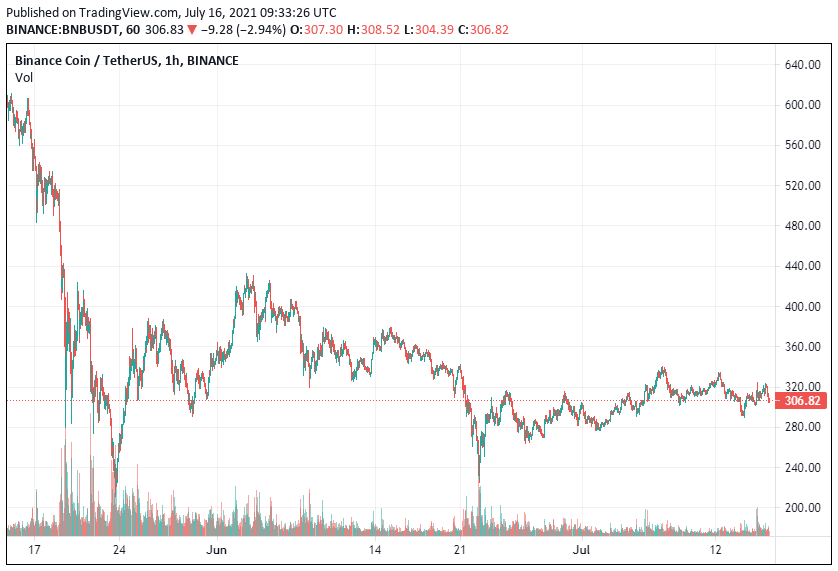 BNB is currently showing a bearish flag after making significant losses in the past 24 hours. The token is currently retreating after failing to break out past the $320 resistance level. Failing to break out past this level could reignite even stronger bears for BNB.
If the ongoing decline in prices continues, we might witness BNB going below $300 to retest the lower support of $275. If the market support fails and this level is achieved, new traders might jump in to buy BNB during the dip, hence gearing the token for bulls.
On the upside, BNB could recover some gains and make an uptrend. In this case, the token needs to rally beyond $350 if bulls are to be achieved. Such an upswing will depend on market support and support from the Binance ecosystem.
With bitcoin and ethereum currently struggling to breakout past resistance of $32K and $1900, respectively, BNB is left with ecosystem support to lean on.
Currently, support from the exchange is weak, given that the crypto exchange has been facing regulatory scrutiny from seven countries, and more are expected to join soon. After being banned from operating in the UK by the Financial Conduct Authority (FCA), Binance received a warning yesterday by CONSOB< the Italian financial market regulator.
According to CONSOB, BNB did not have any authorization to offer services in Italy. Various traders have also filed legal action against Binance to recover their losses after the Binance exchange froze in May. With BTC losing over 50% of its value during that month, these traders were in for massive losses.
Lacking support from the exchange is not suitable for BNB because it could trigger bulls. However, if compliance is achieved, BNB's prices could rise.
Where to Buy BNB
Those who want to buy BNB can do so from a reliable and reputable cryptocurrency exchange such as eToro. eToro is a leading exchange that supports some of the most popular cryptocurrencies and trading pairs. It also has a copy trading feature that allows new traders to learn from market experts.
Looking to buy or trade Binance Coin (BNB) now? Invest at eToro!
75% of retail investor accounts lose money when trading CFDs with this provide.