Do you get jealous of the people who invested in bitcoin in one year, two years, or a few years ago?
Don't be afraid to admit it. Those who entered the market early usually find their pocket full of money with bitcoin hitting ATHs again and again. Bitcoin hitting a fresh, new all-time high of $67,000 on Wednesday has many people believe the benchmark cryptocurrency is making its way to $100,000, as predicted by many analysts, including those from JP Morgan,Bloomberg, and PlanB. A new wave of investors now can gain access to bitcoin via holding, ETF, futures trading and so on. If you have been thinking about joining the boom, there will never be a time that is "too late". However, before investing in bitcoin, there are several questions you need to figure out first.
1. What is the best way to invest in bitcoin?
That is no best way and really depends on your risk tolerance, capital, and expectations. Holding bitcoin is the most common way and it is ideal if you are in the game for the long term. Investors are less concerned with price fluctuations and this is one of the easiest ways. Generally, people buy bitcoin and store them into a cold-wallet. Now more and more investors store their bitcoin in an interest wallet to earn more bitcoin. The annualized interest rates could vary from 1% to as high as 21%.
Futures trading is favored by investors who are more ambitious and risk-prone. Futures trading enables investors to earn money from different directions by speculating the price of bitcoin. Many platforms offer 25x, 50x, and 100x leverage. With leverage, you can increase your exposure and earn more. But be careful, this could also increase your loss. So always remember to control your position and set stop-loss.
2. Is your chosen exchange suitable for you?
An exchange is not just some broker who wants to make money from you, but your partner in making money. A good exchange is where you can trade easily and safely and focus on just trading. In order to find the one that is suitable for you, you should do your research. Factors such as history, fee structure, demo account, and customer services are crucial. A bad exchange may not only cause troubles for you, but also steals from you. For example, the average fee for most trading platforms in the market is about 0.1%-0.2%. And some platforms even have a transaction fee of as high as 8%. If you trade on a platform with an unreasonable fee or doesn't state the fee clearly, you could lose big.
3. Can you devote time and energy to learning to trade?
This question distinguishes those who make their profits by luck and those who reach their goals by themselves. There's a learning curve to learn something new, for Bitcoin futures trading, it takes you only 10 minutes to understand the mechanism but it can take a few days to build your strategies after attempts at real trading. It's common for beginners to get lost in a variety of new concepts and learning the ins and outs of an exchange and trading engine could be difficult. So if you are new to crypto trading, it is recommended that you practice first in a trading simulator. And don't hesitate to consult help centers when you trade on exchanges.

Bexplus offers 100x leverage in BTC, ETH, DOGE, ADA, and XRP futures contracts. Bexplus is trusted by over 800K traders around the world, including the USA, Japan, Korea, and Iran. No KYC, no deposit fee, traders can receive the most attentive services, including 24/7 customer support and personal account manager.
When you successfully sign up, you can get the 10 free BTC in the trading simulator which enables you to practice trading futures contracts without losing money.
Wallet with up to 21% annual interest
Prices go up, prices go down, but the Bexplus BTC wallet is to protect and increase your assets. If you would like to take a rest from the ever-changing crypto market, you can turn to the Bexplus interest wallet. It provides 21% annualized interest. That is to say, if you deposit 1 BTC, you will get 1.2BTC a year later. Undeniably, that is almost the highest interest in the industry.
100% Bonus to Help You Maximize Profit
Double deposits, double profits. Users can get a 100% deposit bonus for every deposit on Bexplus. If you deposit 1 BTC, 2 BTC will be credited to your account, and the profits gained with the bonus are withdrawable.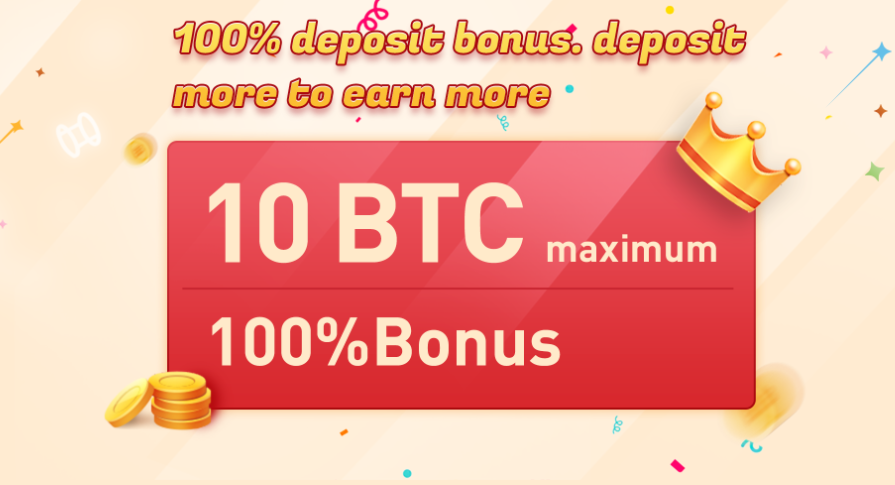 More about Bexplus
Website: https://www.bexplus.com/
Facebook: https://www.facebook.com/Bexplusglobal
Telegram:https://t.me/bexplusofficial
Twitter: https://twitter.com/bexplusexchange