Most altcoins are making significant gains that have enabled them to recover from the crash that happened at the beginning of the week. One of the coins that have been trading in the red zone during the past 24 hours is ATOM. The coin has been on a major upswing that is placing it closer to reaching its all-time high.
ATOM is trading at $25.50 at the time of writing after a 9.9% gain in 24 hours.
Cosmos Price Analysis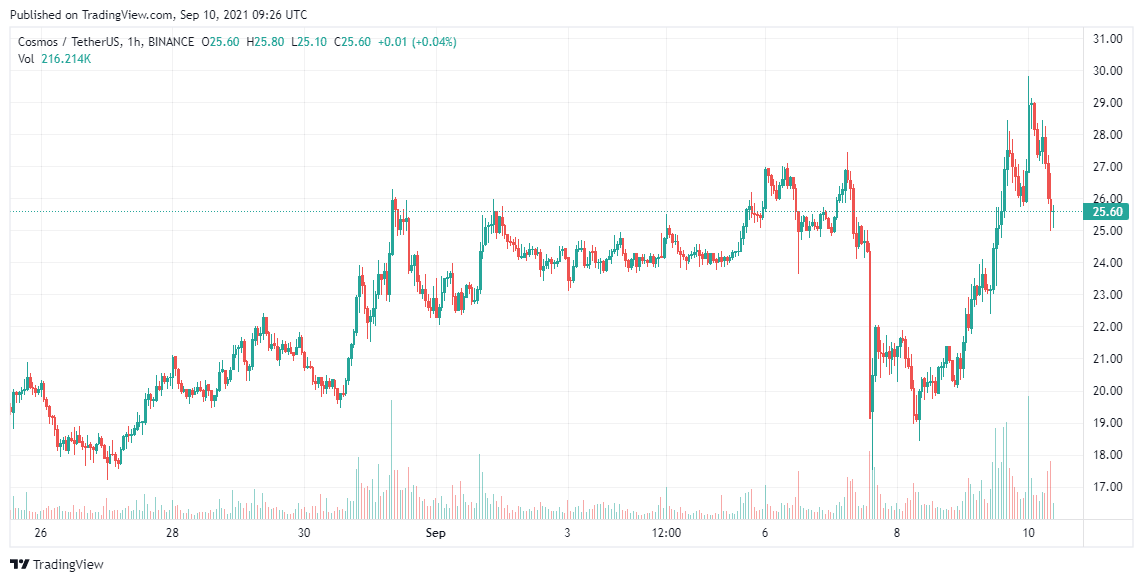 ATOM continues to register new monthly gains attributed to the ongoing bullish sentiment across the broader market. However, price corrections have regularly interrupted the bullish sentiment, which has seen ATOM head to dips.
ATOM is currently testing the next resistance at $28, and if the market and buyer support kick in, the coin could make a bullish uptrend to these levels. In the past 24 hours, ATOM tried to break towards $30, but this was interrupted after it made a new high at $29. Reaching $30 is essential for ATOM, as it will enable the coin to go past the all-time high of $31.70.
On the other hand, market support has been volatile over the past week, and we could see this support weakening again. In this case, we will see ATOM slump and go to the lower support levels of $24 and $22. However, this could prompt traders to buy during the dip, as the broader bull market is still at play.
The Cosmos blockchain has been committed to bringing interoperability to the blockchain ecosystem. To achieve this, Cosmos enables data exchange between different exchanges, which aids in the better functioning of the decentralized ecosystem. Cosmos has seen growing adoption for its interoperable network, which has aided in the stability of the ATOM token.
Where to Buy Cosmos (ATOM)
To buy ATM during the current bulls, create an account on the following exchanges:
eToro is one of the best exchanges for both beginner and expert traders. The exchange offers copy trading and charges low trading fees. It supports a wide range of cryptocurrencies and trading pairs, which makes trading convenient.
You can also buy ATOM from Kraken. This is one of the most popular crypto exchanges in the market. Kraken supports a broad range of cryptocurrencies you can trade. Its trading fees are also favourable to traders.
Looking to buy or trade Crypto now? Invest at eToro!
67% of retail investor accounts lose money when trading CFDs with this provider.
Read more: