Dash 2 Trade is one of the biggest cryptocurrency projects to be launched in the space recently and for all the right reasons. Since it was introduced, the project has gained massive traction across all of its social media handles and has managed to amass a huge community within a very short period of time. D2T, the native token of Dash 2 Trade enjoyed a rather successful presale, which is now nearing its completion.
While the token is soon to be listed on a variety of centralized exchanges at a comparatively increased rate, there may still be a chance for investors to get into the project earlier than a majority of others. Read on till the end to know how.
Dash 2 Trade's Successful Presale Journey
Despite facing harsh crypto market conditions and an overall economic slowdown, the Dash 2 Trade project was announced and made available for presale towards the Q4 of 2022. However, the project's utility, team and efforts put towards publicizing the project paid off since investors started pouring in and stocking up on the native token D2T. The demand for the token only increased in the upcoming days, while the team was consistently looking to bring major developments and upgrades to their soon-to-be-launched project.
Towards the end of the year, Dash 2 Trade had already managed to gain major traction and was featured on some of the most popular crypto websites as a high-potential project. Naturally, this helped in fueling the growth and speed at which presale tokens were being sold out.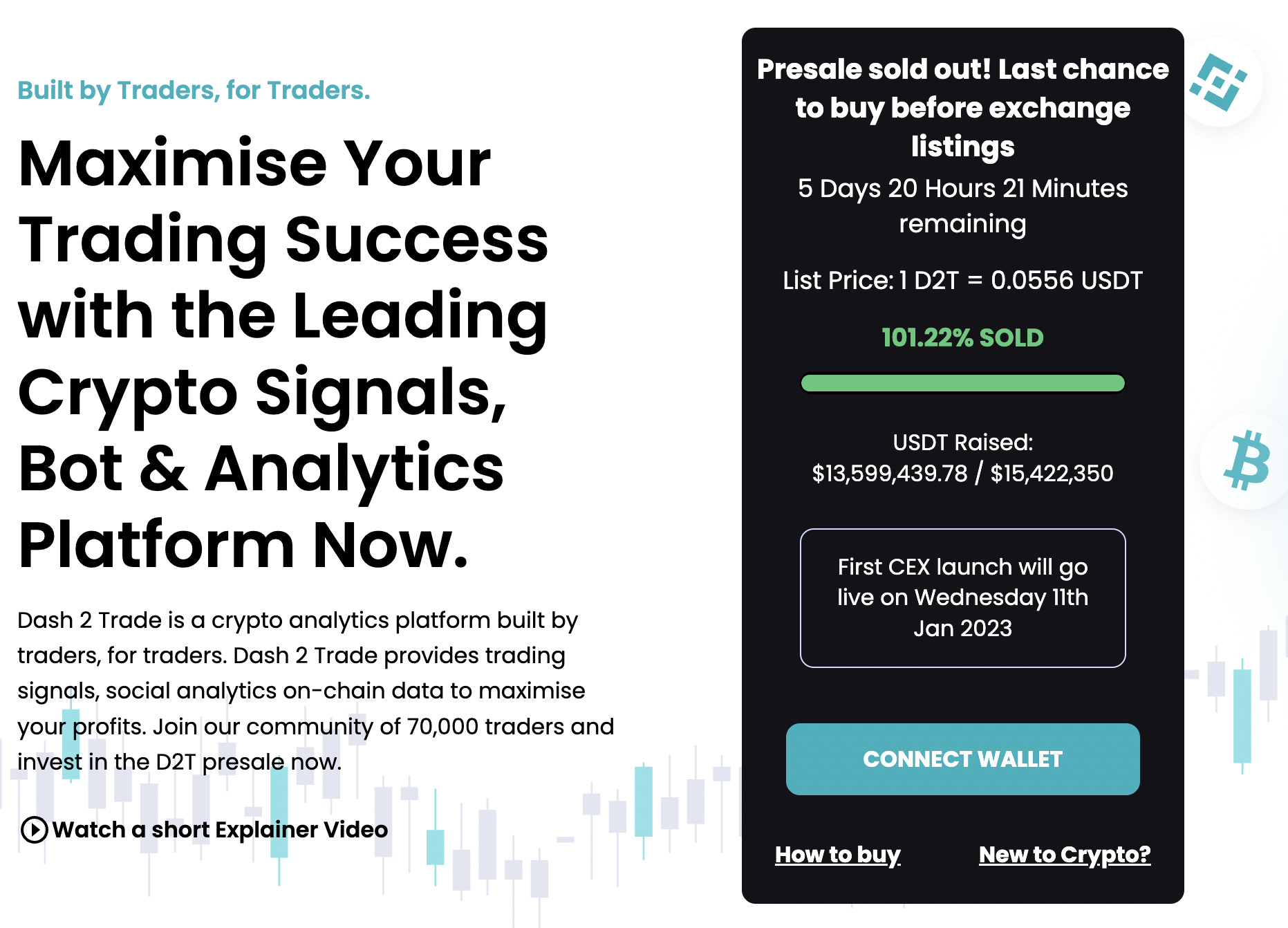 One of the developments that took place in December that a majority of investors highly appreciated was the team's decision to cut short their presale, since the major product was already ready. This is generally something that crypto projects are slow to do, and get a lot of heat from investors. However, the product being ready only increased the demand to a higher extent.
There were 9 presale stages that were initially set to commence, which the team cut short to 4. The hardcap was set at $13.4 million, which didn't take long to fill out. Despite all the negative press around cryptocurrencies and the overall blockchain sector, Dash 2 Trade was experiencing a continuous stream of investors and funding.
What exactly is Dash 2 Trade?
Dash 2 Trade is a crypto analytic and social trading platform which has been created to cater to a wider audience which is not limited to institutional investors. Since market volatility affects retail investors the most, the project aims to help them get a better understanding of the market in real-time and thereby help them to take better trading decisions.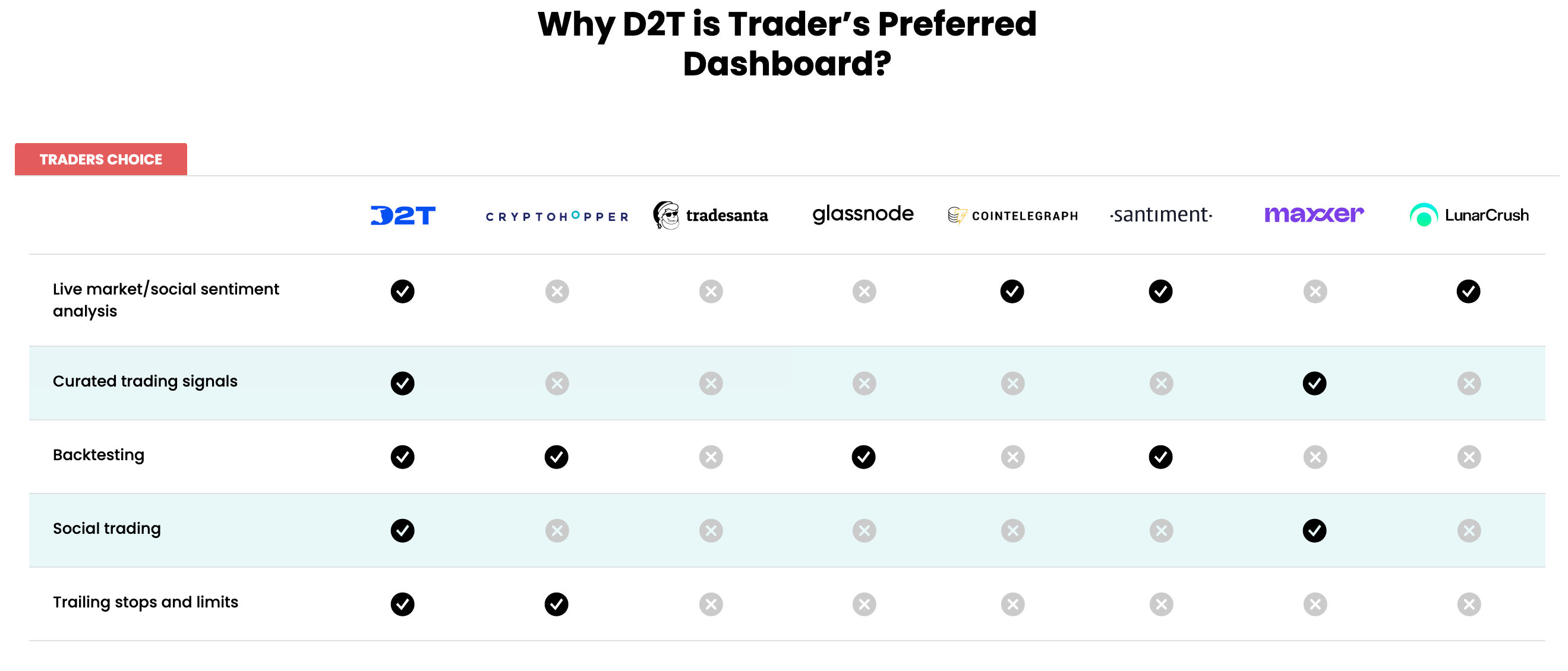 It is created by Learn 2 Trade, which is an existing financial education platform boasting over 70,000 members. Apart from the aforementioned two features too, Dash 2 Trade manages to be a market leader when compared to a majority of other crypto data aggregators.
Some of its top features include:
Copy Winning Trading Signals, Strategies and More
Dash 2 Trade features the most advanced crypto signals and analytics dashboard designed by traders, for traders. D2T token holders will get access to a full range of crypto signals and analytics features to maximize their trading opportunities. This includes social sentiment, on-chain metrics and crypto signals powered by technical indicators and Quant developers.
Presale Tokens, Social Analytics & Watchlist Alerts
Investors will be able to get access to social analytics and insights to catch trending coins, developer activity and social sentiment. The developers also plan on launching a crypto presale section within the Dash 2 Trade platform with a Dash 2 Trade Score Rating to help you avoid losing money in scams and invest in high-quality presale coins.
Trading Bots & Strategy Builder
With help of this feature, users could avoid missing out on profitable trading opportunities. They can build and execute their own profitable trading strategies in an auto-pilot environment. D2T users will be able to copy the most profitable traders on the platform or build their own DCA, grid and other strategies using 10+ technical indicators.
How to Get in at Presale Prices?
It is true that investors may not be able to get into the project at presale prices once the token goes live. However, to be able to support more tier 1 listings, the team has fortunately set up an over-funding round, which is expected to go on till the 11th of Jan. This is undoubtedly the best opportunity for investors to get into the project at a lower rate.
After the mentioned date, Dash 2 Trade will be set to get listed on a string of centralized exchanges, the first of which is Gate.io. The project has already garnered enough attention to position itself as a strong asset. So once it goes live on other centralized exchanges and becomes available to a wider audience, it is an assured fact that Dash 2 Trade may be able to become a top gainer.
So buying and stocking up on the D2T token could indeed be, in a way, an attempt to make your money work for you!
Read More:
FightOut (FGHT) – Newest Move to Earn Project
CertiK audited & CoinSniper KYC Verified
Early Stage Presale Live Now
Earn Free Crypto & Meet Fitness Goals
LBank Labs Project
Partnered with Transak, Block Media
Staking Rewards & Bonuses