The world's premier cryptocurrency Bitcoin regains $22k price level after 3 weeks.
Bears that dominated the market since August 19 have finally grown weak, as the bulls take over. After hitting a multi-week low of $18.5k on September 7th, the Bitcoin regained $22k just hours ago.
The Bitcoin had fallen to a 6-weeks low of $18.5k on September 7th, but recovered within hours and regained $19k. Later the coin surpassed $20k and after a slight retracement moved to break above $22k.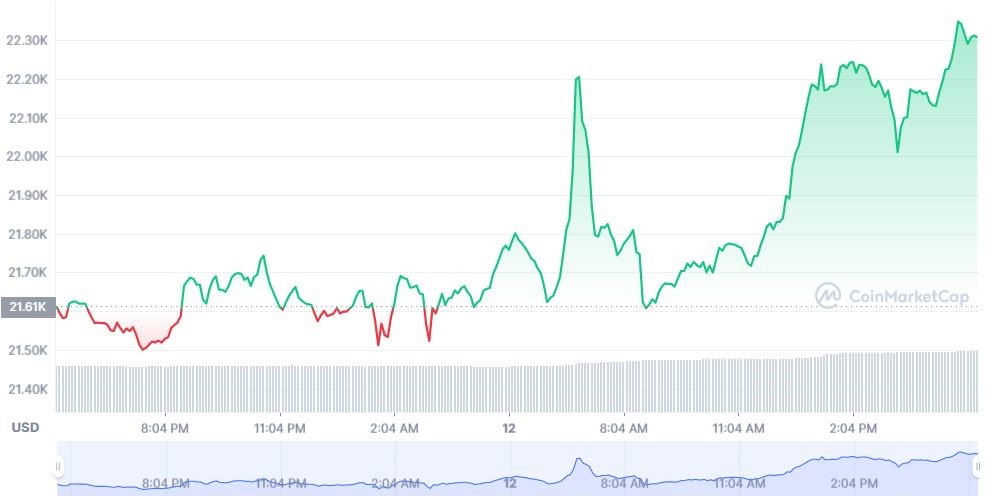 It led to the increased market confidence that caused crypto's total market cap to Surpass $1 trillion. The number currently stands at $1.07 trillion, up 1.1% in the day. The recent price surge has also increased Bitcoin market dominance by 2%. Now Bitcoin represents 40% of the crypto.
Alternative coins, especially ETH and SOL have also gained value significantly. Currently standing at $1,750, ETH is up 12% over the week. Whereas, in the meantime, SOL has gained value by a whopping 21%, the coin has gone up by 8.7% within the day. Other mainstream coins BNB, XRP, ADA, and DOT are up by 8.5%, 9.8%, 6.3%, and 6%, respectively.
The recent price surge has occurred despite the rise in interest rate by the European Central Bank. Usually such macroeconomic changes have significant impact on the markets, including crypto.
Further, in a recent development, the Chinese Central Bank, urged stakeholders to increase the use of Digital Yuan (China's Central Bank Issued Digital Currency-CBDC). The Central Bank stated that the Digital Yuan's integration with the traditional e-payment system will make its use more convenient for the end users.
The statement came from Fan Yifei PBOC's (People's Bank of China) Deputy Governor in a conference held in Beijing.