Dogecoin has dropped by nearly 6% in the last 24 hours. With a drop in market capitalization by 5.78%, this leading memecoin is showing bearish signs. Can Elon Musk's favorite cryptocurrency make it back to $0.14? Let's discuss this in our latest DOGE price prediction.
DOGE Price — The Weekly Performance Has Been Could
Dogecoin has had a good time since the last ten days of November. After seeing it take a plunge to $0.070, the DOGE bulls quickly rallied to push its value. And soon enough, the candle stick chart started to show one green candle after another. There were some reds, but no one paid attention to them since they were between the long greens. But the days of trending in multiple greens may be over.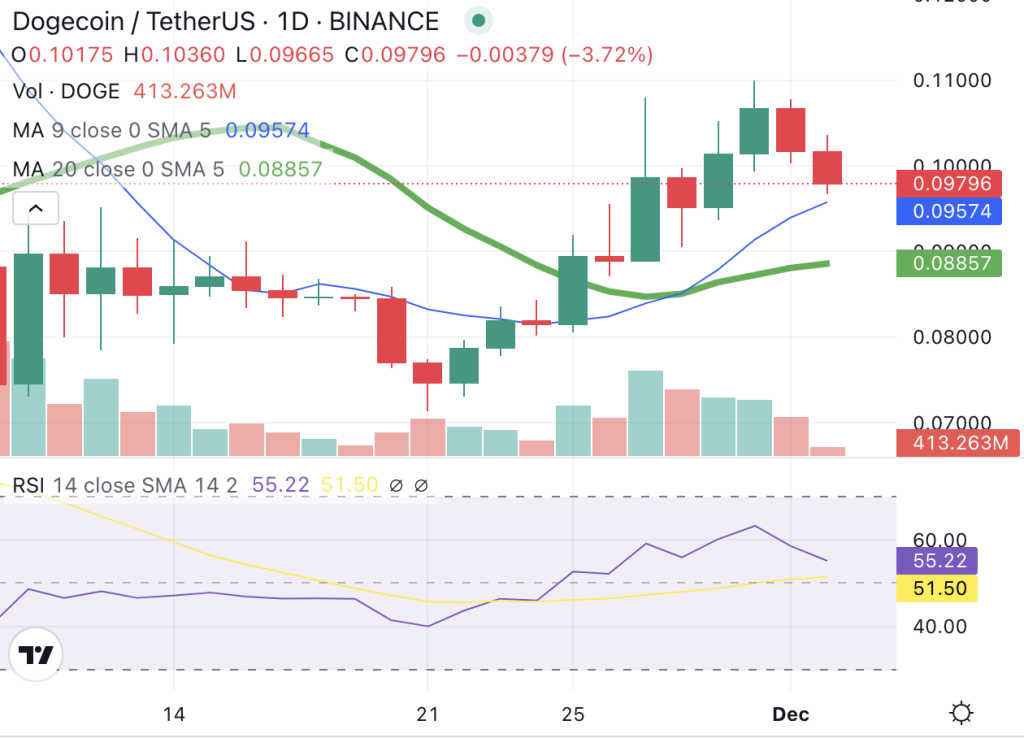 Dogecoin bears have arrived to paint the chart red. After closing Thursday just above $0.10, DOGE has slowed down. At the time of writing, it is trading at $0.098, with the danger of further downturn ever-present.
However, the world's leading memecoin is still trading well above its 20-day moving average. As a result, the community hopes the latest drop might just be a minor setback.
DOGE May Have Dropped, But the Crowd Continues to Remain Bullish
The crypto community is not at all bothered by Dogecoin dropping below the $0.10 mark. CoinMarketCap's community comments show that most have a bullish outlook about this memecoin. Some community members have gone as far as saying the DOGE is the "only coin they trust." Are they right? Many experts believe that they are. Dogecoin is one cryptocurrency that hasn't pretended to be anything more than a joke token. It has always pumped whenever Elon Musk has discussed it or if Elon has done something to impress the DOGE community.
The latest week-long rally happened for this cryptocurrency because of one reason — a rumor that Dogecoin might be integrated into Twitter. The source of speculation was this small deck about Elon's plans for Twitter.
Slides from my Twitter company talk pic.twitter.com/8LLXrwylta

— Elon Musk (@elonmusk) November 27, 2022
The funny thing is, there isn't one word that discussed Dogecoin, or cryptocurrency for that matter. But that hasn't stopped crypto Twitter from leaving its speculation train. It hopes that amidst these updates, there might be one about integrating Dogecoin into Twitter. It is one of those instances of wishful thinking that actually turned the tide in favor of short-term Doge investors since they profited a lot from this almost 25% rally.
DOGE Price Prediction – Can It Reach $0.14?
Dogecoin is one cryptocurrency where "anything can happen" will be the most appropriate. While the price charts show red candles, the community is bullish. The hype train is strong with this one. And chances are, even if Elon Musk doesn't put anything out about Dogecoin integration into Twitter for the next month, DOGE can ride the wave of speculations alone.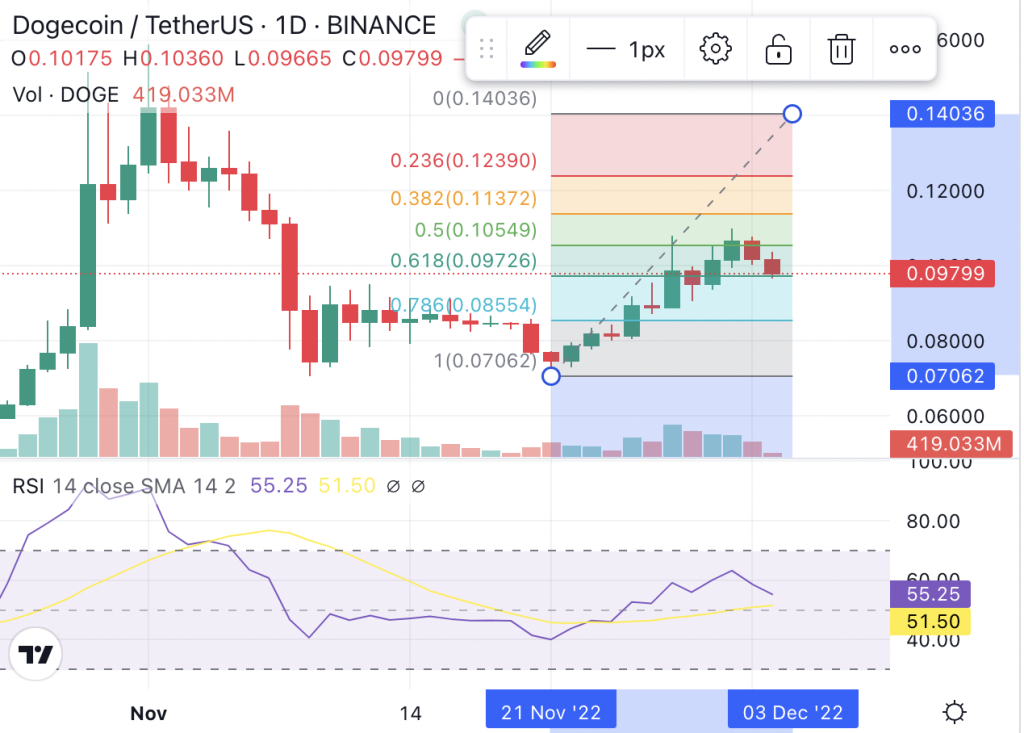 When it comes to Dogecoin hitting the $0.14 mark, it depends on whether it can find support at $0.09726 (0.618 fibs). If it does, DOGE will retest 0.5 fibs. However, it has to move up and break through $0.12 to test $0.14, which would require an increase of more than 50%. Is it possible? Yes, it is. We saw DOGE bulls rally the DOGE price by 25% in a week. If they continue to maintain that momentum for the next two weeks, it may be possible.
It can happen sooner if Elon suddenly name-drops DOGE for no apparent reason.
Should you Invest in DOGE?
The recent rally brings to light how Dogecoin is so blindly reliant on speculation to pump. Does it mean you shouldn't invest in DOGE?
No. For intra-day traders who are looking to make quick gains, Dogecoin is a godsend. As a purely speculative memecoin with no discernible use case, DOGE's value as a tradeable asset is undeniable. And if an investor is social media savvy, they can watch Elon's comments closely and see their impact on the DOGE price to make split decisions to make gains.
That said, we can't turn a blind eye to the fact that Dogecoin is purely speculative. While the pumps are bigger, the corrections are deeper, which means investors have to invest at the right time to squeeze the most profit from DOGE pumps.
Be Informed About the DOGE Pumps with This Presale Cryptocurrency
Two major events happened in November: FTX exchange collapsed, and Dogecoin dropped to $0.70. Those who lost their assets during such bearish situations could have prevented it if they had the right information.
Dash 2 Trade aims to equip traders with the right information so they can invest in the right asset at the right time to make maximum gains. Imagine if you kept a close eye on social media trends about DOGE last week. If you had invested $1k, you would have made upwards of $1.25k easily.
With Dash 2 Trade, not only will you get access to social trading tools but also features like strategy building and backtesting to create and test marketing strategies before investing. With additional facilities like Bespoke Presale Assessment, you will have access to early moving opportunities.
And to access these facilities, you won't need to pay huge amounts either. Dash 2 Trade uses a unique subscription model for which you pay in D2T tokens. This coin is currently on presale and has raised more than $7.7 million. Only 11% of the total tokens remain. Buy it today at a discount price of $0.0513 before the presale enters its last stage.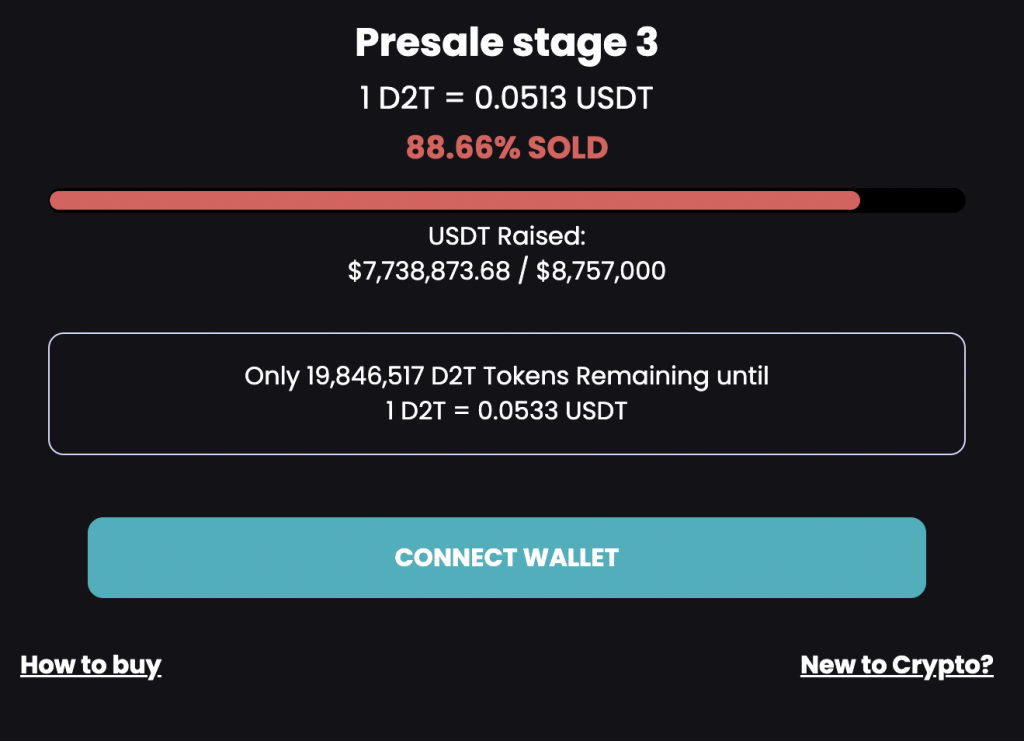 Related Articles
Best Memecoins to Buy 
Best Crypto Presales
Whales are Predicting For This Cryptocurrency To Explode By 100x In 2023
Dash 2 Trade – High Potential Presale
Active Presale Live Now – dash2trade.com
Native Token of Crypto Signals Ecosystem
KYC Verified & Audited