EOS is one of the popular cryptocurrencies in the market currently. With the majority of the market trading in the green zone, EOS has made significant gains in the past 24 hours. Currently, EOS ranks as the 28th largest cryptocurrency in terms of market capitalisation.
The coin is trading at $4.05 at the time of writing after a 13.6% gain in the past 24 hours.
EOS Price Analysis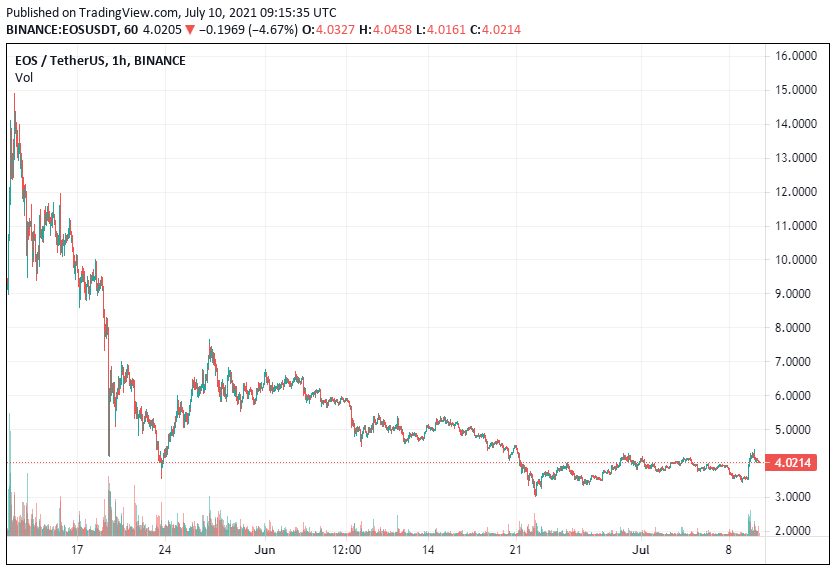 Altcoin bulls seem to be piling up to token because of the recent developments happening over its network. In recent gains, the coin has gone past critical levels of $4, hence showing that bulls might continue with the upswing. More buyers might jump in to buy the token when this happens, hence pushing the prices up. Stronger bulls will be established if the token reaches $5 and above.
On the other hand, the price of the token might also decline if the uptrend reaches exhaustion, and hence a price correction happens. A decline will result in prices going below $4, and short term buyers might use this price action to dispose of their holdings to reduce the effects of the dip.
An uptrend or a downtrend in the token will also depend on the token's support from the broader cryptocurrency market.
EOS has shown bullish signals following developments in Bullish Global. Bullish Global is an exchange built on the EOSIO network, showing increased use cases for the protocol. Recently, the exchange also received $10 billion funding from Block.one, further showing that the coin is fast gaining popularity.
The other development in the EOSIO protocol is when it was adopted for use by Ducat, a native stablecoin for the American CryptoFed DAO that became the first decentralised autonomous organisation (DAO) to be legally recognised in the state of Wyoming.
This growing interest in the EOSIO protocol makes it one of the best investments in the crypto sector, both for long-term traders and short-term traders.
Where to buy EOS
Those who want to buy the coin during the current bulls can do so from a secure and reliable cryptocurrency exchange. One of the exchanges that support EOS is eToro. eToro is not only reliable but also offers competitive trading fees. Besides, eToro supports most of the popular cryptocurrencies and trading pairs, hence boosting efficiency.
Looking to buy or trade EOS (EOS) now? Invest at eToro!
75% of retail investor accounts lose money when trading CFDs with this provide.