The Helium (HNT) coin plunged 23.65% in seven days; however, it has recovered 12.24% in 24 hours. Helium's market cap has fallen by over 50%, from around $1 billion to about $490 million. However, its downward rally could be attributed to the Helium blockchain network experiencing several issues. This occurred after Liron Shapira stated in a fiery Twitter thread that Helium has little to no demand.
I guess @Helium's use case is to be fodder for @coffeebreak_YT's scambusting YouTube channel.

Great video: https://t.co/sbuXOdJkEg pic.twitter.com/qE3LJyRrv8

— Liron Shapira (@liron) August 26, 2022
Helium may have misled the public about its partnership with Lime and Salesforce. The network's creators have also recently suggested switching to Solana (SOL), which many community members have deemed a bad choice due to Solana's history of network disruptions.
The cryptocurrency market's risk-off mood also contributed to the decline in Helium. The recent drop in the market capitalization of all cryptocurrencies below $1 trillion has slowed the market's momentum. Helium, on the other hand, has launched a 5G network with over 3500 node operators aimed at smartphones and laptops.
As a result, this news was regarded as one of the major factors contributing to limiting further drops in helium prices. Meanwhile, the developers claimed that switching to Solana would benefit the network by increasing adoption and providing benefits to hotspot owners.
Helium Challenges
The sharp drop in the price of HNT coincides with a period in which major blockchain networks are experiencing significant problems. For example, angel investor Liron Shapira noted on Twitter that there is virtually no demand for Helium and that the returns to the investors mentioned are pretty low.
According to Shapira's most recent tweet, the ultimate goal of the HNT token price is zero dollars. According to a separate investigation, Helium's fictitious alliances with Lime and Salesforce may spread misinformation.
Risk Aversion in the Crypto Market
The cryptocurrency market has slowed at the start of the new day due to the market cap of all cryptocurrencies falling below $1 trillion in the previous 24 hours. Bitcoin (BTC), the world's most popular and expensive cryptocurrency, has made no progress and was trading near $20,000. Furthermore, the growth of Ethereum (ETH) was slowing.
The stronger US dollar was also a detriment to Helium. The US dollar resumed its upward trend, remaining close to previous highs, as the US Federal Reserve maintained its aggressive tightening of monetary policy to combat inflation.
The dollar index held steady at 109.84, maintaining its 1.5% gain as unexpectedly high US inflation and stronger than expected US retail sales stunned analysts. As a result, the current market mentality of "risk off" has strengthened the US dollar because it tends to increase demand for safe-haven assets such as the US currency.
Helium Pumps 12%: Price Review & Tokenomics
HNT currently trades at $4.43 per pound, with a 24-hour trading volume of $18,410,159. Helium has increased by 12.24% in the previous 24 hours.
CoinMarketCap now ranks #70, with a live market cap of $559,428,036. It has a total circulation quantity of 223,000,000 HNT coins and a circulating supply of 126,370,211 HNT coins.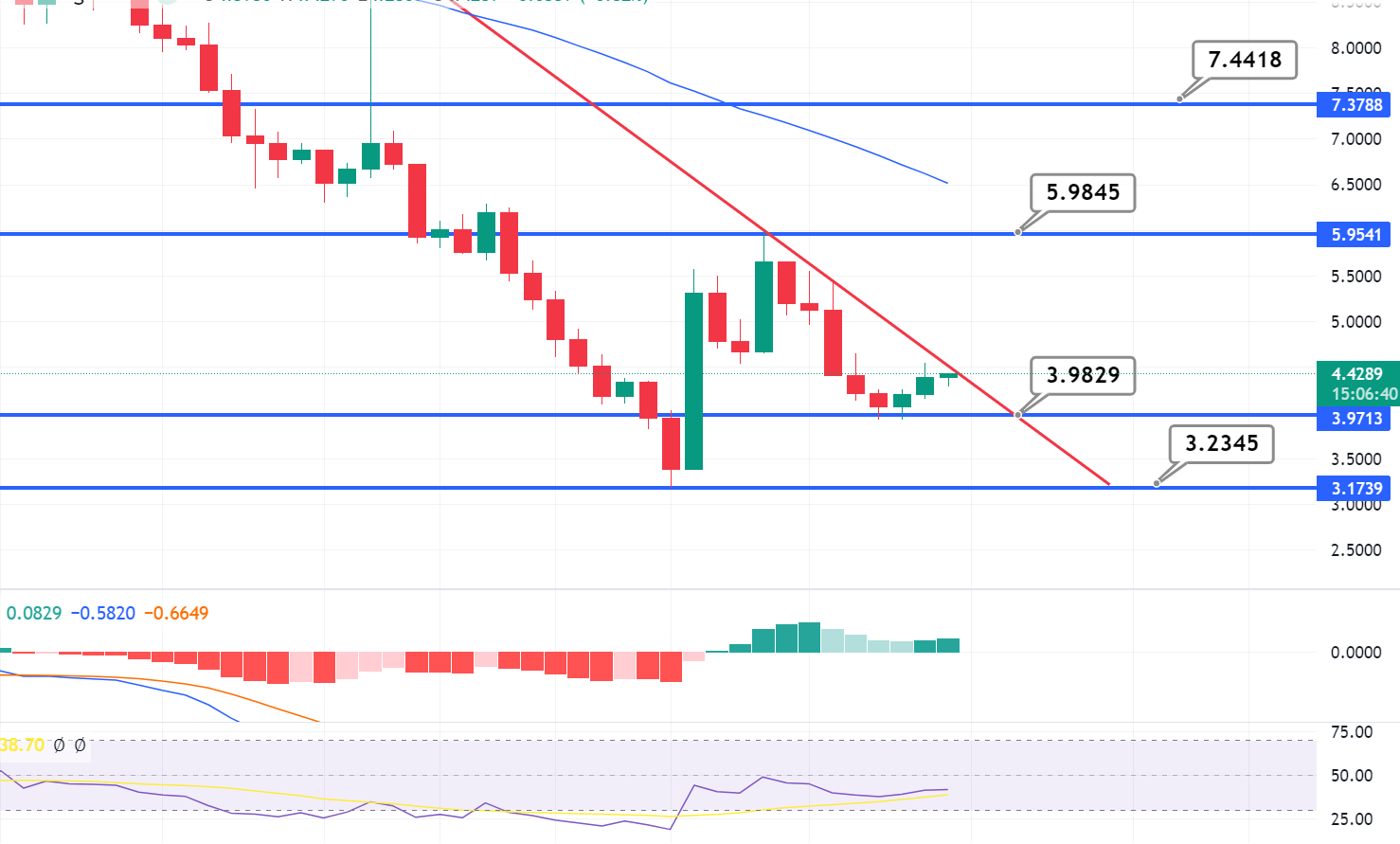 The HNT/USD is trading with a slight bullish bias on the daily timeframe, above an immediate support level of $3.98. Above this, the HNT/USD pair has the potential to go long towards the next resistance area of $5.15 or $5.98.
On the other hand, a bearish breakout of a $3.98 support level could expose HNT to the next support level of $3.25.
Related
What's Behind the Sudden Helium Price Pump – HNT up by 35%
Best DeFi Cryptos
Best Web3 Cryptos
Tamadoge – Play to Earn Meme Coin
Earn TAMA in Battles With Doge Pets
Capped Supply of 2 Bn, Token Burn
NFT-Based Metaverse Game
Presale Live Now – tamadoge.io