Ripple XRP is a crypto whose popularity has skyrocketed this year. XRP's uptrend this year was, however, short-lived after the coin suffered under the pressure of the May market crash. However, XRP bears are currently not very strong, and it is consolidating at the current levels.
XRP is trading at $0.67 on major exchanges at the time of writing after a 1.3% decline in 24 hours.
XRP Price Analysis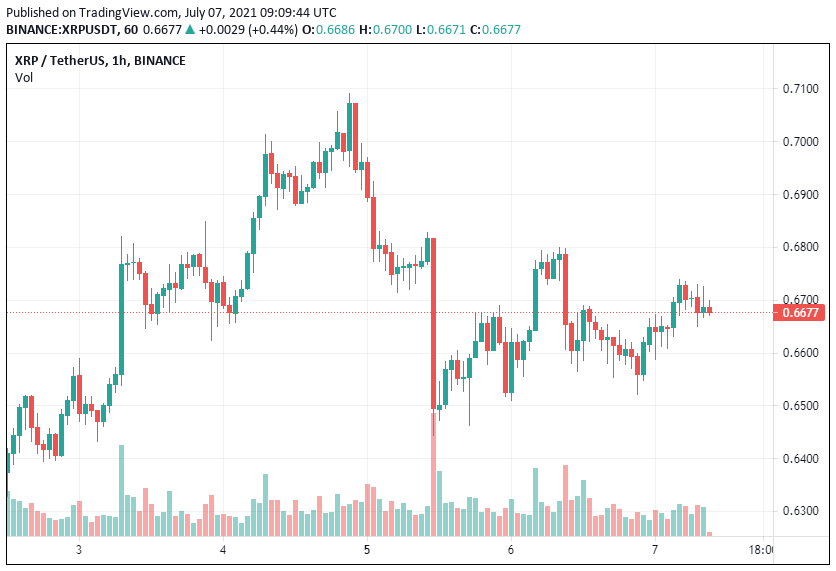 XRP's value seems to be resisting any higher or lower levels. However, the coin managed to edge past the $0.65 resistance level, but it has failed to clinch the $0.70 level. This level might be great for the coin because it might trigger bulls to resume.
For XRP to move past this level, it needs buying support from the market because this may help the coin clinch higher levels. The broader crypto market is trading at the green zone, and this might be the support XRP needs to establish a bull flag.
However, market support might fail, and XRP might trend to lower levels. A downtrend for the token will mean that prices will inch lower towards $0.60 and below. At this level, new traders might jump in to take advantage of the low prices, or stronger bears might establish when traders sell-off.
Currently, bitcoin and ethereum and inching towards higher levels, and altcoins are mimicking this uptrend. XRP might also follow the trend of these two major cryptocurrencies and hence move towards higher prices.
Jed McCaleb, the first CTO who ever worked for Ripple, has been rewarded by the firm with 291 million XRP tokens. According to Whale Alert, McCaleb liquidated 10 million tokens by depositing them to a cryptocurrency exchange, which could explain why XRP has slightly retreated in the past 24 hours.
🚨 🚨 🚨 🚨 🚨 🚨 🚨 🚨 🚨 🚨 291,570,224 #XRP (192,347,323 USD) transferred from Jed McCaleb Settlement to Jed McCaleb wallethttps://t.co/qISRUdO7KJ

— Whale Alert (@whale_alert) July 6, 2021
Despite the current fluctuations, XRP remains a good token to buy because of Ripple technology, which helps in boosting the adoption of CBDCs in the modern financial world.
Where to Buy Ripple (XRP)
If you want to buy XRP, you can do so from a cryptocurrency exchange. One of the most reputable exchanges where you can buy XRP is eToro. eToro is a reputable exchange because it offers a high-security level and gives traders access to a wide range of cryptocurrency tools such as copy trading and a demo trading account.
Looking to buy or trade Ripple (XRP) now? Invest at eToro!
75% of retail investor accounts lose money when trading CFDs with this provide.