XRP, one of the leading cryptocurrencies, has experienced a notable surge in value, currently trading at $0.53, marking a 2.33% increase within the last 24 hours. This impressive upward momentum follows a period of recovery after hitting a low of $0.30 back in March 2023.
Breaking Resistance: A Positive Indicator
On June 8, XRP managed to break above the crucial resistance level of $0.50, a significant technical milestone. This breakthrough suggests a potential shift in market sentiment favoring the bulls. Market observers are now turning their attention to the next resistance level at $0.60, as a successful breach could potentially pave the way for further upward movement towards the $0.70 mark.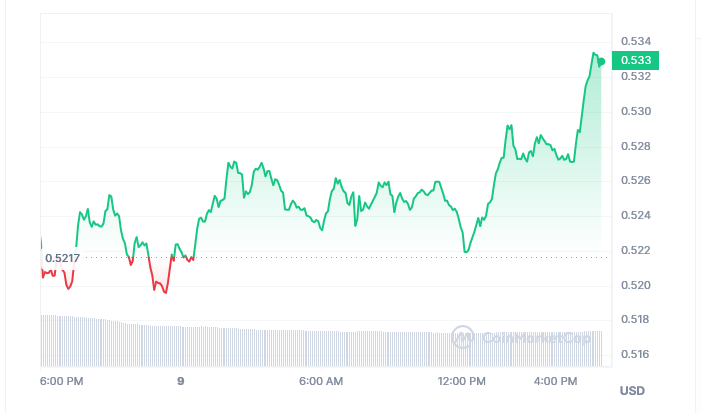 Despite the optimistic outlook, there are a few factors that could exert downward pressure on XRP in the near future. The ongoing legal battle with the U.S. Securities and Exchange Commission (SEC) continues to cast a shadow of uncertainty over the cryptocurrency's future. A negative ruling in the case could have far-reaching implications for XRP's price. Moreover, the broader crypto market, currently experiencing a bullish trend, might add additional strain on XRP's performance.
When assessing the overall outlook for XRP, a cautious approach is warranted. While there are positive indications, it is essential to acknowledge the potential risks involved. Traders and investors should closely monitor the price dynamics in the days and weeks ahead to ascertain whether the market is predominantly bullish or if a bearish trend could take hold.
Technical Analysis Points to a Bullish Trend
From a technical analysis perspective, the indicators for XRP are currently favoring a bullish trajectory. The cryptocurrency is presently trading above both the 200-day and 50-day moving averages, signaling positive market sentiment. The Relative Strength Index (RSI) stands at 60, placing it within the bullish zone. Furthermore, the Moving Average Convergence Divergence (MACD) indicator supports this optimistic outlook.
In Summary
XRP's recent performance reflects a bullish stance as it gains ground and reaches $0.53. However, this upward movement should be approached with caution, considering the ongoing legal proceedings and the potential influence of the broader crypto market. Vigilance is key for traders and investors, who must closely follow price developments to gauge whether the bulls retain control or if the bears are preparing to seize the reins.