While Bitcoin and Ethereum are cooling down after a wild price action over the past month, some little-known altcoins are taking the market by storm and making major gains. Secret, an altcoin that is currently ranking as the 97th largest by market cap according to CoinGecko, has been on a major bullish rally during the past 24 hours.
Secret is trading at $8.78 at the time of writing after a 35.2% gain in 24 hours.
Secret Price Analysis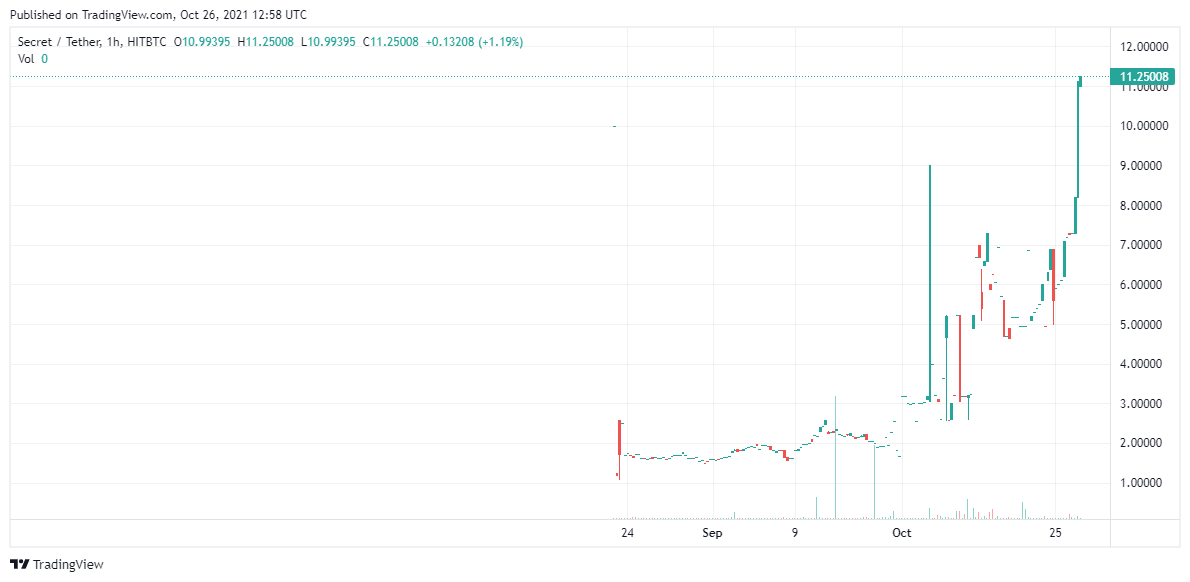 Secret's gains over the past month have made its popularity in the cryptocurrency space increase. The gains have pushed the altcoin to notable highs and given it a position among the top 100.
Following this bullish rally, SCRT has managed to reach an all-time high of $9.44, according to CoinGecko. However, it has since shed off some of these gains hence its retreat towards lower levels.
If SCRT managed to pick up the bullish trend again, the altcoin would retest the resistance level at $9. If the buyer support builds at this point, it could pave the way for the coin to push towards the next major levels beyond $10.
However, the coin has rallied by almost 300% over the past month; hence there is a likelihood that it could soon reach exhaustion. In this case, the altcoin could push towards the lower levels of around $7. Loss of the buyer support created during the past 24 hours could also lead to further dips below $6, which is where the altcoin was trading before the bullish rally.

The gains made by SCRT during the past week have been attributed to the network's venture into non-fungible tokens. The network recently partnered with OpenSea, the largest NFT marketplace, to launch NFTs. Given the major boom that NFTs have enjoyed this year, it is no doubt that Secret has benefited from this.
Where to Buy SCRT
To buy SCRT during the current bull market, you can open an account on the following exchanges:
eToro is a reputable exchange that supports both new and expert traders. The exchange charges low trading fees and has user-friendly features that make it easy for traders to use the platform.
You can buy SCRT from Binance. Binance is the largest cryptocurrency exchange platform, and it supports a vast range of cryptocurrencies and trading pairs. Binance has some of the lowest trading fees in the crypto space.
Your capital is at risk.
Read more: