The Shiba Inu buyers are back. Meme coin sensation SHIB has bounced, along with a host of other top altcoins as the crypto market looks to stabilise after bitcoin fell to as low as $55,919.
The coin named after the breed of dog that inspired the launch of Dogecoin, has been on a tear over the past couple of months, but is now 46% off its all time high of $0.0000875.
Shiba Inu is currently priced at $0.0000490. The Shiba Inu price is up around 14% over the past 24 hours.
Despite showing signs of being overbought judging by the relative strength index indicator (see chart below), and having been on a downward trajectory since 28 October, the price may be about to break out of its bearish channel.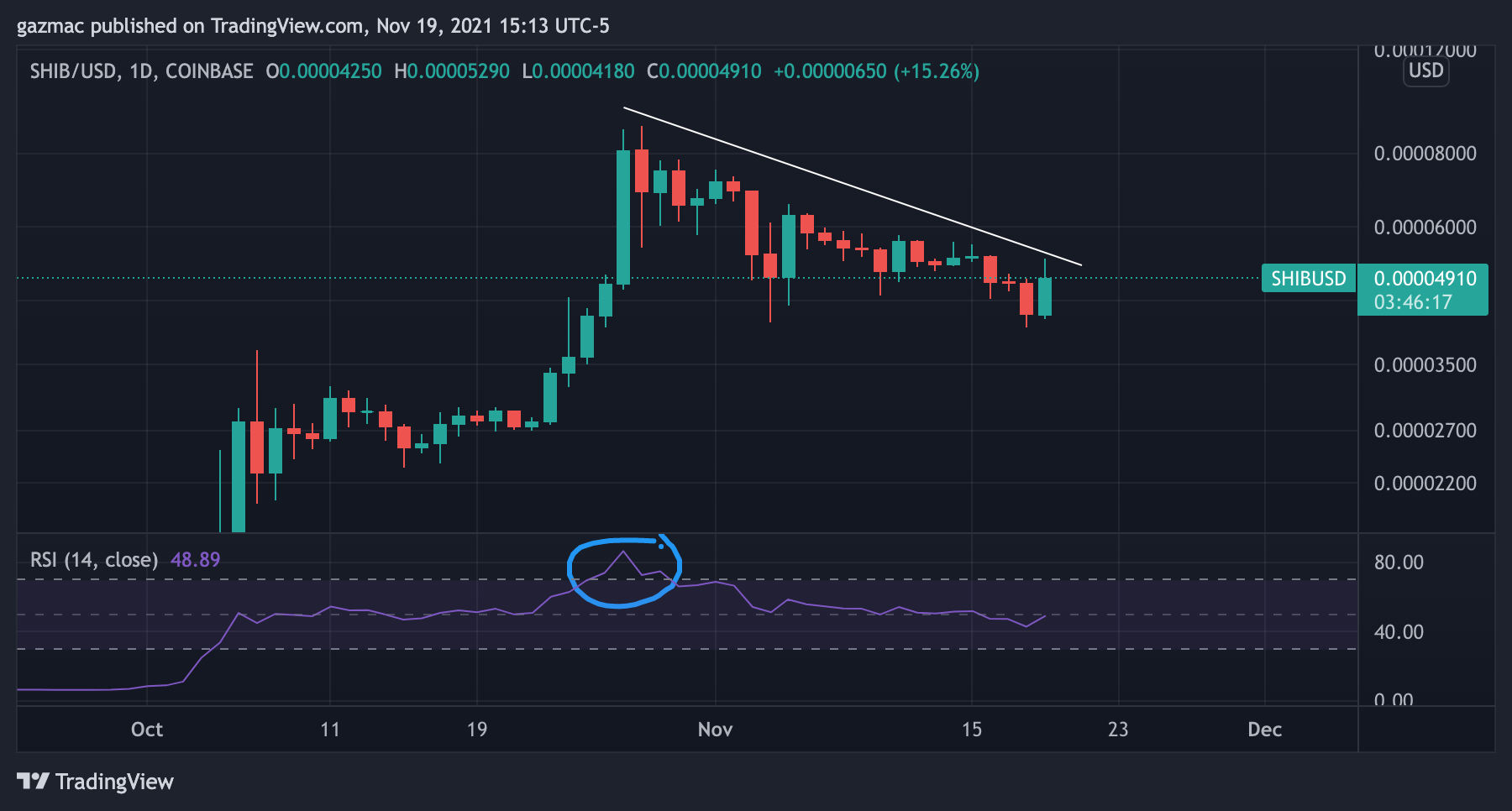 SHIB is up around 400% from the cycle low of 0.000000590 registered on 8 September and is 497% higher over the past three months, providing traders with a gigantic return on investment.
Your capital is at risk
Meme coins showing staying power?
Although the rise of meme coins has been met by sneers from old crypto hands who fear that the coins' frivolous roots and low utility value risk turning the whole industry into something of a joke, the coins are showing a degree of staying power so far.
Shiba Inu's launch followed in the wake of Dogecoin's success and now in its turn Shiba Inu has given birth to a gaggle of imitators.
Coinmarketcap lists a minimum of 100 coins with the name "Shiba" in their name.
However, despite the lack of utility, brand power in itself provides some value, with SHIB's visibility leading to movie theatre chain AMC planning to accept the token for payment.
As with Dogecoin, Shiba Inu could begin to attract the sort of developer interest that could begin to add greater functionality to the coin.

ETH whales can't get enough of Shiba Inu
But success breeds success (see what we did there) and this may explain why Shiba Inu is the most popular ERC20 token held by ETH whales. ERC20 tokens enable new tokens to be launched on the Ethereum blockchain.
Data shared by WhaleStats shows that among the 1,000 wallet addresses holding the largest amount of ETH, the most popular ERC20 token was SHIB, accounting for 15% of total holdings, valued at $2.4 billion, flipping CRO, OKB and BEST.
Volatility in the crypto market has spiked over recent hours so we may be in for a rocky weekend so traders may look to sell Shiba Inu to lock in some short-term profits from today's action.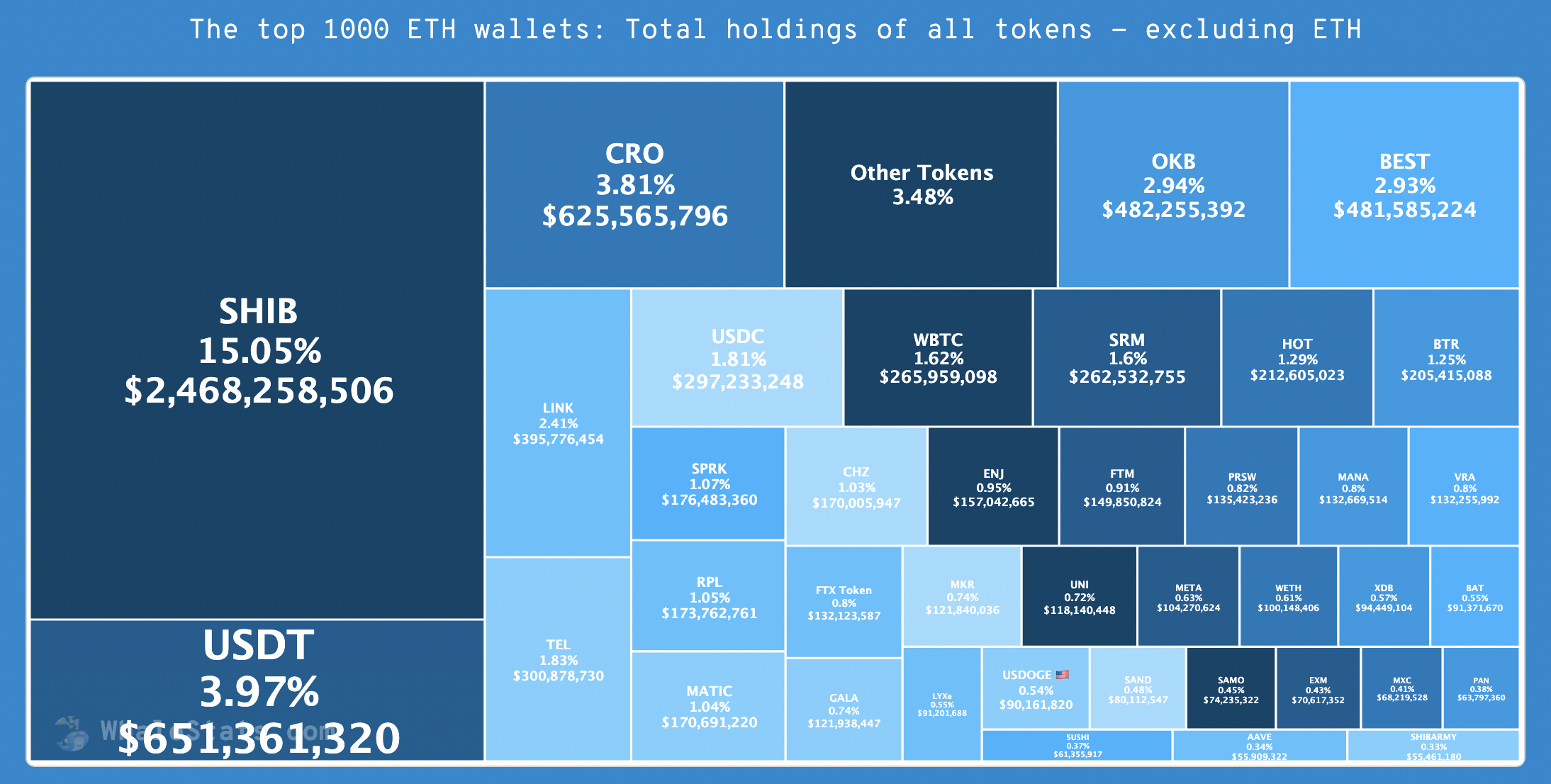 How to buy Shiba Inu (SHIB)
You can now buy SHIB on most major crypto exchanges, although Robinhood is still a hold out.
The two busiest exchanges for trading SHIB are Binance ($1.25 billion transaction volume) and Coinbase ($532 million tx volume), according to data compiled by Messari.
If you are looking for a hassle-free way to buy SHIB, global investment platform eToro is worth a look. Read our of the best trading platforms for a review of eToro to find out more about the pioneer on social trading.
There are no trading fees, with the platform making its money in the spread between the bid and ask price. The minimum trade size for crypto assets is $25.
Looking to buy or trade Shiba Inu (SHIB) now? Invest at eToro!
Your capital is at risk
Read more: