The cryptocurrency market has taken a small step backwards after a day of recovery. Its total value is now $2.1 trillion, having risen after Tuesday's selloff to $2.16 trillion. Given that the market was worth $2.4 trillion before Tuesday's dive, it's therefore clear that it still has space left to rebound. As such, we've put together a list of coins most likely to recover strongly over the next couple of days. These 5 cryptocurrency could see a price boom this weekend, assuming that the market recovers. They also all have good long-term potential.
These 5 Cryptocurrency Could See Price Boom This Weekend
1. Bitcoin (BTC)
BTC is more or less flat over the past 24 hours, despite other major coins falling. At $46,400, it's down by a modest 0.6% in the last day, as well as by 6% in the last week. However, it's slightly up at 1.8% over the past month, as well as more than 350% up across the past year.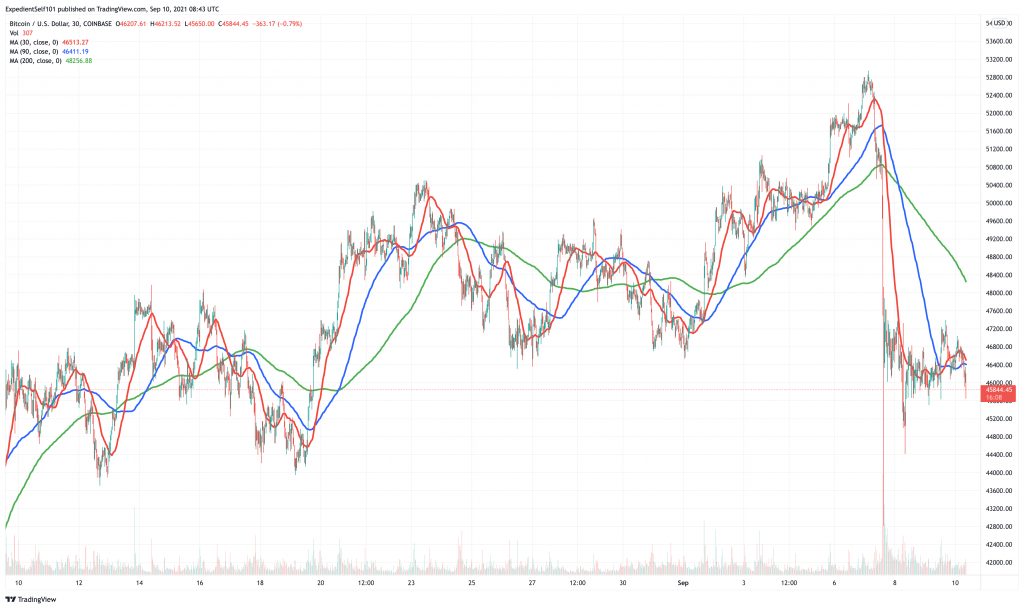 BTC is pretty much in line with its 30-day and 90-day averages right now. This would suggest neither a breakout up or down. That said, the market usually depends on bitcoin for its recoveries. So if the market is indeed going to boom this weekend, BTC will be booming right with it. In other words, if you're confident that the market will boom this weekend, you should be confident in bitcoin too.
A number of technical models and forecasts also indicate that BTC should boom anytime soon. For example, the stock-to-flow model predicts an end-of-year of roughly $100,000.
#Bitcoin currently at $50,400

Baseline S2F forecast of $100K by Christmas still stands (or more precise: $100K average for this halving period 2020-2024)

On-chain (non-S2F) indicator shows no sign of a top yet (no red dots). This is in line with S2F forecast pic.twitter.com/1lGguuhyST

— PlanB (@100trillionUSD) September 5, 2021
It's not only technical models. Back in July, a panel of 42 cryptocurrency executives and researchers produced an average end-of-year price forecast of $66,284. This was based on two arguments: 1) that bitcoin was (and once again is) undervalued; and 2) that BTC will increasingly assume the role of 'digital gold' as the year ends.
In fact, some of the panel were even more bullish than $66,000. "Adoption by corporations and institutional investors paired with a loose monetary policy and high asset inflation will propel Bitcoin to 6 figures before the end of this year," said Morpher CEO Martin Fröhler, who predicted an end-of-2021 price of $160,000.
As the original and (still) biggest cryptocurrency, bitcoin can be traded almost everywhere.
2. Ethereum (ETH)
The next biggest coin by market cap, ETH has fallen by nearly 5% in the past 24 hours. It stands at $3,386, which also represents a 10% fall compared to one week ago. That said, it's up by 8.5% in the last fortnight and by 7.6% in the last 30 days.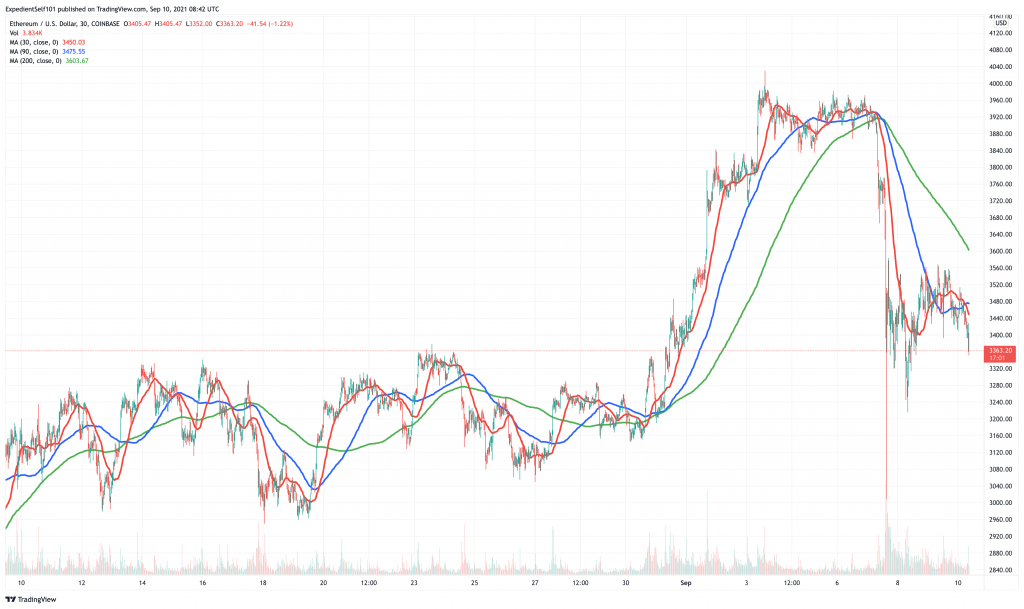 ETH's shorter term moving averages have crossed below its 200-day average. Nonetheless, it has as good a chance as any coin of breaking out this weekend. This is mostly because of market interest surrounding its successful London hard fork and the approaching arrival of Ethereum 2.0.
One of the most bullish factors in ETH's favour is that it has been burning a portion of its transaction fees ever since the London upgrade. Since this rollout, on August, Ethereum has burned well over 100,000 ETH.
100,000 ETH has now been burned 🔥

EIP-1559 has only been live for 20 days.

— Anthony Sassano 🦇🔊 (@sassal0x) August 26, 2021
ETH's daily issuance has now dropped below bitcoin's. This trend has been accelerated by rising DeFi and NFT volumes. Because such volumes increase the number of transaction, Ethereum has become deflationary, with more ETH being burned than issued.
Update: First full day of $ETH being deflationary 👀

More ETH was burned in the past 24 hours than issued pic.twitter.com/mhY7NA69kd

— Lucas Outumuro (@LucasOutumuro) September 4, 2021
Basically, London has resulted in an ETH supply squeeze, something accelerated by the growing staking of coins in Ethereum 2.0's smart contract. This is why it's one of 5 cryptocurrency that could see a price boom this weekend.
As with BTC, ethereum can be bought at pretty much any major crypto-exchange, including eToro, Coinbase, Kraken, Gemini, Binance, CEX.io, Crypto.com, Bitstamp, and many, many others.
3. Cardano (ADA)
ADA has fallen along with the rest of the market over these past few days. Having hit an all-time high of $3.09 last week, it has since subsided to $2.46, with most of this fall happening as a result of Tuesday's leverage-fuelled flash crash. Its current price represents a 5% drop over 24 hours and a 17% fall over a week. On the other hand, ADA is 46% up over the last month.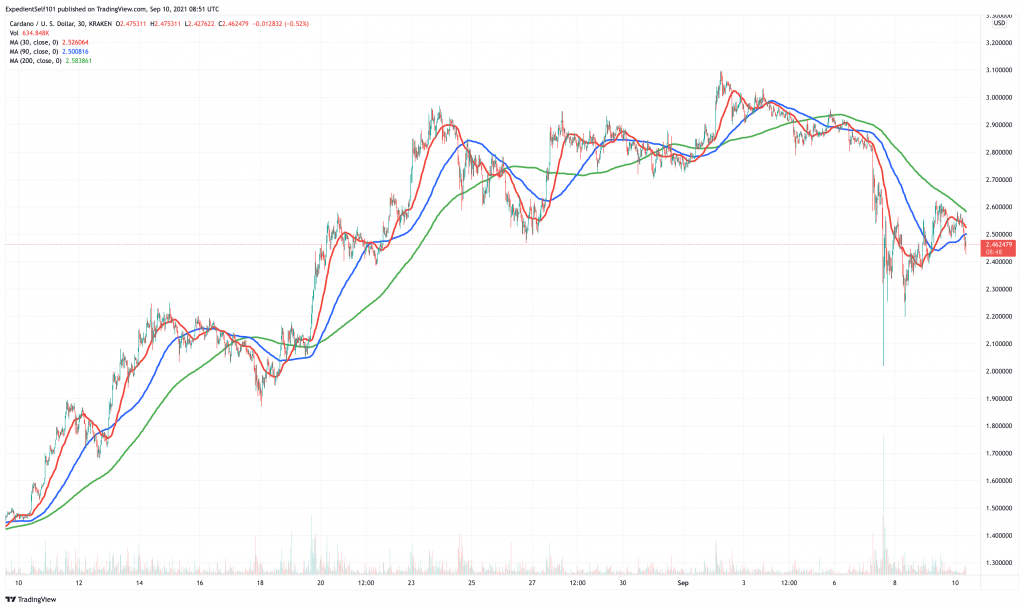 In comparison to BTC and ETH, ADA's 30-day and 90-day averages are closer to its 200-day average. Indeed, both of these shorter term averages were on the cusp of crossing the 200-day average yesterday, indicating a potential positive trend.
More broadly, ADA continues to have pretty exciting fundamentals. This Sunday, it will roll out the Alonzo upgrade, introducing smart contracts to the platform for the first time. This will enable it to host decentralised apps and build its own DeFi/NFT ecosystem to rival Ethereum's (and that of Solana and others). So assuming this rollout goes to plan, expect ADA to jump noticeably at some point on Sunday.
Mid-week repo update: as we approach #smartcontract deployment on Sunday, #Cardano code forges continue to burn bright – 2,982 GitHub commits this week & counting…👏 💪

Bookmark this excellent resource to follow the latest code commits👇https://t.co/k2J1Et9Hg5#Cardano $ADA pic.twitter.com/tUM61yuW61

— Input Output (@InputOutputHK) September 8, 2021
More than 100 companies have been waiting to launch on Cardano, according to founder Charles Hoskinson. An August 31 update on the Cardano ecosystem also found that it had integrated a comparably large number of projects in the buildup to Alonzo's introduction.
Aug 2021 VS May 2021

In just 3 months, Cardano has integrated 100 more projects spanning from DeFi to NFT.

Next target for $ADA should be $10🚀🚀🚀

🔄Retweet if u believe Cardano ecosystem will bomb like Big Bang explosion! #Cardano #ADA $ADA pic.twitter.com/zMLPF1LfVS

— Cardians (@Cardians_) August 31, 2021
Traders can buy ADA at most major exchanges, including eToro, Coinbase, Kraken, Binance, Gemini, and many others.
4. Solana (SOL)
SOL has been one of the best-performing coins of the past month. However, it has taken a tumble in the past 24 hours, perhaps as a result of being overbought. It's down by 13% in the last 24 hours, at $181. It is, however, up by 40% in the past week, as well as by 345% in the past month. It hit an all-time high of $213 yesterday, before climbing down.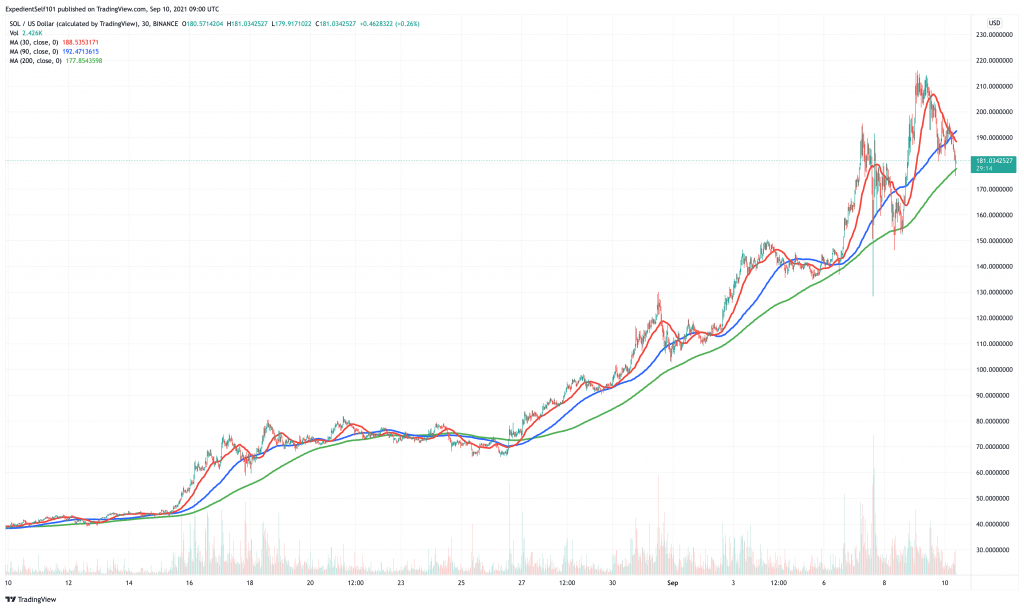 Despite yesterday's fall, SOL's 30- and 90-day averages remain above its 200-day average. This suggests it may still be on a growth spurt.
At a fundamental level, SOL has been a major beneficiary of Wormhole, which launched on August 9. This is a cross-chain bridge, allowing users to transfer assets between Solana and other chains (e.g. Ethereum, BSC and Terra). It is one of the main reasons why Solana's ecosystem has grown so vigorously over the past month.
1/Today we're incredibly excited to announce Wormhole: a generic cross-chain messaging protocol. Wormhole will launch with support for the thriving @Ethereum, @Solana, @Terra_money, @binancechain ecosystems. https://t.co/pEKdeOW821

— Wormhole (@wormholecrypto) August 9, 2021
Solana's total value locked in has grown to nearly $9 billion since the launch of Wormhole. It had stood at $1.3 billion as recently as the start of August, indicating a rise of just under 600% in 30 days.
This growth in TVL has followed from a growth of adoption for Solana. Its Solanart NFT platform launched two months ago, and managed to break one million SOL in total volume by the end of August.
Almost two months ago, we launched https://t.co/tPritDMeeN, first #NFT marketplace on #Solana
Today, we broke 1,000,000 SOL in volume, and as $SOL breaks $100, that's over $100,000,000 traded on our platform 🤯
Thank you for making us number one ❤️
New features coming soon 👀 pic.twitter.com/wjA0EFtTqf

— Solanart – NFT Marketplace (@SolanartNFT) August 30, 2021
Likewise, the Saber cross-chain stablecoin exchange, which runs on Solana, is another a big reason why the platform's TVL has grown so much in recent weeks.
Saber just became the first protocol on @Solana to reach $2bn+ in TVL!

This comes just 3 days after reaching $1bn+ 🎉 pic.twitter.com/oH9Awe4ap3

— Saber (@Saber_HQ) September 8, 2021
So even with the dip of the past day, Solana could very well see another boom this weekend. It can be bought at Coinbase, Binance, Kraken and Crypto.com, among several others.
5. Terra (LUNA)
LUNA is one of the few coins to have risen strongly in the past day. At $34.70, it's up by over 6% in the past hour (as of writing) and by 14% in the past 24 hours. It has also risen by 5% in a week and by 108% in a month. It could very well pass its current ATH of $36.61 in the next few hours.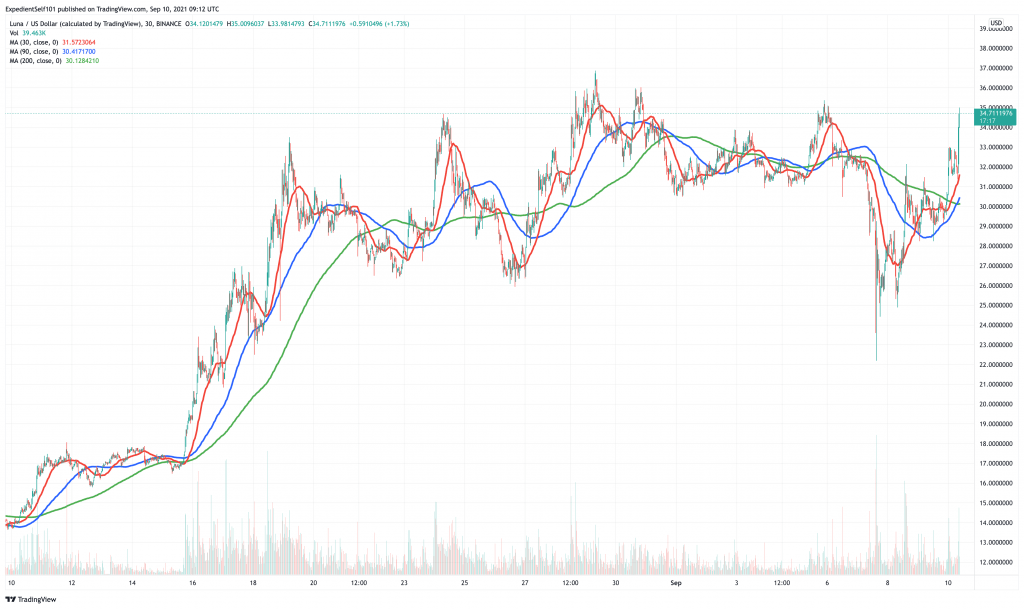 This suspicion is supported by the chart above, which show's LUNA's 30- and 90-day averages surging beyond its 200-day average.
The aforementioned Wormhole protocol is one of the main reasons why LUNA has been doing so well. Its August 9 rollout has greatly expanded the Terra ecosystem and its number of users, with LUNA's price rising from $13 since launch.
1/Today we're incredibly excited to announce Wormhole: a generic cross-chain messaging protocol. Wormhole will launch with support for the thriving @Ethereum, @Solana, @Terra_money, @binancechain ecosystems. https://t.co/pEKdeOW821

— Wormhole (@wormholecrypto) August 9, 2021
Even without Wormhole, the Terra ecosystem has been expanding by itself in recent weeks. It hosts and provides stablecoins pegged to different national currencies, with its largest UST token expanding its supply from $2 billion to $2.5 billion in less than a month. This is bullish for LUNA, since Terra burns LUNA in proportion to the quantity of UST it produces.
#Lunatics – biweeky updates for ecosystem map are out @ https://t.co/HUhAAx5ZMn

updates:
➕@CoinbasePro lists $UST $wluna
➕@krakenfx lists $Luna
➕@CoinMetro on/off ramp
➕@terraworld_work new project on Terra
➕@TerraRoll – new project/live (use caution/likely unaudited) pic.twitter.com/KAJty6LwPk

— Smart Stake (@SmartStake) August 22, 2021
LUNA and Terra have also grown as a result of surging interest in DeFi. Taken together with everything else, LUNA is definitely one of 5 cryptocurrency that could see a price boom this weekend
Global total value locked in DeFi just reached $148 billion and is rapidly approaching new ATHs.

Ethereum, Terra, and Solana are leading the way, with the latter two printing new ATHs in recent days.

Some insights below by ecosystem.

— Ryan Watkins (@RyanWatkins_) August 16, 2021
LUNA currently can't be traded on many of the big exchanges such as Coinbase, eToro or Kraken. However, you can buy it at Binance, Bittrex, Huobi or KuCoin.
67% of retail investor accounts lose money when trading CFDs with this provider
Read more: