A strong price momentum is one of the indicators that investors consider before buying cryptocurrencies. The rationale is to get a coin that is performing very well and to get in on the action before the hype fizzles out and the coin heads back to Earth. However, you should know that a strong price momentum isn't the only thing to consider. Cryptocurrencies can be very tricky, and you need to have everything in order before you invest.
Below, we'll consider some of the coins whose prices have performed very well and are ripe for investment:
1. Polkadot (DOT)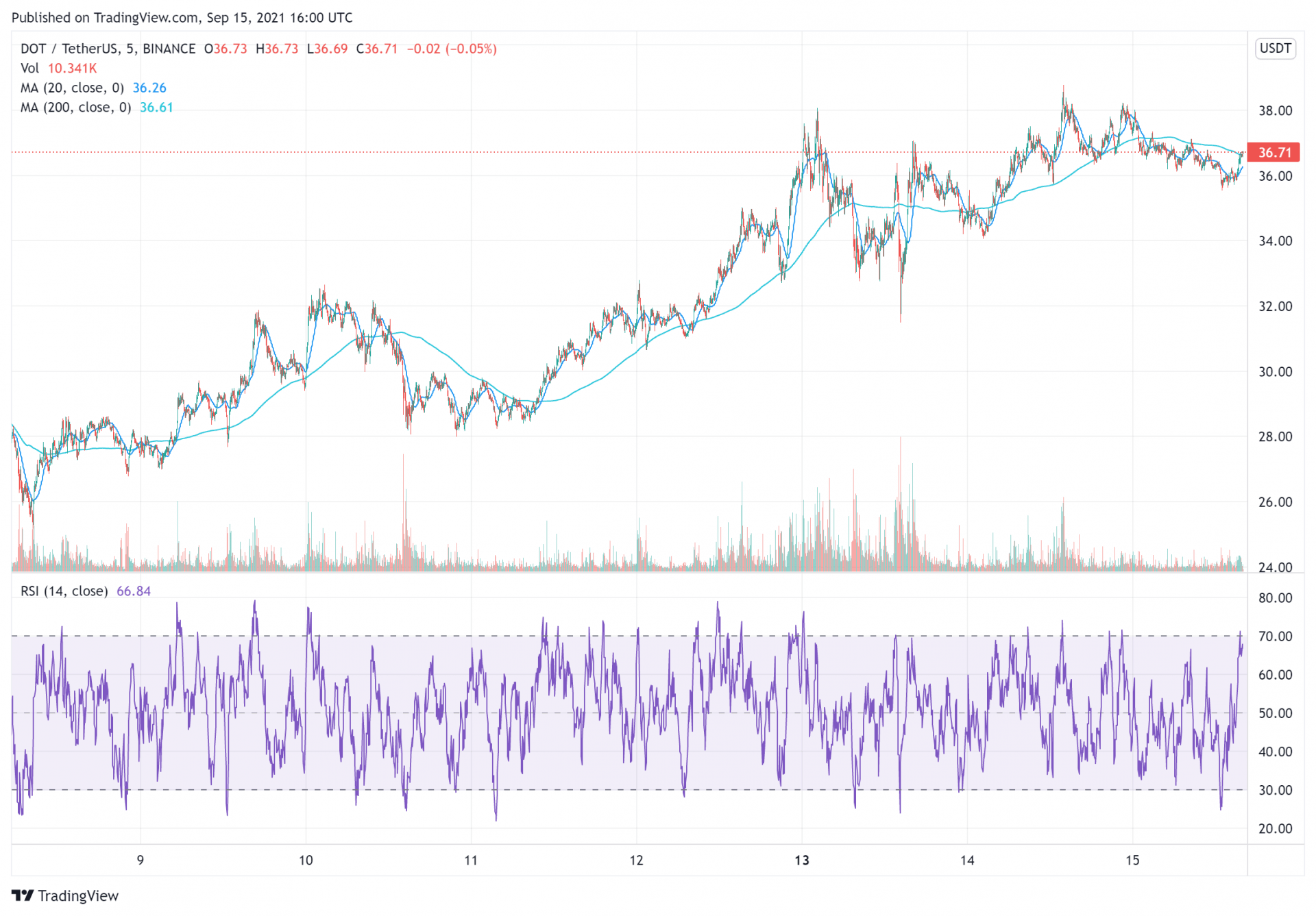 Polkadot is one of the most popular blockchain platforms available today. The service is one of the prominent "Ethereum killers": – blockchains that look to offer an alternative to Ethereum. Polkadot works using an interesting structure – it consists of parachains; individual chains that run concurrently and which get resources from a central Relay Chain.
The Relay Chain in the Polkadot is what ensures stability and security. It is also responsible for Polkadot's cross-chain interoperability with other chains. Using this structure, Polakdot can reduce the transaction load on its chain and improve its performance.
Polkadot's DOT token has been especially impressive this year. The current market rally has also been good to the coin, with DOT looking to test its all-time high of $49.77 once more.
Over the past week, DOT has had a mixed performance. The coin started by trading down in tandem with the broader market, but it's now consolidating again. At a current price of $36.71, DOT is down 2.31 percent in the past day and up 32.13 percent in the past week.
Technically, DOT is barely holding on. The asset is trading above its 20-day moving average (MA) of $32.32, but it is now lower than its 200-day MA of $36.66. The coin will need to post gains for the next day or two to get back above these levels.
DOT's relative strength index (RSI) is at 66.67, which is quite underbought. The platform's strong price momentum can be traced to the $9 million raise from decentralized data aggregator SubQuery, which should help improve Polakdot's integration with the decentralized finance (DeFi) sector.
2. Tezos (XTZ)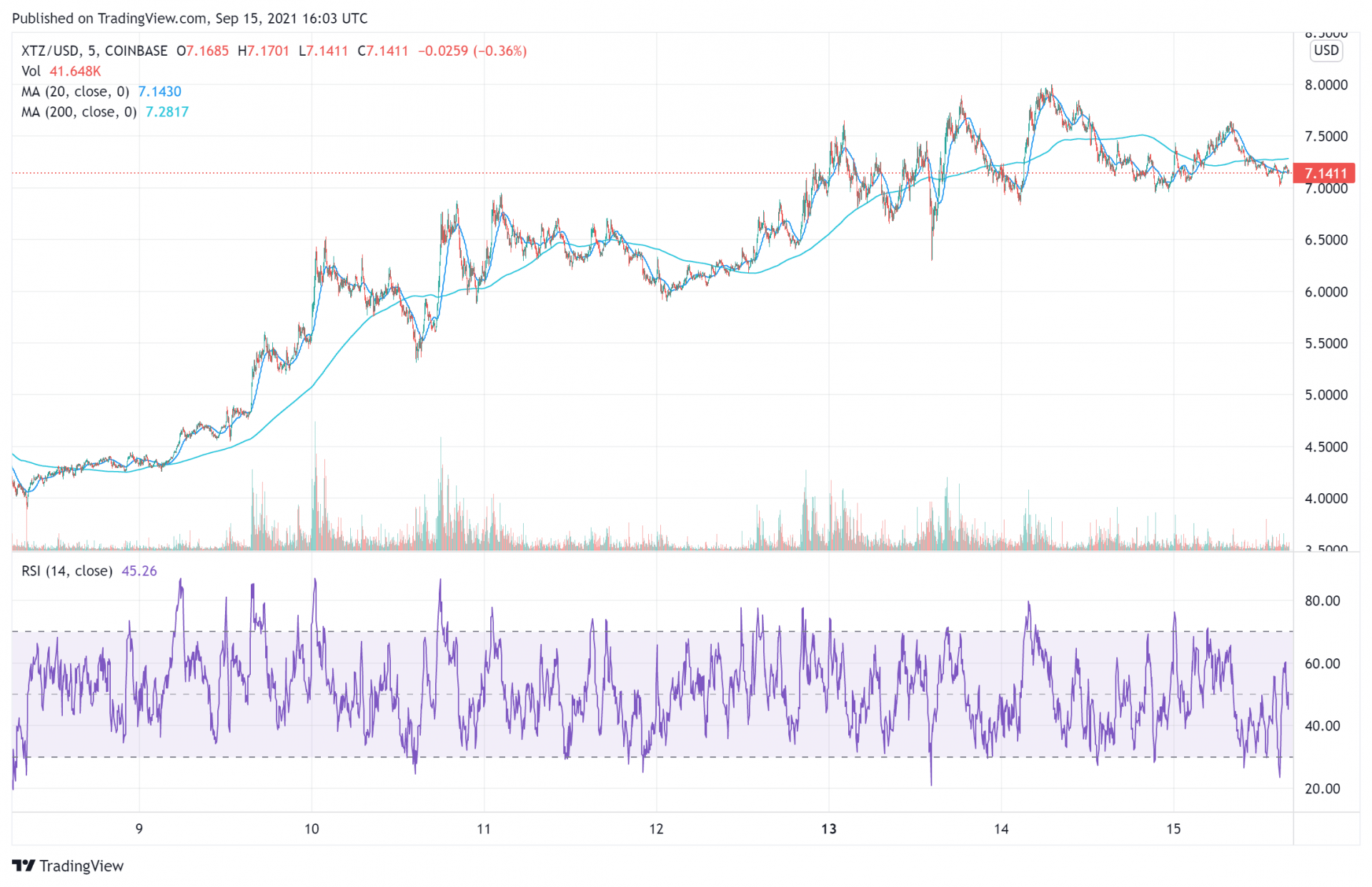 XTZ is another coin showing a strong price momentum. The coin governs activities on Tezos – a proof-of-chain, open-source blockchain that has also become very popular in the past year.
XTZ has had a solid performance over the past week. The asset is up 63.1 percent in the past week alone, moving from $4.37 on September 8 to a current price of $7.13. The gains appear to be due to increased attention from the non-fungible token (NFT) space. Over the past week, music star Doja Cat was reported to have launched an NFT on the Tezos blockchain. Reports also confirmed that the blockchain had recorded over 400,000 daily transactions for the first time.
• @DojaCat EXCLUSIVE NFTS JUST DROPPED ON https://t.co/QFo70vrSdo!!!!!! 💜✨☄️ #PlanetDoja #OwnMusicHistory • pic.twitter.com/utKya6RvuM

— OneOf (@OneOfNFT) September 9, 2021
With milestones across the board, Tezos looks to be gaining traction – great news for XTZ investors.
Prospective investors might be concerned, however, with XTZ now trading lower than its 20-day and 200-day MAs of $7.14 and $7.27 respectively. But, with its strong price momentum, the coin should be able to eclipse these points in the next day or two.
XTZ's RSI stands at 46.44 – highly underbought, so you should be more confident to get in.
3. Hedera Hashgraph (HBAR)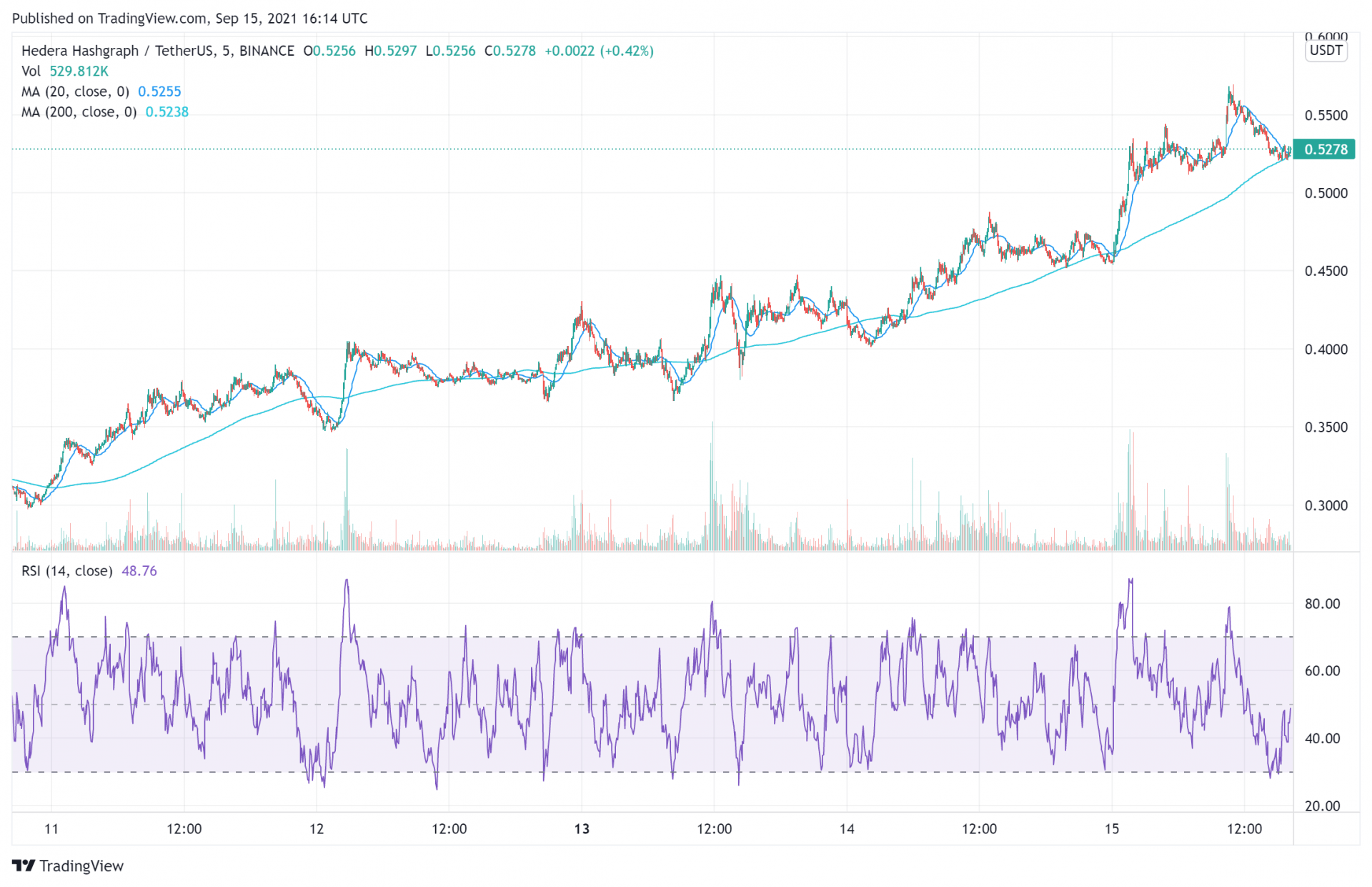 HBAR is the native coin for Hedera Hashgraph – an interesting blockchain that handles over 100,000 transactions a second thanks to its unique structure. The blockchain is positioning to be a great tool for enterprises, and adoption has been ramping up recently.

Over the past month, Hedera Hashgraph has onboarded the Indian Institute of Technology Madras and the London School of Economics and Political Science as members of its governing council. They will join existing council members like Google, Boeing, and BM to support the blockchain's operations.
With adoption ramping up, HBAR has been doing quite well too. The coin is trading at $0.52 – up 14.53 percent in the past day and 92.59 percent in the past week. The coin's weekly performance has helped it technically, with HBAR trading well over its 200-day MA of $0.50. But, it's now lower than its 20-day MA of $0.53. If the strong price omentum continues, the coin should be able to get back over both metrics.
HBAR's RSI is a healthy 49.79, so investors should feel quite confident about it too.
4. Celo (CELO)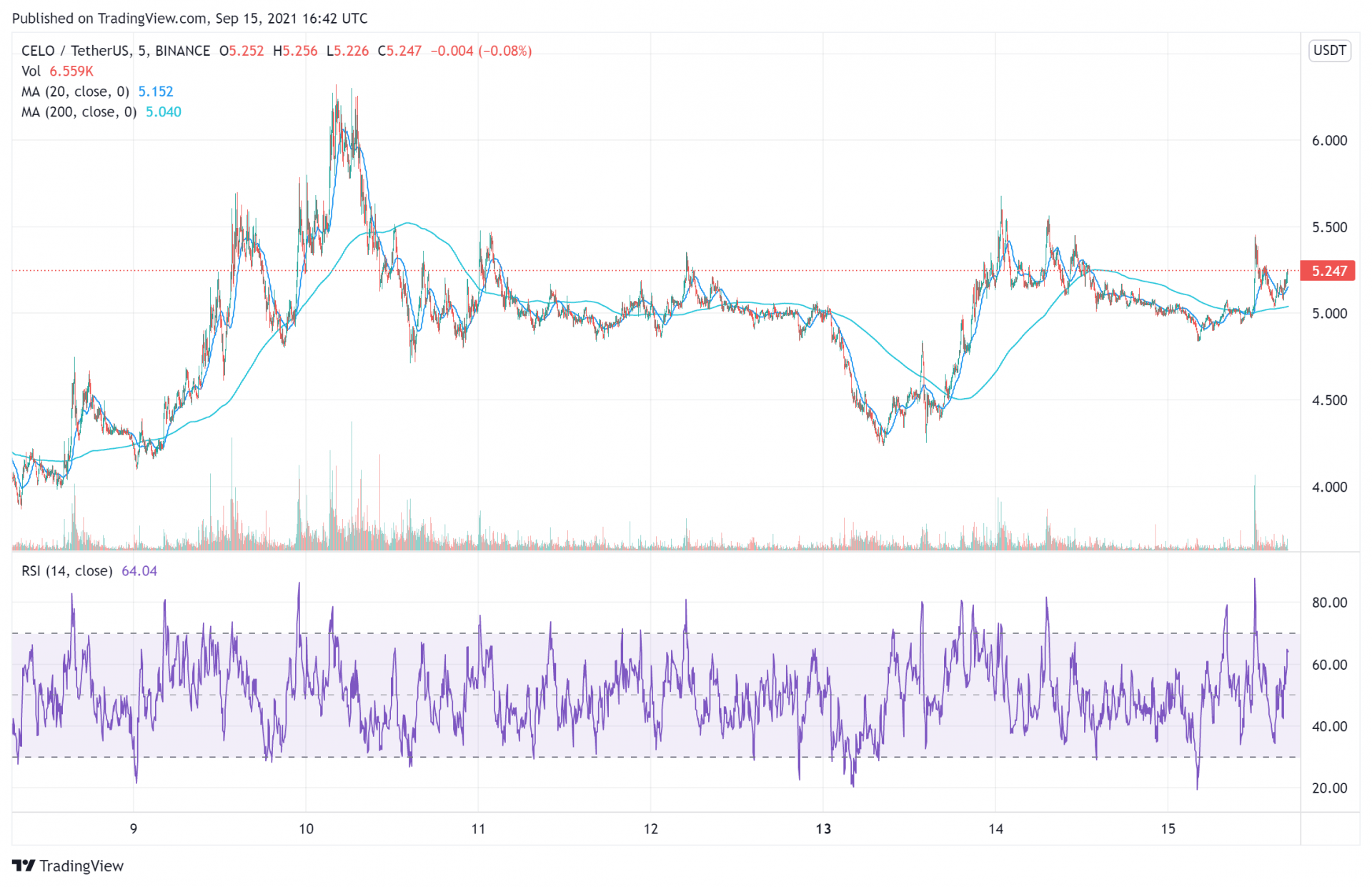 Up until the past few weeks, Celo was relatively unknown. The platform acts as a global payment infrastructure, with the goal of targeting mobile users and allowing people to make seamless payments from wherever they are.
Its native token, CELO, got massive attention following a massive rally that came in August. After hitting an all-time high of $10.99 on August 30, the coin has adjusted its price. But, its performance in the past week shows that CELO still has a lot of bounce to it.
CELO now trades at $5.17 – up 1.79 percent in the past 24 hours, and 20.2 percent in the past week. The price jump appears connected to the $100 million DeFi for the People initiative, which Celo launched in collaboration with Aave, SushiSwap, PoolTogether, and 0x. The fund looks to improve Celo's adoption and bring better mobile payments to everyone in the world.
Like many of the coins on our list, CELO's fall has led it to technically murky waters. The coin is trading just above its 20-day MA of $5.12, and its 200-day MA isn't so far behind at $5.03. With an RSI of 56.06, it will be interesting to see how CELO beats these indicators in the coming days.
5. Harmony (ONE)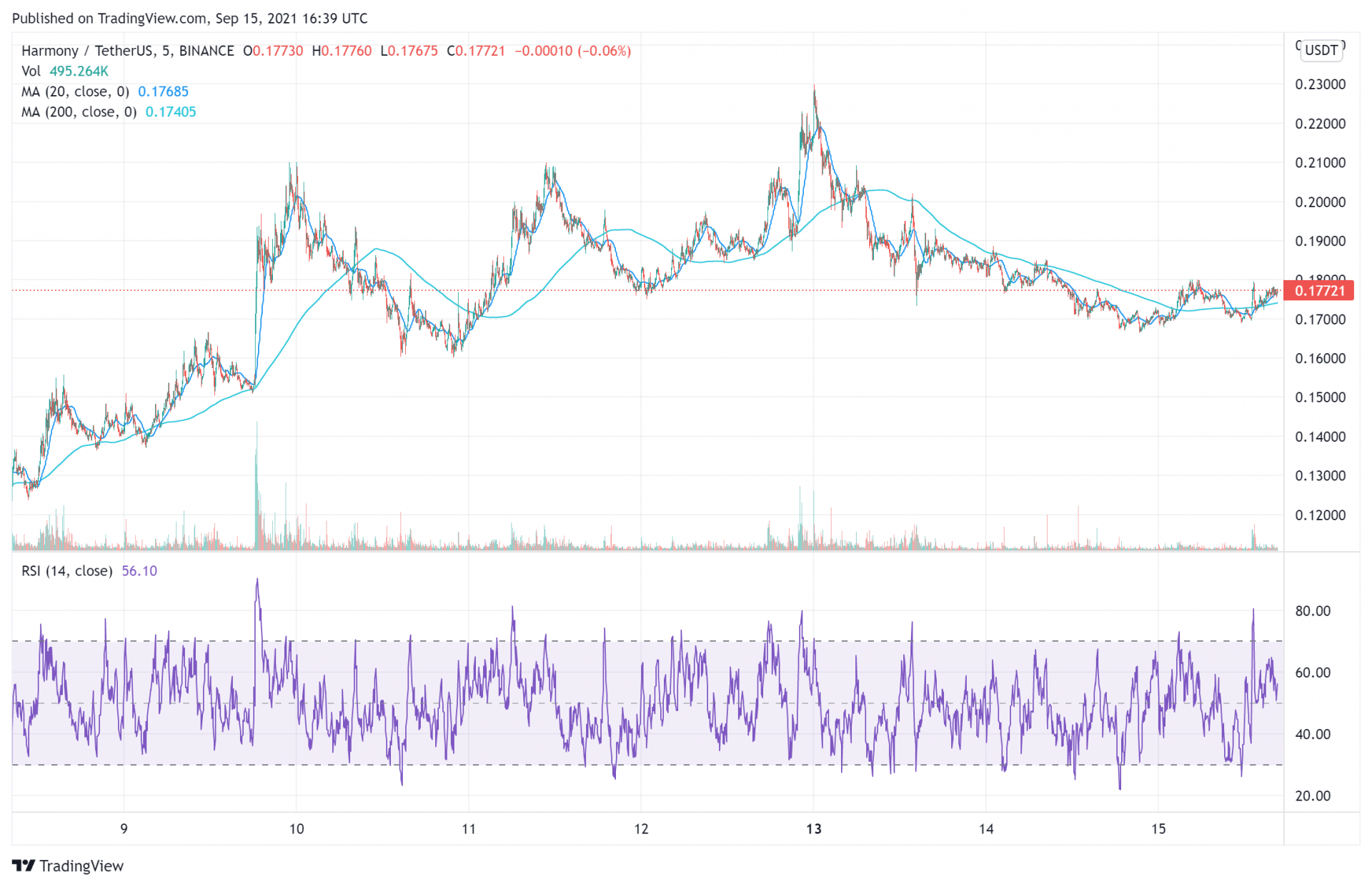 Last, but definitely not the least, is ONE – the native token for the Harmony blockchain.
Harmony is an open-source and permissionless blockchain that looks to target the DeFi sector. The blockchain has garnered an impressive online and offline community, onboarding new users since its launch.
ONE has had a very impressive week, underlined by its ability to set a new all-time high at $0.23 on September 13. The coin's previous peak was at $0.22 on March 29. ONE has retraced then, and it currently trades at $0.177 – up 1.66 percent in the past day and 54.5 percent in the past week.
ONE's growth came primarily from a $30 million ecosystem fund launched by Harmony to attract over 10,000 developers to build on the protocol. Developers can now apply to get ONE tokens and build on Harmony.
As for investors, they will be looking to see if the coin's price can beat back its rising indicators. ONE's 2-day and 200-day MAs stand at $0.174 and $0.173 respectively. The pressure is especially on as the con's RSI is now at 55.15.