After China's clampdown on cryptocurrency, the crypto markets take a big hit again – this time in one of its biggest markets, the UK. Last weekend, the British Financial Conduct Authority (FCA) ordered Binance to delete all advertisements and financial promotions before June 30. The FCA stated that no Binance Group entities are allowed to conduct regulated activities in the U.K and that Binance Markets Limited is not authorized to conduct business in the U.K.
To get the green light to conduct crypto-related business in the U.K, companies are required to register with the FAC, which is responsible for preventing money laundering and terrorist financing. However, only six companies passed the registration with the FAC so far, and 64 cryptocurrency firms have withdrawn their applications. Meanwhile, U.K Binance is reportedly suspending fiat withdrawals and deposits, raising concern of a potential crypto crackdown.
The U.K. is not the only country imposing stricter regulations on crypto-related business. Japan, one of the most crypto-friendly countries, issued warning notices to Binance just a few days ago. A few days ago, Mexico's Finance Minister Arturo Herrera said that cryptocurrencies are banned in Mexico's financial system. Moreover, the use of stablecoins is also prohibited under Mexican law.

Following China's most strict crackdown on bitcoin, the number of active Bitcoin addresses has nosedived. The number of active bitcoin addresses hit 1.4 million at the peak of the bull run, but now the figure has decreased to around 853k.

Source: BTC: Active Addresses Count on CoinQuant.com
The recent price crash is one of the main reasons for the decrease in the number of active addresses. When the market crashes, weak hands flock to cash out, which in turn further drives the price lower. Even if bitcoin rebounded in the past week, investors may still be skeptical of the market and not want to get on the ride again. The lack of interest in trading bitcoin makes bitcoin prices more vulnerable and the market more volatile.
In 2020, cryptocurrencies have gained significant support from institutional investors. In addition to Tesla, several institutions including MicroStrategy have invested billions of dollars in cryptocurrencies, and traditional financial companies such as PayPal and Goldman Sachs have also begun to offer crypto-related services. However, crypto assets face strong opposition from governments and central banks, which are keen on launching their own digital currency. If regulations from countries continue to tighten, bitcoin may visit lower price ranges in the short term.
Bexplus offers ethereum price prediction, how to mine litecoin and xrp price prediction to help users keep up-to-date with the cryptocurrency industry.
How To Invest In The Downside?
Although bitcoin risks further price drop, you can still make profits from it. Futures trading is one of the most popular tools to grow your wealth. You can benefit from price swings to earn money by speculating the direction of crypto's price. Bexplus is a leading crypto derivatives platform accredited by MSB (Money Services Business). Bexplus offers 100x leverage in BTC, ETH, LTC, Dogecoin and XRP futures contracts.
Bexplus requires no KYC so you only need to open an account with an Email address, in just 1 minute. Once registration is complete, a trading account and a demo account with 10 BTC will be opened automatically.
Practice Your Skills: A Demo Account
Successful traders are those who learn to analyze the market and could always keep a clear head. The best way to improve your skills and mindset is by practicing in the free demo account.
Every user is given 10 BTC at the beginning and they are replenishable, so you can try out different strategies as much as you like.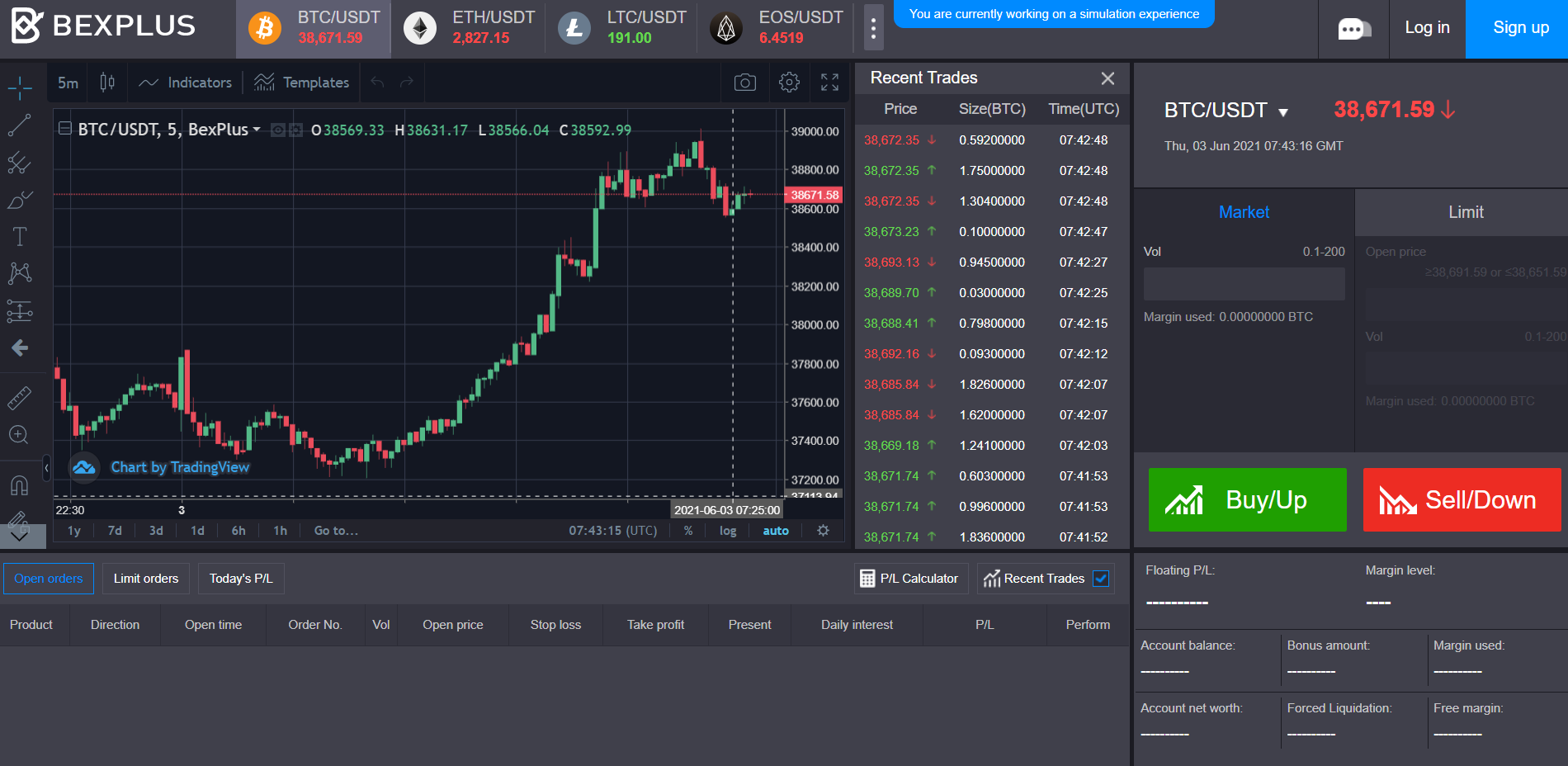 Make A Deposit And Claim Bonuses
No deposit fee is needed. You can start your deposit at 0.001 BTC. To help traders earn more profits, Bexplus offers a 100% deposit bonus to every trader. Deposit 1 BTC and you will get 2 BTC, and up to 10 BTC is available for each deposit. The bonus is not withdrawable but could be used as margin.

Earn Passive Income With Bexplus
When you are not trading, you can transfer your BTC to the interest-bearing wallet and enjoy up to 21% annualized interest.
The interest is calculated daily and the revenue of the deposit will be settled monthly. The monthly interest is calculated as (S*I/365*30)=MI. S represents the sum of the deposit, I stands for interest, and MI is the monthly interest.
The crypto market is full of opportunities, don't hesitate to join and claim your profit!