Despite the market's current upwards trend, XRP fails to surpass $0.49.
A Brief Market Overview
In a recent move, Bitcoin surpassed $21k for the first time since September 13th. Since then the premier cryptocurrency was continuously Jammed between $19k and $21k price mark. Bitcoin broke through $21k on October 29th, a few hours following Elon Musk's Twitter deal announcement.
As we had indicated in one of our previous articles that the news of Elon's eventual buyout will affect the market positively, it did come true. Currently trading at $20.7k, Bitcoin is up 6.8% 9ver the week. Since October 28th, the day the deal was announced, Bitcoin has seen a price gain of 2.2%.
Expectedly, Dogecoin has gained hugely in the meantime as the Meme token is currently up a whopping 105% in the week. The coin has seen such a gain because of Elon's clear admiration for it, who likes to call himself Doge father.
XRP Price Analysis
In the meanwhile Ripple's native XRP continues to be stuck below $0.49. Contrary to the expectation, XRP has emerged as one of the worst performing coins over the past couple 0f weeks. Particularly, in the past-7 days, while ETH, BTC, BNB, DOGE, ADA,  and SOL have gone up by 6.8%, 20.6%, 20.3%, 104%, 13.7%, and 17.8%, respectively, XRP  in the meantime, has only gained by 0.3%. This is despite the fact that Coin's parent company Ripple is doing very well in the SEC lawsuit.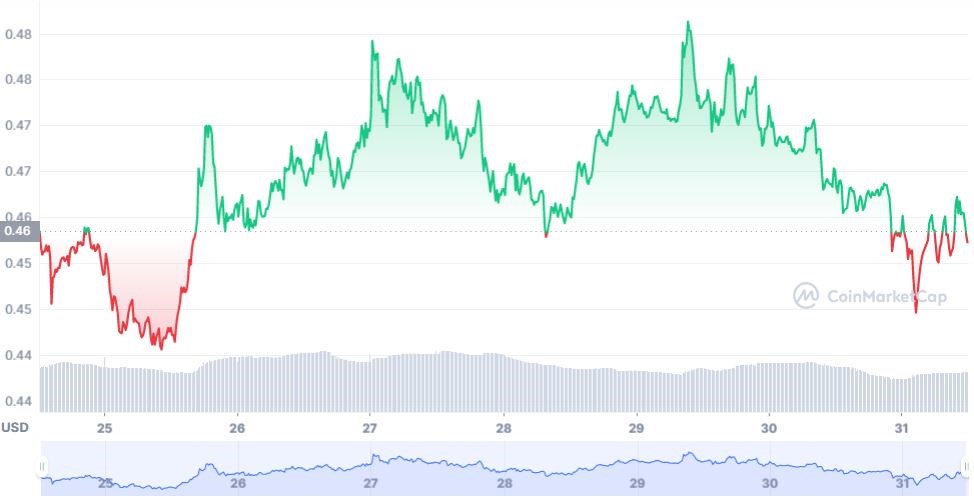 From the technical standpoint, XRP is trading below $0.460, it is near the 55 simple moving average (4-hours). Further, the MACD for XRP is now gaining momentum in the bearish zone as coin's RSI (Relative Strength Index) currently stands below 50.