Currently trading at $0.52, XRP is up 0.23% during the day and 4.92% over the week.
For the past three weeks XRP has been on a stable rise. The coin hit the low of $0.46 on 11th September, since then the coin has gained value by 5.9%, Reaching the price level of $0.54 on September 29th, the highest level the coin has hit since September 30th.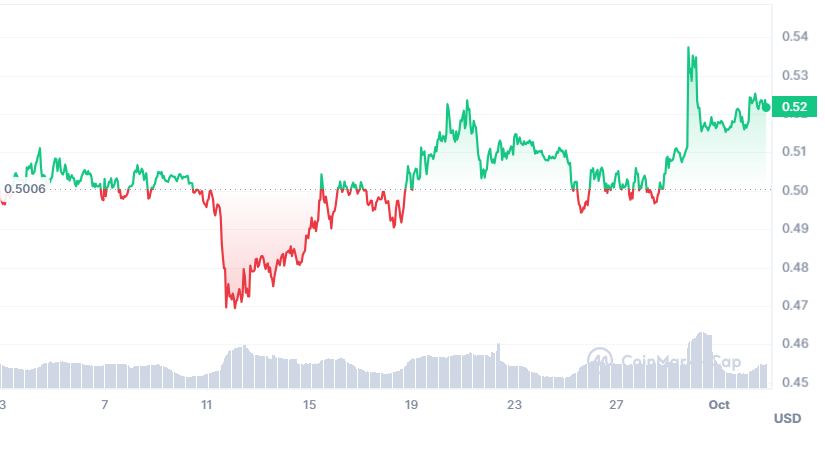 For the past 3 days XRP is getting a strong support at $0.51. If the coin succeeds to maintain the support, it may make a move towards $0.55, breaking through the resistance of $0.54.
A couple of technical indicators are indicating a similar movement. The 4-hour MACD is gaining momentum in the bullish zone. The RSI (Relative Strength Index) is above 50, which is also a bullish signal.
Other than XRP's technical standing, the coin's future price behaviour mostly depends on the crypto market's general movement. Unfortunately, right at the beginning of the last bull run, Ripple was struck with an SEC lawsuit. This time around, when the bulls return, XRP will hopefully move with the market.
Until the next bull run, XRP must be able to keep investors intact. Any positive developments in the ongoing lawsuit will certainly help the cause. Nevertheless, if anything, the lawsuit has proved a blessing in disguise for Ripple. As it provided Ripple with an opportunity to get some level of legal validation.
Besides the fact that the lawsuit has not yet reached a conclusion, XRP is already favored by an overwhelming majority of investors over other altcoins i.e. ETH, BNB and ADA. XRP's genuine usability is the larger reason behind its rise in the crypto community.