Dec 22nd 2020, the day Ripple got struck with a SEC lawsuit. The lawsuit filed by the federal securities watchdog in federal district Court-Manhattan, alleged Ripple's Co-Founder Chris Larsen and CEO Brad Garlinghouse of making a sale of $1.3 billion worth of XRP tokens as unregistered securities.
A Brief Rundown
In the early days after the lawsuit was filed, Ripple found itself in hot waters. Multiple crypto exchanges, including Coinbase, delisted Ripple's native and others halted coin's trade. Very few exchanges continued to deal with XRP. Many analysts thought it to be the end of Ripple.
But later as the case proceedings began, the lawsuit turned out to be very fragile and ill-prepared. In the meantime Ripple continued to stage itself as a defender of whole crypto. As company's lead counsel Stuart Alderoty asserted on multiple occasions that the SEC lawsuit is not merely a simple securities case against an entity rather it is a war against all crypto. Ripple believed if the SEC succeedes with the lawsuit, it will further be strengthened and the entire crypto space will be under threat.
On account of SEC's ill-prepared lawsuit and Ripple's aggressive defence campaign, the tables get turned in favour of Ripple. At the current stage, while the lawsuit is still in the discovery stage, the whole crypto community seems to be behind Ripple.
The Lawsuit and Ripple's Performance
As stated earlier, initially Ripple was actually in crisis. But as the time passed the blockchain company recovered rather magnificently. Ripple made multiple vital partnerships and hired a few high profile personnels for some key positions.
In Nov 2021, Ripple Partnered with the government of palau to help the country build a reasonable digital currency strategy.
In Oct 2021, Ripple partnered with Nelnet to fund solar energy projects throughout the U.S. as crypto firms try to reduce the industry's carbon footprint.
Just on February 11 this year, Ripple joined hands with the DEA (Digital Euro Association). It is to be noted that the company is also a member of the DPF (Digital Pound Foundation).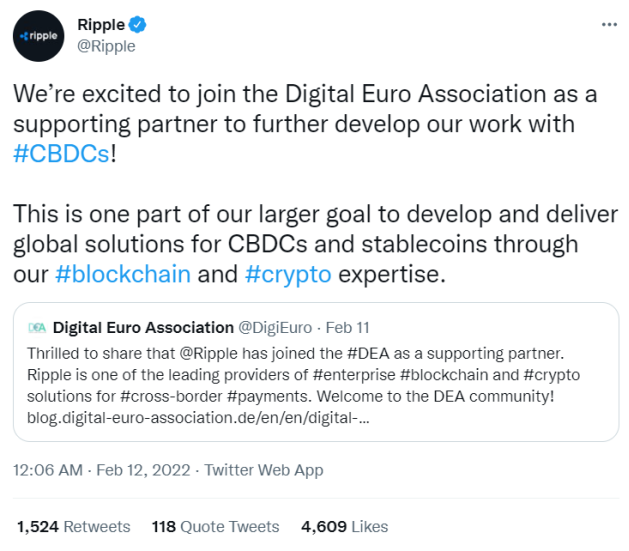 Ripple hired former Mastercard official, Sendi Young as the Managing Director for Europe, in June 2021.
Moreover at the end of year 2021, as Ripple's CEO Brad Garlinghouse rethought the SEC lawsuit, he stated that 2021 was Ripple's best year ever. He shared some very strong numbers to illustrate Ripple's stellar performance.
So after more than a year of lawsuit, it is rather safe to consider that Ripple has not only recovered from the initial damages but it is also looking far ahead with a strong foundation.
What Can We Expect for XRP?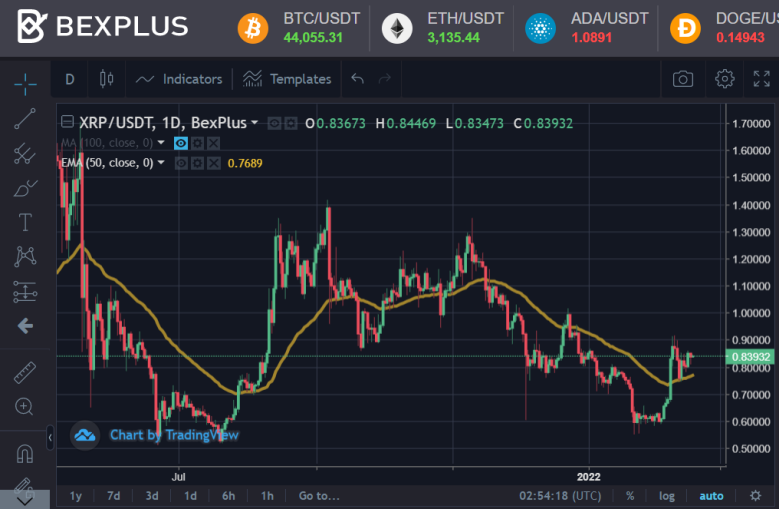 From the above daily chart, we can see that the exponential moving average (50 EMA; the yellow wave) almostly acts as a strong support or resistance line for a long time. On Feb. 7, XRP/USDT broke through its 50 EMA and has stayed above this line. It also foreshadows the possibilities for further bullish momentum.
How to Maximize Profit in the Bull Run?
Now both news and data in the XRP market are optimistic. No matter if traders want to gain a short-term or long- term profit, 100x leverage future trading is greatly suggested.
In 100x leverage future trading offered by Bexplus,  you can use 1 BTC to open a position of 100 BTC by going long (predicting BTC price will be up) or going short (predicting BTC price will be down).
For example, in spot trading, if you buy 10,000 XRP at the price of $0.8, and when it rises to $0.85, you'll gain only $500 as profits. While on Bexplus, if you invest in 10,000 XRP at the same price with 100x leverage, and the XRP price rises to $0.85, you have a chance to get profits of  ($0.85 – $0.8) * 10K XRP * 100x = $50,000, making the ROI of 580%.
Know More about Bexplus
Bexplus is a leading crypto derivatives trading platform offering 100x leverage futures trading on various trading pairs: BTC, XRP, ETH, ADA, DOGE, etc. Bexplus is popular among over one million traders worldwide. In addition, it is safe for being accredited by MSB (Money Services Business). Furthermore, It also boasts of the following features:
100% bonus for every deposit.
A Bitcoin wallet with an annualized interest rate of up to 21%.
No KYC requirement, registration with Email verification within a few minutes.
Demo account with 10 BTC for traders to get familiar with leverage trading.
Intuitive and full-featured App on Apple App Store and Google Play.
7/24 hours one-to-one service to solve your problems at any time.
Fast withdrawal without any time limit, and no deposit fee.
The XRP and other cryptocurrencies' market is full of opportunities, don't hesitate to join and claim your profit! Sign up now to get a 100% bonus!