XRP, world's 6th largest cryptocurrency with a market cap of $43 Billion, is currently down by over 17% during the last 30 days.
Market Overview
Though the market has been able to absorb the pressure it was facing on account of China's Evergrande chaos, the bears are still not over. The month Sep has traditionally been a low month for crypto and it has proved again, as a billion ions of dollars vanished during the last 30 days.
Bitcoin entered the month with a price level of $47,000 and hit its current 30-day high of $52,853 on Sep 7. Later on 22nd Sep the coin dipped below $40,000 price level, and is currently trading at $42,353, up by 0.70% during the last 24 hours. BTC lost its value by over 11% in month Sep, causing altcoins to depreciate even by higher percentages.
As stated earlier XRP too felt the heat of Sep and went down by over 17%. Currently trading at $0.925, the Token is down by 1% in the last 24 hours. During the week XRP has able to hold on to trade above the support level of $0.87. As in the meantime the token changed hands $0.8924 and $1.02.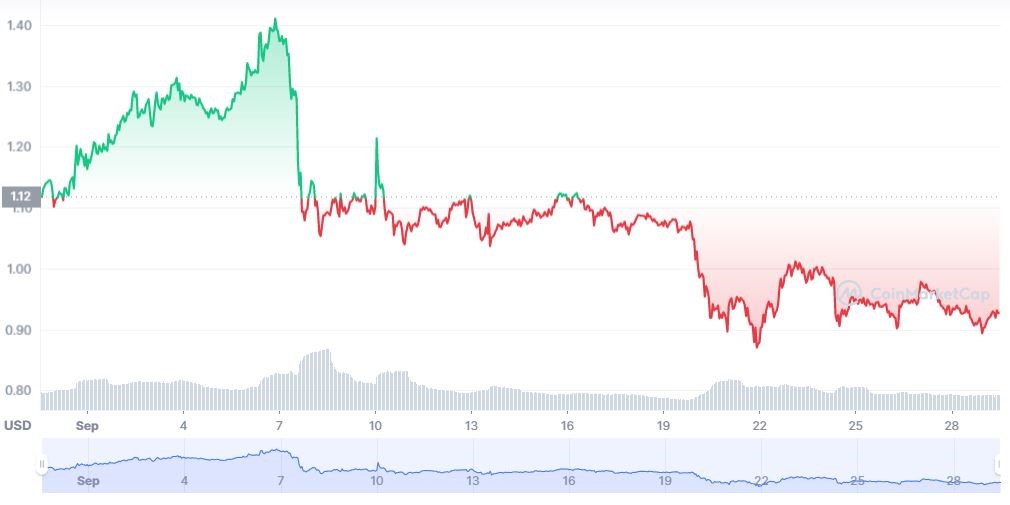 XRP Technical Analysis
As for the technical analysis, the Token is still trading above the 100-day moving average. XRP could find support at $0.875 and $0.8282. Whereas the token could face resistance at $0.95 and $1.0.
As analysis shows, the BTC has entered a phase from where a strong rally is highly probable, it is projected that XRP would go on to hit unprecedented highs as we lead towards the Oct end. Though the market will remain low during the first week, the rally could start after Oct 10.
Moreover, it is not only BTC that influences XRP's price action but SEC lawsuit does it too. So, it would be more than adequate to keep an eye on court pro.