Despite some real concerns in the community regarding the recently passed $1.3 trillion infrastructure Bill, which includes provisions that could harm the market severely, the price action of most digital coins remain in the positive territory.
General Market Overview
Currently trading at $65,900, the Bitcoin is up 6.4% during the last 24 hours. Since 20th Oct, when the BTC recorded an all time high of 66,930, the coin has successfully been able to trade above the $60,000 price mark consistently. In the meantime the coin went down below the stated price mark only once, on Oct 27. BTC remained below $60,000 for almost 24 hours before it resumed its price action above $60,000. At the moment the Premier coin is just 1.47% below from its peak. There is no wonder that the BTC could easily surpass the current all time high, within the next 72 hours, if it continues to maintain its price behaviour above $65,000.
The BTC's price behaviour has had a usual positive impact on altcoins, as most of them remain in positive territory. Ripple's native token XRP, is the second biggest gainer, after DOGE, among the top 10.
XRP Price Analysis
Up 6% during the last 24 hours, XRP is currently trading at $1.26. Just fractionally down from a 30 days high of $1.30, the token was recorded just hours before the press. There could be identified several positive trends on XRP technical charts. Most vital of which seems to be the fact that XRP, at the moment, is continuously trading above $1.20 and the 55 simple moving average (4-hours).
Secondly on the 4-hours chart, a key bullish trend line seems to have been created as the token continues to trade above the support level of $1.168.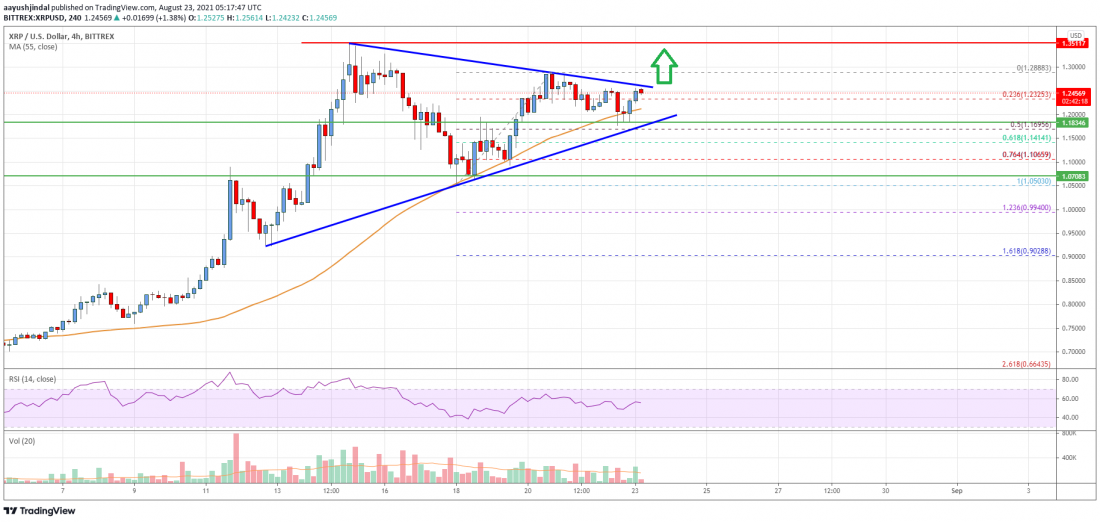 Further, while on the downside the coin has support at $1.25 and $1.20, on the upside the coin faces resistance at $1.30 and $1.33. If the XRP crosses $1.33 resistance level successfully, it is projected to surpass $1.40 too.